Overview
Inspiring and nurturing the human spirit -- one person, one cup, and one neighborhood at a time http://www.youtube.com/starbucks Come on in. This space is not so different from your neighborhood Starbucks. It's a place where people from all over come together for conversation and great coffee. We welcome your ideas, feedback, and constructive criticism. That said, please understand that we will not be able to address store specific customer service issues here. We encourage you to discuss specific issues regarding individual store service with that store's manager. Or if you have a customer service issue, you can contact our Customer Care Center at 1-800-782-7282 or visit: http://sbux.co/1aU7hIV. The comments, videos and pictures that are posted to the Starbucks Facebook page may or may not reflect the opinions of Starbucks, and we do not confirm the accuracy of any postings. Starbucks reserves the right to delete postings that we believe are inappropriate or offensive or otherwise violate our Starbucks Facebook Terms of Use. Repeat offenders may be removed from the community. Starbucks Facebook Terms of Use The Facebook pages and applications created or administered by Starbucks are for you to enjoy. We welcome your comments, pictures, videos and other content ("User Content") so long as your User Content complies with these Terms of Use and Facebook's Statement of Rights and Responsibilities (https://www.facebook.com/legal/terms). You agree that: • The information on pages and applications created or administered by Starbucks on Facebook may or may not be accurate, complete, reliable or up to date. • You read all User Content at your own risk. • Your User Content will be accurate, will not violate any applicable law, regulation or guideline, will not violate any right of a third party including, without limitation, copyright, trademark, privacy or publicity rights, and will not cause injury to any person or entity. • Your User Content will not contain any obscene, profane or threatening language, and will not contain software viruses, political campaigning, commercial solicitation, chain letters, mass mailings or any form of "spam." • If you are employed or otherwise compensated by Starbucks, you must disclose your relationship with Starbucks when promoting Starbucks products and services. • We encourage you to engage in meaningful dialogue but ask when discussing or challenging each other's views or opinions that you do so respectfully. You are solely responsible for the User Content you submit, and Starbucks assumes no liability for any User Content submitted by you. You agree to indemnify Starbucks against all claims and liabilities resulting from your User Content. You understand and agree that Starbucks reserves the right to review and delete any User Content for any or no reason, including User Content that we determine in our sole discretion violates these Terms, Facebook's Statement of Rights and Responsibilities, or is otherwise inappropriate or offensive, harmful to us, other Starbucks fans or any third party. You understand and agree that Starbucks may ban any user from posting on the Starbucks Facebook page, or from using Facebook applications created or administered by Starbucks, for a pattern of inappropriate postings or as otherwise deemed necessary by Starbucks. For any User Content that you submit, you grant Starbucks a perpetual, irrevocable, royalty-free, transferable right and license to use, copy, modify, delete, adapt, publish, translate, create derivative works from, sell and distribute such User Content, and to incorporate such User Content in any form, medium or technology throughout the world, all without compensation to you. For this reason, do not post any User Content that you do not wish to license to Starbucks. In addition, you grant Starbucks the right to include the name provided with the User Content you have posted. Starbucks reserves the right to update or modify these Terms of Use at any time without prior notice. Your use of Facebook pages and applications created or administered by Starbucks following any such change constitutes your agreement to follow and be bound by the Terms. We encourage you to review these Terms whenever you use Facebook pages and applications created or administered by Starbucks. Thanks!
Product Lineup
No products have been entered for this brand.
Request Access to Edit
Nestlé has announced the launch of a new range of coffee products under the Starbucks brand to be available globally.
Nestlé and Starbucks Corporation today announced the closing of the deal granting Nestlé the perpetual rights to market Starbucks Consumer Packaged Goods and Foodservice products globally, outside of the company's coffee shops.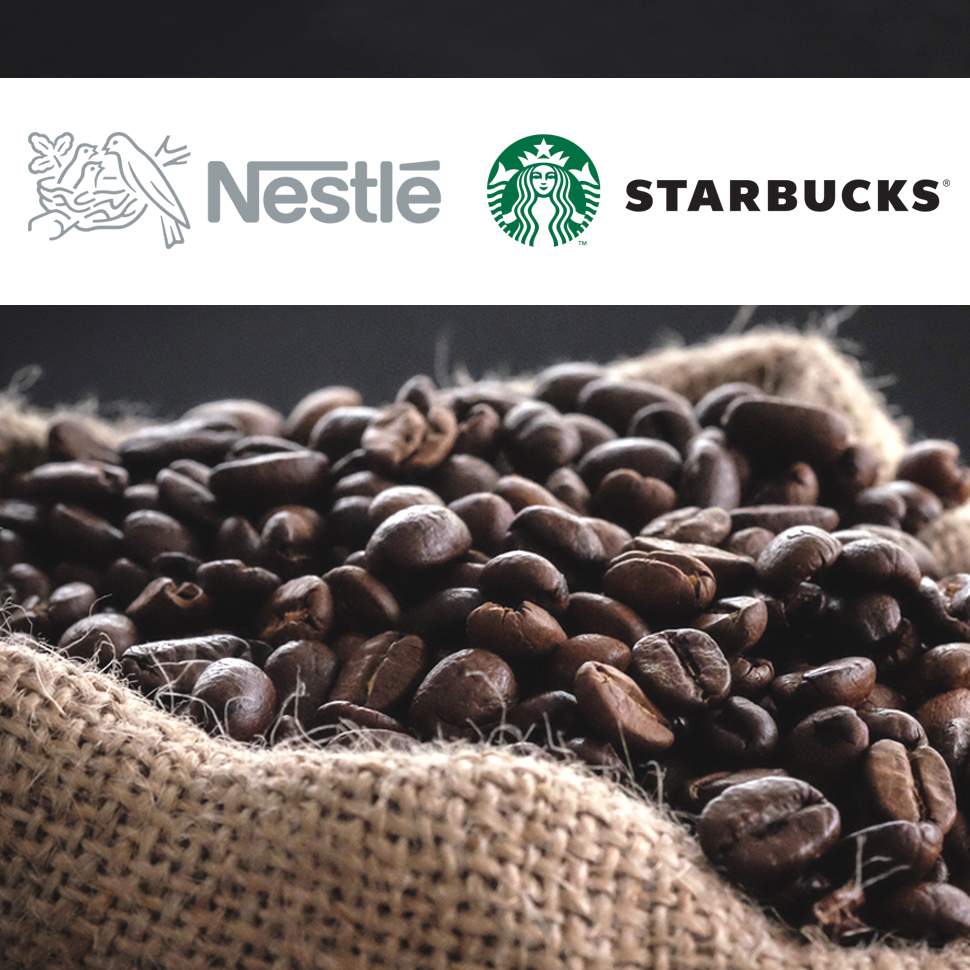 Nestlé S.A. has acquired the global rights to sell packaged retail products from coffee giant Starbucks Corporation for $7.15 billion plus additional royalties.
Submit News
No retailers or e-commerce options have been specified for this brand