Project NOSH L.A.: Janica Lane, Subriana Pierce, Snack Nation Join the Lineup
New speakers and talks have been added to the lineup of Project NOSH L.A., the first conference aimed at providing actionable strategic advice on the growth needs of emerging Natural, Organic, Sustainable and Healthy food companies.
Joining the opening panel will be investment banker Janica Lane of Piper Jaffray. A managing director with a long history of matching healthy lifestyle brands with investors, Ms. Lane will speak on the pace of fundraising opportunities for growing food brands. She will also join with SPINS analyst Mary Ellen Lynch and Health Warrior CEO Shane Emmett, along with the retail market expertise of Subriana Pierce, managing director of Navigator Sales and Marketing (and an advisor to MetaBrand), in a wide-ranging conversation about the contours of the environment for NOSH companies: gatekeepers at the retailer, distributor, consumer and financial levels.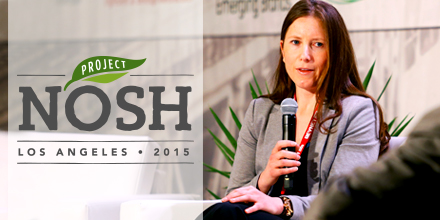 Project NOSH is also delighted to announce that Sean Kelly, the founder of Healthy Vending and SnackNation, will participate in an introduction to emerging retail channels alongside Thrive Market's VP of Purchasing and Marketing. With a focus on best practices for maximizing the return on office delivery, vending, and fast-growth online retail platforms, the emerging retail panel will give attendees a road map to integrate their brick-and-mortar footprints with new ways to reach consumers accelerate brand development.
While much of the day will focus on helping brand owners think through the challenges of growth and strategies that can help brands thrive, Project NOSH L.A. will also highlight the attendees themselves via product sampling and networking opportunities. As much a community as it is a learning and sharing opportunity, the Project NOSH team will be on hand to help facilitate conversation and produce a valuable experience for all attendees.
Project NOSH L.A. will take place on Nov. 5 at the Skirball Center in Los Angeles. Questions about the event or attendance can be arranged by contacting Jon Landis; Sponsorship is still available and can be arranged by contacting John McKenna.
About Project NOSH: Project NOSH covers the world of entrepreneurial packaged food companies and services that are expanding rapidly due to interest in Natural, Organic, Sustainable and Healthy (NOSH) products and businesses. The growth of these kinds of products has created an ecosystem of entrepreneurs, consumers, suppliers, employees, distributors, retailers, investors, regulators, and service providers. The goal of Project NOSH is to become the leading source of informed, comprehensive coverage and context in regard to this growing community of businesses and the larger trends affecting it, both internally and externally. Project NOSH is a product of BevNET.com, Inc., which offers, through products in a variety of media, the best, most comprehensive forum for news coverage, expertise, partnership and support for all members of the beverage community.
In addition to news coverage, Project NOSH features a subscription-only video education series that provides new and growing food companies the tools and knowledge they need to enter the market and succeed. Powered by a comprehensive set of interviews with experts and entrepreneurs, the education offerings are supplied by BevNET FBU (Food and Beverage University), which also conducts live events for the purpose of helping food and beverage companies develop with the best possible chance of success.