Showcase and Sample Your Product at FBU Chicago's Sampling Station
What is the "Sampling Station" at FBU?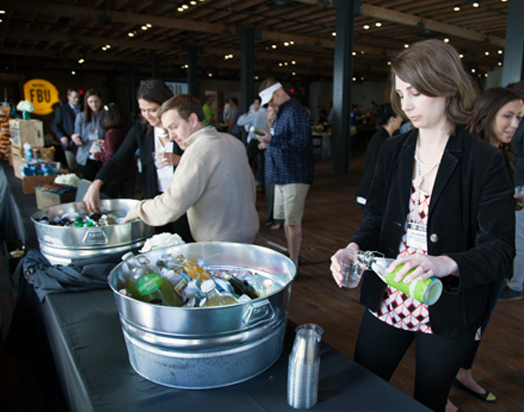 The FBU Chicago Sampling Station is an exclusive opportunity for attendees to show and sample their product to investors, retailers, distributors, and the rest of their fellow attendees. This station is an unmanned area, meaning you will not be physically sampling your product. Attendees will be sampling and discussing the products at their leisure during meals and networking breaks built into the full day program. This opportunity was created to showcase new, innovative and successful brands in order to spur discussion and present instant feedback. The Sampling Bar is a place for all brands present, including products in pre-production, to receive constructive criticism from industry experts and peers on their progress to date.
How does the Sampling Station work?
The Sampling Bar at FBU Chicago is open to any attendee wanting to display and sample their CPG product. Beverages will be placed in ice buckets to allow proper chilling prior to being sampled and sampling cups will be made available to encourage sharing. Food products should also be in snack or sample size. If your product is in the developmental stage, please feel free to share what you have thus far, even if the packaging is not finalized.
Each brand may bring up to 48 individual units (bottles/cans/sample-sized packages) of product. You are welcome to bring multiple flavors and/or package formats, as long as the total number of units for all formats does not exceed 48. Thank you in advance for your cooperation.
Interested in participating?
Please remember that this opportunity is only available to FBU Chicago attendees. If you have yet to register, please do so prior to completing the below application. Register Now for FBU Chicago >>
Already registered? Please complete the following questionnaire about your product in order to have your brand added to our list of FBU Chicago Sampling Station participants.