FBU Chicago's Round Table Talks offer Casual, In-Depth Advice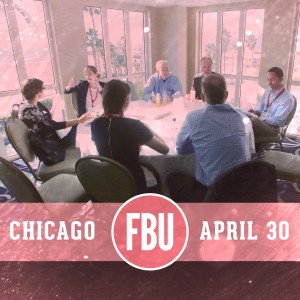 Got specific questions on growing a food or beverage brand? Need to find out some information that you think is only relevant to your company? The FBU Chicago event will offer attendees the chance to have all of their questions answered in small groups by our own set of expert speakers when we introduce our first set of FBU Round Table Talks during the afternoon break.
This extended coffee-and-chat period will see many of the day's speakers — as well as additional subject matter experts who will be on hand specifically to join in — assigned to round tables in the audience for conversations on specific areas of the food and beverage business, including fund-raising and valuations, sales, product design, labeling, regulation, marketing, distribution strategy, loans, and more. Audience members will be able to pick a topic — or two — and meet with the expert of their choice.
Here's how it will work: A complete list of speakers with their table assignments and topics will be made available shortly before the event. At 2:45, attendees will grab coffee or a snack, and head to the table of their choice until the end of the break, at 3:20. (Halfway through the break, attendees will be able to switch tables if they want advice on another topic, but will be able to remain in place if they wish.)  Speakers and the audience will be able to build a structured, topical dialogue that digs deeper into their interests and concerns as entrepreneurs.
We are excited to present this structured opportunity to compare notes on challenges and resources, while also building connections within the larger group. The Round Table Talks are designed to add dialogue-driven advice to the day's program, while letting attendees guide the experts into sharing new areas of their experience.
With FBU Chicago only two weeks away, seats are going quickly. Register now and reserve your seat.
Questions? Please contact Jon Landis at (617) 231-8834 or jlandis@bevnet.com.
About FBU Chicago:
FBU one-day events are designed to provide a full-day kick-start for early-stage food and beverage entrepreneurs; The Chicago event will take place at Moonlight Studios, 1446 W. Kinzie St. in Chicago's West Loop neighborhood. It will take entrepreneurs and their teams through the key decisions and challenges that accompany early growth, including: commercialization, co-packing, product design structuring a company and a sales force, reaching key distribution and retail decision-makers, marketing products, and attracting growth capital. Always friendly, timely, and well-managed, FBU events feature opportunities to maximize both learning opportunities through interaction with speakers and entrepreneurs, as well as the chance for entrepreneurs to sample their products for the audience.