FBU Boston '15: Live Video Stream Announced
We're just one day away from FBU Boston, a unique educational event geared toward new and early-stage entrepreneurs in the food and beverage industry. Held at the WGBH Studios in the city's Brighton neighborhood,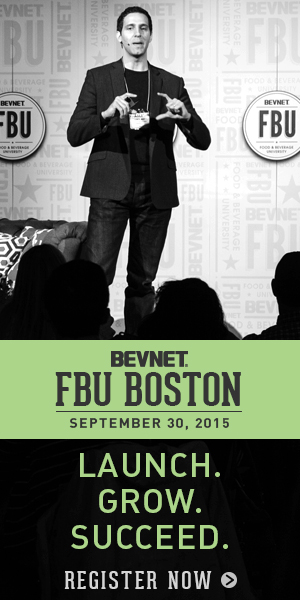 the event will feature some of the industry's most successful innovators and thought leaders who will speak to and engage with company owners and executives looking to network, learn and build their companies.
There is still time to register for FBU Boston, which includes a number of networking breaks and opportunities to speak one-on-one with speakers and other influential guests in attendance.
For those unable to attend, we'll be making a FREE high-definition video stream of the event available for all to watch. The livestream will begin at 9:00 a.m. ET on Wednesday, Sept. 30 and will continue throughout the day. The broadcast will cover every presentation and panel, each of which is packed with expert insights and valuable information for entrepreneurs.
Starting off the day will be a presentation from Rob Ehrlich, the founder of SexyPop and Pirate Brands (creator of Pirate's Booty snacks) on how to create a product that resonates with consumers. We'll progress through discussions on incubating in the natural channel with Tim Sperry, mastering the sales process with Lindsay Greene from the Chia Company, and learning about his own successes and mistakes with Drew Harrington, co-founder of Yasso. And that's just before lunch.
While attendees are nosh-ing and networking, we'll also be streaming live from the sampling station, where attendees will showcase innovative, new products.
Following the break, we'll have a panel discussion about local resources for food entrepreneurs, presented by Brewing the American Dream of The Boston Beer Company, maker of Samuel Adams beer. You'll also hear about how to create a company that piques investors' interests with Mike Burgmaier of Silverwood Partners, learn about financing from a panel of experts and end the day with a session on the life of a food and beverage entrepreneur with Bill Creelman, the CEO of Spindrift.
To watch the livestream, visit projectnosh.com on September 30 for further details and instructions.