Announcing FBU Austin on February 10, 2015
BevNET will present the next edition of its Food and Beverage University (FBU) in Austin, Texas on Feb. 10, 2015. The one-day business education and networking event will take place at Brazos Hall at 204 East 4th St.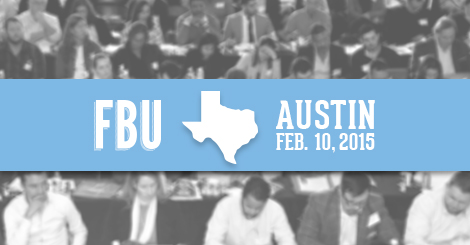 Mixing the experience of company founders with the expertise of industry professionals, FBU is an expedited look at the challenges new and growing food and beverage entrepreneurs will face as they launch and develop their brands.  With the chief goal of understanding what it takes to position a new food or beverage company for the best possible chance of success, speakers provide a supportive but realistic view of the food and beverage environment. They will outline the kinds of hard choices that new companies must make as they attempt to commercialize new products while setting realistic sales, marketing, distribution and fundraising goals.
The stories of entrepreneurs and their associates who have helped build successful brands are a key part of the FBU program, lending illustration and emotion to the broad lessons on product development and design, organizational structure and financial know-how that are necessary for a successful brand. Special attention will be paid to the capital requirements food and beverage companies need for growth and sustainability, and the key areas that must be addressed to preserve — and access —  precious financial resources as growth progresses.
BevNET has already begun assembling a team of speakers and panelists from across the country to make the Austin event a great one, including:
Josh Schroeter, Co-Founder, Sahale Snacks
Michael Burgmaier, Managing Director, Silverwood Partners
Bob Burke, Founder, Natural Products Consulting Group
John Blackington, Founder, GBS Growth Advisors
Bill Sipper, Managing Partner, Cascadia Managing Brands
Alongside panelists and speaker presentations, FBU will feature several networking opportunities for attendees to meet with speakers, BevNET's own experts, and the system of retailers, distributors, investors and suppliers that form the primary contacts of the food and beverage entrepreneur.
FBU is BevNET's educational platform, a business development series originally known as Beverage School, that it has run for the benefit of new Food & Beverage entrepreneurs and their employees since 2009. BevNET's track record in providing relevant business development content is evident through its video subscription service at Food & Beverage University (www.BevNETFBU.com), a collection of focused interviews with CPG experts that offer insight into all levels of strategy for food and beverage product entrepreneurs.
Pay attention for more speaker and agenda announcements, as well as more detailed description of course content. And join us at the Brazos Hall to prepare to launch with the head start that comes from owning knowledge of the road ahead.
Early registration for the event is open now through January 10th, don't miss your opportunity to get in early and save!
Discounts are available for active BevNETFBU.com subscribers. To learn more about this opportunity, please contact Jon Landis at (617) 231-8834 or jlandis@bevnet.com
Sponsorship opportunities are also open for FBU Austin 2014. Interested parties should contact John McKenna at (617) 231-8825 or jmckenna@bevnet.com