Smári to Launch Line of Icelandic Protein Coffees & New Yogurt Cups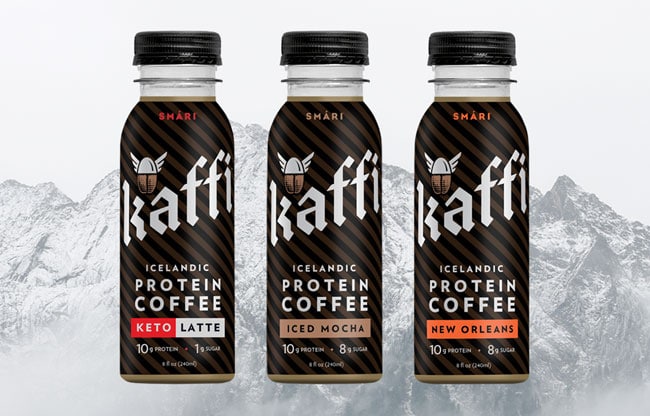 Icelandic-style yogurt brand Smári is branching out with a new line of "Icelandic Protein Coffee" drinks set to launch in March and a lower priced line of yogurt cups.
Speaking with BevNET this week, Smári founder and CEO Smári Ásmundsson said the line has been in development for about two years; the line was initially introduced at Natural Products Expo West 2018 as a "skyr coffee," a blend of yogurt and coffee positioned as a functional meal replacement. However, after receiving mixed feedback on the drink's tart flavor, Ásmundsson said the company reformulated the product with a more traditional coffee flavor that could appeal to a wider consumer base while retaining the functional benefits of skyr.
"People want food to do more than just taste good," Ásmundsson said. "People want some benefit from the food, and my thinking is if I can solve my own problems then there's a lot of other people who would want the same solution."
Ásmundsson said the drinks, which contain 10 g of protein and between 125-150 mg of caffeine per 8 oz. bottle, are designed to be filling and to provide energy without a crash or "jitters." The line includes three varieties — Iced Mocha and New Orleans. The line will retail for $3.99 per bottle. Smári, based in California, will launch the line in natural channel accounts along the West Coast, as well as in Target stores on both coasts.
In addition to coffee, Smári is seeking to grow its yogurt business by preparing to launch a non-organic yogurt line at a reduced price point later this year. The existing organic line retails between $2.19-2.29 per 5 oz cup. The new products will be made from the same dairy source used in its organic products and retain the same high levels of protein (between 13-17 g per serving) but will allow the brand to grow distribution and reach new consumers.
"We were never trying to be really really big, just for the fact that the products are organic with a high price point," he said. "What we're doing now with the non-organic line is to grow the company, grow distribution, and gain a wider consumer base."
Ásmundsson added that he sees a synergy between Smári's coffee and yogurts. The products feature similar branding that reference the company's Icelandic origins, aimed to tap into a growing consumer interest in international products.
"In a way, they're almost exactly the same thing," he said. "They're both about a delicious high protein delivery. One you drink and one you eat. There is definitely going to be crossover. If we were to draw a [venn diagram] between coffee and yogurt, there would be significant crossover."