Dolcezza Gelato Looks to Scale Sustainably with National Launch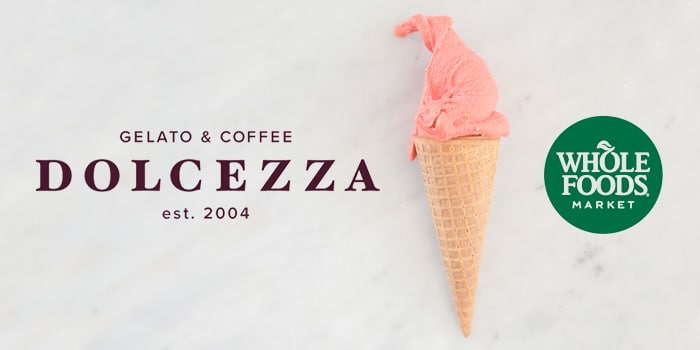 For Robb Duncan and Violeta Edelman, co-founders and co-CEOs of Washington D.C.-based gelato brand Dolcezza, making gelato has always been a labor of love, and the labor is growing. The husband and wife duo's gelato brand began with an international romance 20 years ago and now, nine gelatarias later, the company has just extended the reach of its wholesale brand, expanding nationally into all 500-plus Whole Foods Markets.
Dolcezza opened its first gelateria in 2004, producing homemade gelato from locally sourced ingredients in a 300 sq foot kitchen. Now, the brand operates a 4,000 sq foot factory, with seven flavors sold in over 1,500 natural grocery stores nationwide. After raising $2 million from friends and family, along with renovating their factory and redesigning their packaging, Dolcezza is laying down the path ahead while remaining loyal to another important goal, establishing a sustainable production model.
Duncan, a software engineer working in Portland, Oregon, and Edelman, a film producer from Argentina, met in 1999 at an ayahuasca conference (no, there's no ayahuasca gelato) in the Brazilian Amazon rainforest. Soon after, Duncan decided to quit his job to travel with Edelman, and the two took a four month trip along the Brazilian coastline ultimately ending in Edelman's hometown of Buenos Aires. It was there that Duncan was introduced to gelato at Freddo, a popular local gelateria.
"I grew up on Baskin Robbins and Quarterback Crunch," Duncan said. "Industrial ice cream was the only thing I really knew, not at all like a small, hand-crafted gelato."
When the couple married and moved to Washington D.C., they realized that the city — with a sophisticated, international audience and the mid-Atlantic farming community nearby — would be the perfect place to open a small gelateria. Dolcezza's first scoop shop opened its doors in 2004 and since then the couple has "never looked back," Duncan said, opening eight more in surrounding neighborhoods with possible plans to expand into different cities.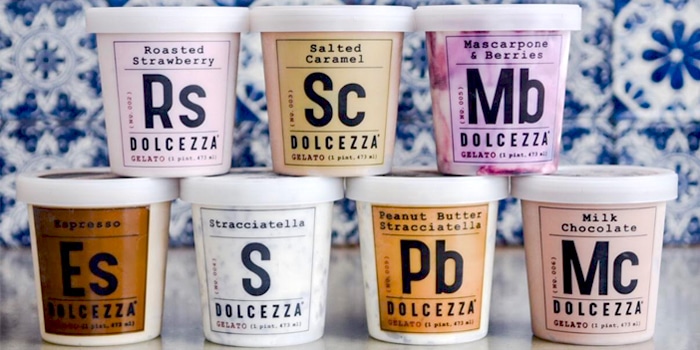 Dolcezza's first foray into grocery came in 2010, when the manager of the now-closed Georgetown Whole Foods location visited a gelateria and asked if they'd consider selling their gelato in stores. Soon, Duncan was talking to frozen buyers, generating purchase orders and producing, delivering and stocking pints himself. Dolcezza then expanded to 12 more Whole Foods in the Washington D.C., Maryland and Virginia area, eventually moving into the whole mid-Atlantic region.
The opportunity to go national came when Duncan had a meeting during the 2018 Summer Fancy Food Show.
"Being a small business, what defines small business entrepreneurs [is] you're always taking on the next challenge, simply for the mere fact of existence and survival because you kind of have to," said Duncan. "We obviously said yes, we're gonna do it."
Duncan said Dolcezza conducted a friends and family funding round to prepare for this month's launch, raising $2 million. Half of the investment went towards renovating the brand's factory, which it has been operating out of since 2012. It's a move that increased production capacity tenfold. Before this round, Dolcezza had raised over $2 million since its inception, according to filings.
The funds also went toward a new package design, which took 10 months to develop. Drawing inspiration from the periodic table, the pints' packaging evokes the founders' love of science and nature, Duncan told NOSH.
While the brand looks to "fully support" the seven flavors currently available at retailers nationally for the first year, Duncan said it plans to unveil another seven, selected from the 250 the gelateria sells every year, in stores next year. For its wholesale options, Dolcezza chose its most "recognizable" flavors (such as Roasted Strawberry or riffs off classics like Stracciatella, an Italian version of chocolate chip) as a hedge against consumer confusion.
Despite the increase in production, Duncan told NOSH that the company has continued to work with local suppliers. For example, the brand has grass fed milk and cream from Lancaster, Pennsylvania delivered to them five days a week.
As they scale the business nationally, Duncan said he and Edelman want the farmers they've partnered with for every flavor to participate in fulfilling as much of the new capacity as possible, and have worked with them to contract grow crops to meet Dolcezza's production demands. Duncan said it is important that they establish a model of sustainability and supply local farmers with stable demand, which he's found isn't the norm for most brands.
"What we're really trying to do is create a new model," Duncan said. "It's not an easy way to do it. It's not the paved path, but it's the path forward that we're trying to create…We can all benefit in this big growth together."