How Real Good Foods Is Seeing 'Real Good' Success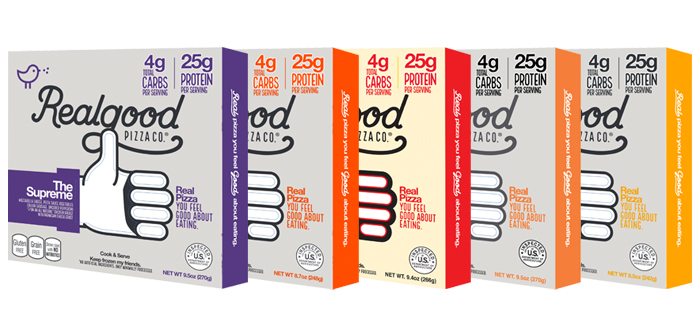 In late 2016, pizza shop owner Josh Schreider was searching for the answer to his stomach woes: a pizza that wouldn't make him feel like he'd eaten, well, a pizza. After testing a variety of fibers that could replace wheat in the crust, Schreider stumbled upon the concept of using antibiotic-free chicken and cheese as a replacement for flour, corn or rice, and soon after launched Real Good Foods (RGF). The low carb and low calorie chicken crust pizzas were a hit, first at his restaurants and then online. Now, 18 months later, the company has launched a line of chicken-tortilla enchiladas and is seeing rapid growth in retail.
The brand expects to be in roughly 8,000 grocery doors by summer 2018. It currently is sold in retailers including Kroger, Publix, Walmart and the Fresh Market. Additionally, the line of pizzas is sold in 2,000 specialty nutrition retailers such as Vitamin Shoppe and on QVC. This growth has been achieved using minimal slotting fees and avoiding third part distributors for the bulk of its distribution.
Along this journey, Schrieder brought on CPG vet Bryan Freeman as CEO. Schreider now serves as president and oversees product development. The two, along with many of RGF's 20 employees, previously worked together at Better Bakery where Freeman was also CEO. Through his venture fund, Slingshot Consumer Partners, Freeman also invested in the company.
The newest addition to the portfolio, frozen enchiladas with traditional corn tortillas replaced with chicken, came via consumer requests to expand into the Hispanic set, Freeman said. A select group of engaged consumers — which the brand calls "super fans" — then helped with product development and testing. Finally, the enchiladas were sold online in December 2017 before launching into Publix this month.
Freeman believes that much of RGF's growth has been thanks to its robust online community. The brand's digital fans have helped develop every new product, serve as a testing ground for ecommerce and help create buzz.
"We're of the strong belief that everything starts and ends and then begins again with our community," Freeman told NOSH. "By going direct to consumer and making that a really meaningful part of the business, number one, it helps you understand what your community wants and loves and what they want next."
As a frozen product with higher shipping costs, ecommerce is still not the largest part of RGF's business. However, Freeman said it helps them get on shelves at certain retailers where young, tech-savvy category managers and buyers are watching what products have a cult following on social media.
Because of this, RGF maintains an affiliate program and a wholesale distribution program where smaller stores and gyms can purchase a branded, standalone freezer and then get larger orders dropped shipped directly to them for resale.
RGF's online popularity has also created a demand for the product that "drives consumers to the point of distribution," Freeman added.
"Retailers are looking for reasons to bring consumers to their stores and especially center store," Freeman said. "I believe retail is becoming a point in distribution. It's not a place to advertise your product… You have to create demand outside of the store. That's what drives incremental revenue for the retailer, so the retailer wins, and the company succeeds."
Freeman cited low fat ice cream brand Halo Top for using a similar strategy of creating a viral, organic wave of support. When the company first launched into retail, many consumers asked their retailers when the product would be stocked and then quickly cleared out freezers once it was on shelves.
Going forward, the company plans to continue to expand in center store. In 2018 RGF will launch two new product lines that "may or may not" be in frozen. What is off the table, however, is using "exotic" protein isolates or sugar alcohols to hit certain macronutrient claims, Freedman said.
"What our community wants is delicious real food that's low in carbohydrates and high in protein." he said. "So from that, that gives us permission to go into adjacent categories, such as snacks and appetizers, and it no means restricts us to a source of protein."