Nuun Launches Immunity Line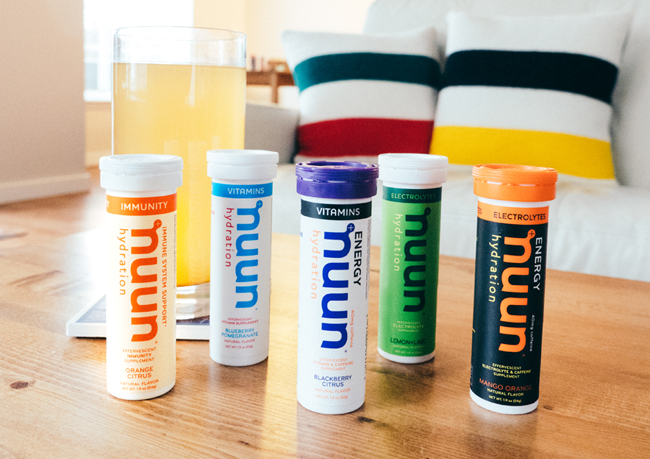 Nuun has made health-through-exercise a core tenet of the brand identity for its line of hydration tablets and powders. But now the company says it is looking to take care of its consumers around the clock with Nuun Immunity, a new line launching next month.
The Seattle-based company introduced the line, which will be available online and at Nuun's existing retailers starting on April 3, at Natural Products Expo West 2018 earlier this month.
Speaking to BevNET, CEO Kevin Rutherford said the company is looking to branch off of its existing energy and hydration products, which are marketed to physically active consumers and athletes. The immunity line, he said, offers a different type of functionality that can be a part of consumers daily routine for both athletes and non-athletes.
"There's opportunity in between the exercise," Rutherford said. "We're looking for the different areas where can we help you to thrive so you can get back on your feet and move more, which is our mission. Anything from sleep to energy, there's many different aspects we think we can elevate the game. We're evaluating the biggest ideas around that, we call it the at rest occasions or non-sweating occasions."
The line will be available in two SKUs — Blueberry Tangerine and Orange Citrus — and will retail for $6.99 per 10 tablet container. The products are made with a botanical blend of elderberry extract, organic ginger powder, organic turmeric, and echinacea and contain Vitamins A, C, D, and E, as well as antioxidants and electrolytes.
Positioned against similar non-ready-to-drink immunity products such as Emergen-C and Airborne, Nuun is emphasizing its Non-GMO Project verification, an innovation that senior R&D and quality manager Vishal Patel said took five years to achieve.
"We wanted to change the game on sourcing," Patel told BevNET. "Five years ago every single effervescent tablet expert told us that we'd never be able to be Non-GMO verified. They didn't think the supply chain was there, they didn't think it was possible from the active standpoint on vitamins and mineral sourcing."
According to Patel, Nuun worked with suppliers to explore alternative sources of vitamins, including extracting Vitamin A from fermented vegetable fungus and Vitamin E from sunflower oil. The company also had to forgo corn-based ingredients, leaning heavily on tapioca. Now, Nuun is pointing to its efforts as a means of paving a path forward for suppliers across the industry to provide natural ingredients.
"Before then, there wasn't a ready supply of non-gmo citric acid or non-gmo dextrose out there, so it did take a while for us to make sure the suppliers and farms we were working with could meet our volume standards our social ethical standards our compliance standards as well," Patel said, adding that all Nuun products will be upgraded to be Non-GMO Project verified by the end of the year.
According to Rutherford, Nuun plans to continue innovating around convenience, health, and athletics.
"I heard this at an event, that 'as fast as things are moving today, it will never be this slow again,'" Rutherford said. "It boggles my mind because it's so true. When you think about the impact this has on our health, we are not stopping to get the nutrition and vitamins that we need. We all need a boost, and if we want a healthier society then we've got to make it easy."