Nature's Bounty Acquires The Best Bar Ever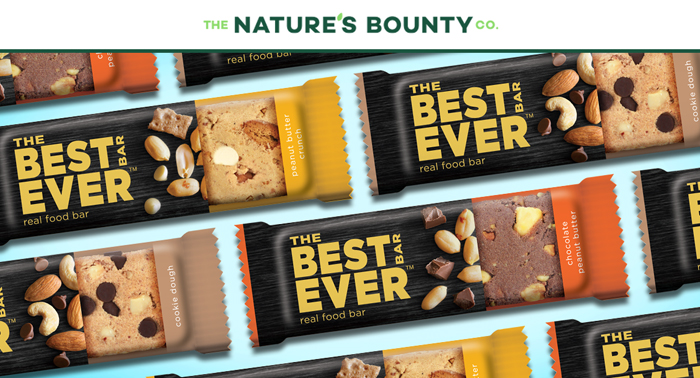 In an effort to bulk up its nutrition lineup, sports performance and supplement-maker Nature's Bounty acquired "real food-based" nutrition bar brand The Best Bar Ever last week. The purchase adds a clean-nutrition halo brand to Nature's Bounty's growing portfolio of sports and nutrition products. Terms of the deal were not disclosed.
The Best Bar Ever was founded in 2005 by CEO Mike Clay. Clay, who struggled with his weight since childhood, first entered the food world with fresh meal service Custom Fit Meals in 2004 as a means of personally eating healthier. As he lost over 100 pounds consuming his own meals, he realized he also wanted the option to snack on a clean, on-the-go indulgent bar, as well. Soon after, The Best Bar Ever was born.
Now under the Nature's Bounty umbrella, Clay will remain with the company as a spokesman and lead product innovator for the brand. He will report directly to John Frame, VP of Brand Marketing at Nature's Bounty and General Manager for The Best Bar Ever. The rest of The Best Bar Ever's six-person team will also stay with the company in various sales, marketing and innovation roles. Clay told NOSH the deal is a "dream come true" for him and his company.
"The biggest challenge [has been] how do we continue to focus day in and day out on making even better bars, and improving our products, [while also] having a focus on improving our business. Those are two different things," Clay said. "We wanted to be the best at making bars; we didn't necessarily want to be the best at running companies."
Frame told NOSH that Nature's Bounty was interested in The Best Bar Ever because its products appeal to a different — and desired — consumer: someone looking to the ingredients panel for simple, nutritious and familiar ingredients. A similar move happened shortly before the end of 2017, when Kellogg's acquired RX Bar.
Currently the Nature's Bounty portfolio includes brands such as Pure Protein, MET-Rx, Body Fortress and Balance Bar. Best Bar Ever products differ from Nature's Bounty's other bar offerings in that they do not contain fillers or sugar alcohols, are designed to contain a balanced blend of fats, carbs and proteins, and are made from whole-food sources like nuts, dried fruits and natural protein powders.
"There are specific users of bars and nutritional products that have specific expectations or desires coming from those products," Frame said.The way the marketplace is trending today, the general population consumer is looking for minimal ingredients products that offer real foods like chocolate chips, peanuts, fruits, protein powder… That was something our portfolio wasn't offering. So instead of redirecting or recreating the target within a brand, it was better to go out and find a brand that would hit that target for that consumer within our portfolio."
With its new resources and funding, The Best Bar Ever will be able to grow rapidly, especially in terms of distribution, according to Frame. Under Clay's leadership, Best Bar Ever gained distribution in hundreds of locations, including health and fitness channel stores and independent grocers, and added Publix last fall. With Nature's Bounty's extensive global presence, Frame said he thinks the company can "bring this product to life very quickly" in thousands of stores. He added that Nature's Bounty's supply chain, commercialization capabilities and sales expertise will create a unique opportunity for the brand as they continue to try to get more bars into more mouths.
"[The goal is] to have consumers get out there to try and experience these bars, and really validate that they are in fact the best bars in the marketplace in terms of taste and a nutritional profile," Frame said.
A boost in on-shelf presence and increased sampling and marketing efforts are not the only ways The Best Bar Ever will be scaling. Frame said Nature's Bounty sees an opportunity to innovate with the brand in other snacking occasions, though he declined to disclose what sectors within the nutritional food category that the team is considering for future products.
"Bars is the way into this category," he said. "[But] the one thing that this brand will not be is just a bar brand."
Currently, the bars are available in three flavors: chocolate peanut butter, peanut butter crunch and cookie dough, retailing for $1.99 for a 40 gram bar and $2.99 for a 64 gram bar. Prior to the sale, the company narrowed its SKUs, cutting flavors like apple pie, in order to offer a more streamlined offering for Nature's Bounty. However, Clay said that with his new ability for faster product development, he's excited to continue to create new indulgent flavors that align with consumer desires for guilt-free treats.
The deal is the first since Nature's Bounty was acquired by Private Equity firm KKR in the fall, and the first since new CEO Paul Sturman came aboard.
Still, even in this environment of change and growth, Frame said he thinks the trend toward combining food and nutrition aligns with Nature's Bounty's past and present trajectory, and that he expects other companies will continue to look to this trend as well.
"We have always been a vitamin company and a snack food company from a health and nutrition perspective, but both of those categories together have flourished," Frame said. "I think there are and will continue to be a lot of synergies there."