How Brands Are Responding to the New Challenges in Today's Marketplace
Yesterday's model for CPG brands is no longer effective. Today they must consider the caliber and sourcing of the ingredients they use, what their investors want, and the myriad ways consumers are shopping for products. In a new report, investment research firm CB Insights outlined ideas for what brands must do in order to stay top of mind.
A Market Overview of the Challenges Brands Face
In recent years, larger brands such as Nestle, Procter & Gamble, and Pinnacle Foods have all faced pressure from activist investors. One recent case is Campbell Soup, which saw investor Daniel Loeb of Third Point LLC acquire 5.65 percent of the company and then advocate for the company to replace its board of directors, change leadership and sell itself. An early win for Loeb was the resignation of CEO Denise Morrison in May.
But investor pressure is also resulting in portfolio reorganization by CPG brands, according to CB Insights.
"They're racing to sell or slash their less productive business unites and double down on their most successful products," notes the report. Nestle has sold its candy business to focus on pet care, water, coffee, frozen items and baby food, while Smucker's and Mars have invested in pet care.
A significant threat for large brands, CB Insights wrote, comes from smaller, more nimble entrants to categories. For example, Chobani's ability to steal market share from Danone and Yoplait, or Halo Top — which has sold over 50 million pints — snagging customers away from Unilever's Ben & Jerry's and General Mills' Haagen-Dazs brands.
Fueling these smaller brands, the report notes, is investment from firms such as CAVU Venture Partners, New Crop Capital, S2G Investors and VMG as well as investment from large strategics themselves. General Mills' venture arm 301 Inc, for example, recently led a round of funding in non-dairy yogurt and cheese brand Kite Hill. If Kite Hill can replicate the flavors of traditional dairy, the brand stands a chance of gaining shoppers who might otherwise turn to General Mills' other yogurt brands, such as Liberte, Annie's, and Yoplait.
CB Insights added that there are also plenty of traditionally tech-focused investors investing within food and beverage.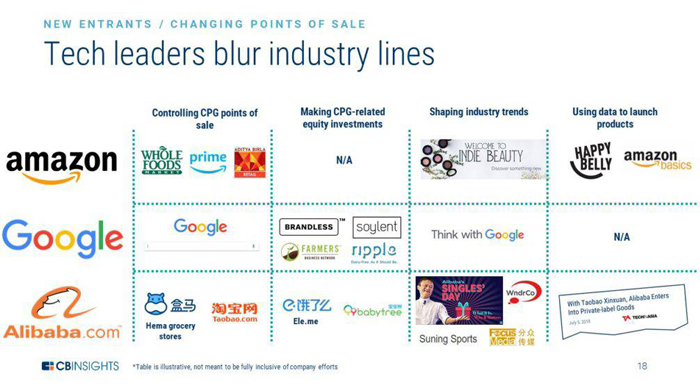 Another threat to established brands comes from retailers, who are increasing devoting capital and energy towards their own private label products, the report noted. The research firm cited Albertson's O Organics (which hit $1 billion in sales in 2018) and Kroger's Simple Truth brand (with $2 billion in sales in 2018) as examples of successful private label lines.
E-commerce retailers, such as Amazon, Boxed, and Thrive Market, are also looking to private label. By looking at what shoppers are searching, and buying, these online retailers are able to best select what products to develop, according to the report. Furthermore, they have an inside scoop: knowing when consumers are searching for — but not successfully finding — products to meet their needs.
As a result, brands now need to strategize about private label products in addition to fellow branded items. "Brands need to rely less on retailers, which are becoming competitors rather then partners," CB Insights noted.
New Ways to Interact with Shoppers
So how are brands adjusting their game plans? First, in response to retailer competition, brands are building their own points of sale. While it takes more effort, CB Insights noted, it helps brands control the presentation of products, form deeper relationships with consumers and gather consumer insights.
These can be via experiential retail, such as the Kellogg's Cafe in New York, by launching pop-up stores, or even by acquiring serious retailers, such as Nestle's purchase of Blue Bottle Coffee.
Companies are also experimenting with other ways to get their products into the hands of consumers — and not just via free sampling. Brands are able to target consumers where they work (and are captive audiences) by placing their products in cashless vending machines, such as Byte Foods, or office snack delivery services, such as SnackNation, or in in-office markets, such as coworking space WeWork's WeMRKT.
Gyms are also increasingly serving as a point of sale. While gym juice bars or cafes have traditionally been an avenue for brands, some meal kit companies now offer pickup, custom freezers or coolers at these workout hubs.
Rethinking Product Portfolios and Attributes
There are also broader consumer interests causing changes.
"Wellness, or the idea of integrating activities into your lifestyle that fuel your physical and mental health, has caught on across industries," the report states. For food brands, this can mean adding functional benefits to products through the use of herbs, botanicals or adaptogenics, or offering products that are non-GMO or organic. Although not mainstream just yet, CBD is also another ingredient CB Insights found brands are exploring.
Consumers' desire for wellness is particularly influencing acquisitions by large strategics. Nestle divested itself of its sugar-heavy candy business — which had seen slumping sales — while PepsiCo acquired sparkling water device SodaStream for $3.2 billion.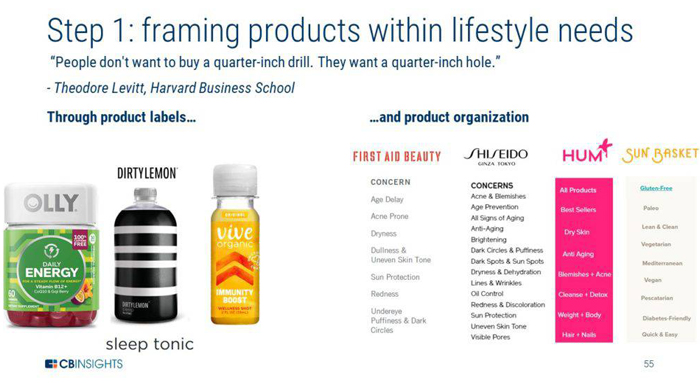 The "Holy Grail" — is individualized products. For years, CB Insights said, consumers have asked for products that best meet their individual needs.
But before turning to fully personalized products, there are interim steps brands can take. First, brands can "[frame] products as solutions to specific lifestyle problems," CB Insights noted. For example, instead of labeling a product as a fiber supplement, a company could call it "digestion booster." By framing items as meeting "unique" needs, brands can appear to be more personalized.
Another solution can be consumer education: maintaining the current product portfolio but creating a way of guiding shoppers to the right product through tactics such as online quizzes or curated emails. The report found this marketing tactic makes consumers feel like brands are listening while, simultaneously, gathering more research about shoppers.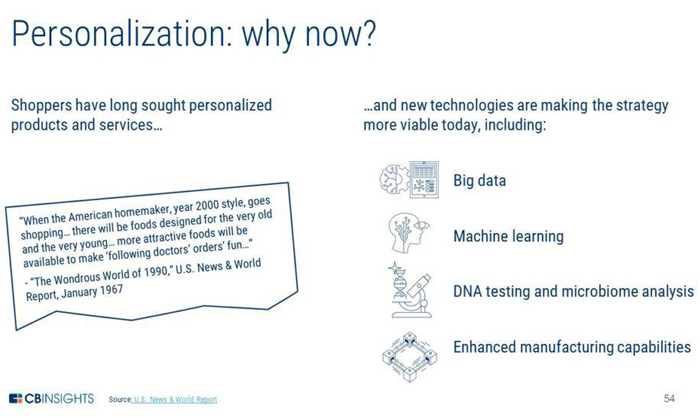 Ironically, as more personalized products have emerged, so too have what CB Insights refers to as "standardized products." These items tend to have basic branding that only tells consumers what's contained inside, and focuses on lower prices in exchange for a one-size-fits-all product. Examples of this trend include Brandless and Soylent.
"Personalization and standardization are more similar than they appear," the fir found. "Both take away the burden of choice for the consumer, promising the right product for a specific consumer (personalization) — or the right product, full-stop (standardization)."