North American Snack Market Sweet On Matcha at Fancy Food Show
Matcha has moved beyond the teacup.
The traditional ceremonial tea powder's clean and grassy notes have found their way from consumers cups to their plates. Matcha has long found its way into Japanese sweets from macarons to mochi, cakes to cookies, and even chocolate bars, but during this year's Winter Fancy Food Show (WFFS) in San Francisco, it was clear the North American snack market is starting to get sweet on the tea powder, too.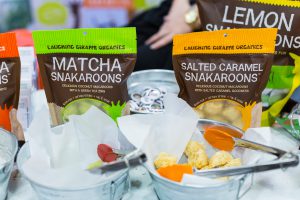 Brands like Matcha Love, AOI Tea Company, Maribelle's Chocolates, Nuts About You, Laughing Green Organics, MyMo Mochi Ice Cream and Takaokaya all featured snack products incorporating matcha. The brands are part of the massive growth of matcha food offerings in the U.S. in recent years. In 2016, there were 1,042 new product introductions using matcha green tea globally, according to FONA International. Of those products, 56 were based in North America, more than doubling category introductions in both 2014 and 2015.
Matcha has been consumed in China and Japan since the 10th century, but drinking matcha began to gain popularity in the U.S. in just the past few years, entering the U.S. through Japanese grocery stores in cities like Los Angeles. Now, the tea powder is a staple menu offering at cafe chains like Starbucks. It has quite a social media presence as well. According to FONA, of the 14,000 English language social media posts mentioning matcha, 44.6 percent of them were from the U.S.
On the ingredient side, Matcha Love, a green tea line created by Brooklyn-based beverage company ITO EN (North America) INC., is best known for its line of ready-to-drink organic green tea and matcha blend. But the company has recently expanded its portfolio to include a a culinary matcha and barista-style powdered mix.
"There's a lot of willingness to play with [matcha] and understand that it has all these different applications beyond ready to drink," Adam Hertel, senior vice president of sales, grocery and alternate channels, told NOSH.
Hertel said the company made the jump beyond beverages because of increased demand stemming from the tea's purported superfood health benefits. But it was matcha's influence in the baking category, one that has been flat or declining in recent years, that was of most interest to Hertel.
"Though baking flour may not be a growing category, functional baking ingredients like matcha, flax, and ingredients like this are bringing some new excitement to that category and are really trending," he said. "We even package it in a baking powder-style tin."
Matcha usage within food tends to favor sweet over savory, with chocolates and cookies among the ingredient's top categories. It's a trend Maribel Lieberman, CEO and Founder of New York City-based Maribelle's Chocolate, said she is noticing in her own matcha chocolate bar, truffle and drinking chocolate sales.
"Three years ago, people didn't want to even taste it and now today, it's 'I want the green one!'" Lieberman told NOSH. "For me, it's the best time in my business because now [consumers] really realize what is a good ingredient. I've always been a lover of pure products, like matcha."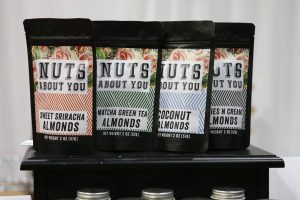 Nuts About You cofounder Iris Kim agreed, adding she has noticed that millennial consumers "definitely grab for the green tea flavor" of her sweetened roasted almonds.
The millennial consumer is proving to be a target audience for matcha brands. Recognizing this buying power, Matcha Love will be launching its new campaign, "Stay Grounded," next month in hopes of connecting with millennial women specifically about the benefits of matcha as both a beverage and food ingredient.
"It's that sense of discovery of the millennial wanting to be that trendsetter, that taste maker," Hertel said. "They want to be the ones on the cusp of something and they are able to tell their friends about it, share it socially, or share it anecdotally in their personal networks. They have more of a global palate so [matcha] is just a perfect compliment to that."
Yuri Fitzgibbons, program coordinator at Japan Export Trade Association USA, told NOSH during the WFFS that though the U.S. tends to have more of a coffee culture, she thinks the growth for matcha as an ingredient will not be slowing down anytime soon.
"The tea market here is limited, but the flavor, people like it," the spokesperson said. "So even if you don't drink matcha, [brands] are trying to get people to enjoy it in different ways, and that's good for both countries businesses and growth."