Metamorphosis: Cricket Companies Leap to Attract Early Adopters
Call it insect evolution. Chapul and Exo, two of the leading brands of cricket-based foods, hope to get the industry chirping about their new looks.
Both Chapul and Exo announced new branding earlier this summer, with similar aims: speak to an offbeat, fearless consumer. Exo's rebranded products are currently on shelves, while Chapul has rolled out the new look on a just launched protein powder and will transition its bars by the end of the summer.
While both companies felt their businesses were hopping, executives told NOSH the looks were not operating as effectively as hoped. Both bars tried to emphasize the sustainability and nutritional benefits of crickets on their previous packaging. While internal research showed consumers saw these elements as a benefit, it also found that both companies' branding lacked an emotional connection that consumers who want to eat crickets could rally behind.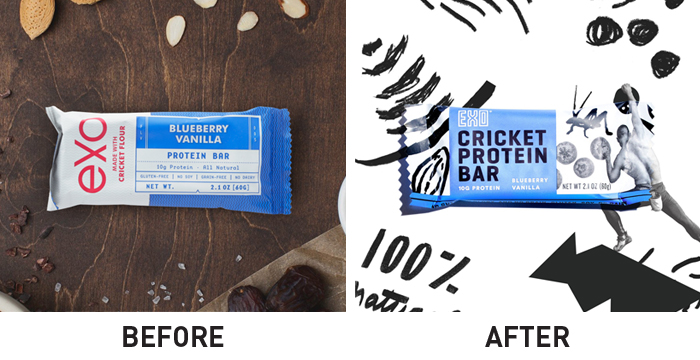 "We wanted to step back and reframe the brand as more about the community and being part of this cult, almost, of people who like to do things that others might look at as strange," Exo co-founder Greg Sewitz told NOSH. "We wanted to move away from any specific attribute in general, regardless of it if was nutrition or sustainability, and instead frame it more as a badge of honor that you were eating crickets in the first place."
Chapul founder and CEO Pat Crowley said the company spent months not only researching their own consumers, but also examining studies about how consumers approach new foods. What the company found was that an initial negative reaction to consuming crickets was often driven by "neophobia" or the fear of new or unfamiliar things. Instead of trying to address fear with logic, Crowley said, Chapul realized it needed to embrace it.
"We had this underutilized asset. If people have an immediate emotional reaction of fear, our job is to capitalize on that fear and turn that fear into courage," Crowley told NOSH. "The early stage of consumer adoption are those people that pride themselves on doing something different and seek something different from conventional and mainstream. So they want something that speaks to them and says 'you are a badass that's not afraid of being different.'"
The brand added several visual elements to convey this new message, most prominently an eye staring directly at the consumer with a stripe of paint underneath. Crowley said the brand wanted a package that could look consumers in the eye and challenge them to face their fears while the paint symbolizes a warrior or champion.
Exo's focus is to also embrace the challenge of eating crickets directly. Previously, the brand had banned all imagery associated with bugs on its packaging. Now, the new bars have a stylized, illustrated cricket. Sewitz told NOSH their ability to use a cricket on packaging is also an indication of just how far the category has come.
"There's been so much attention to us and the idea and other companies in the space that we felt we had a little bit more leeway to play around with the idea that there are crickets in it," Sewitz said. "A lot of our customers now are finding us for the very reason that we use cricket protein, which is very different then when we started. So we want to lead with that rather than trying to sweep it under the rug."
At their inception, both companies had tried to mimic the look of more mainstream brands in order to steal customer share away from other lines. However, the two realized that their shopper isn't a mainstream consumer, and they believe they'll attract more consumers with edgier packaging aimed at early adopters.
For Chapul, the rebrand also comes as the company is both launching into a new category, protein powder, and adjusting the formulation of its bars to better meet the dietary needs of their consumers. The bars now have more protein and less sugar, for some flavors by almost half. To get the added protein, Chapul has added protein "crisps" which also add a welcome addition of texture and crunch to the bars.
The company has also simplified some of its flavors to be less challenging. For example, the brand's matcha, nori, goji berry bar is now matcha banana. The shift gives consumers less of a reason to reject a bar that's already using a novel ingredient, simply because it also is only available in unfamiliar flavors.
While Exo's bars remain the same beneath the wrapper, the company wanted to keep its new sales strategy in mind when going through the redesign. Sewitz told NOSH that e-commerce is Exo's the number one retail channel and that any new design needed to be both captivating on a computer screen and flexible enough to lend itself to other digital assets. It's a shift from when the young company launched, Sewitz said, and was primarily focused on how a product would look on shelf.
Although marketing strategies and brands may change, both Sewitz and Crowley emphasized that their companies are still focused on getting sustainable protein sources into more consumers' hands — even if it is a complicated message to convey on the back of a bar wrapper.
"Even though we're all in it with all of our heart for that sustainability and to do something for the world, I've told our team that we'll accomplish that a lot more effectively if we stop talking about it," Crowley said. "When you try to [explain a lot of messages] in packaging, you just don't send any messaging at all."