Hummustir 'Stirs Up' Change With New Look and Stores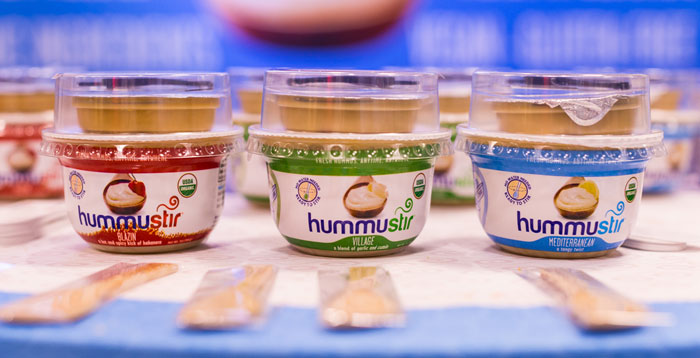 Hummustir is not afraid to mix things up, literally and strategically.
During Natural Products Expo East in Baltimore, Md., earlier this month, Hummustir cofounder and CEO Rakesh Barmecha told NOSH that his team has changed its company's name to "Stir It Up," redesigned the packaging for its Hummustir line, and doubled its store count to about 6,000 retailers.
The organic hummus maker, which launched in October 2016, offers consumers a customizable, preservative-free, shelf stable hummus option. Originally the line was originally sold as a cardboard tub containing three individual packets containing organic chickpea puree, organic tahini and spices. Although the product was seeing retail success and receiving positive feedback on taste, Barmecha told NOSH he was not pleased with the consumer experience.
Inspired by the "mix-in" options in the yogurt set, Hummustir shifted to a plastic tub of chickpea puree with a separate container of tahini — now premixed with spices — nestled in its lid. Barmecha told NOSH that he thinks consumers will appreciate having an easier process with less steps and less mess, especially in comparison to its old method where consumers squeezed various sized packets into the cardboard tub. The new packaging also more closely resembles a traditional hummus tub that consumers recognize on shelves.
"The first packaging was basically to establish proof of concept; is this something people will love? We found people love this concept — they want this no preservative, organic option available to them — but [they] didn't like the experience," he said. "When we went into grocery stores and we looked at yogurt and granola, we thought 'wait a minute.' If we can do this for hummus then it would be perfect because everybody gets a two-step process."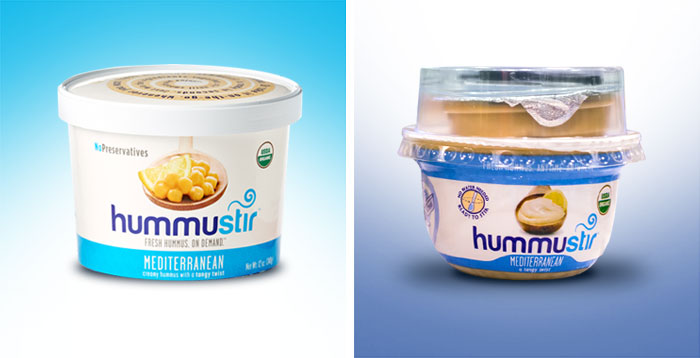 It seems Walmart "gets" it, too. For roughly the past year, Hummustir has been in test with the retailer and sold in approximately 500 stores. After the company showed Walmart buyers the new packaging, the retailer expanded Hummustir's distribution to over half of its stores — which is roughly 3,000 locations. The new additions double the company's store count, which also includes retailers such as Wegmans, Fairway, Bed, Bath & Beyond, Citarella, Central Market, Woodman's Market and Fresh Thyme.
"There's an overall change in mindset in the American consumer regarding what and where they want to buy something that is good for their kids, and healthier– and for themselves too of course," he said. "So with Walmart, this helps us get the word out there faster because their retail footage is huge."
In May, Barmecha told NOSH his goal was to be in five to six thousand stores by the end of the year. With that goal now already met he said he now expects Hummustir to be in 10,000 stores by the end of the year. He'll also continue to evolve the company's foodservice line, which is expected to officially debut at the end of the year.
While Barmecha expects customers to gravitate toward the new packaging, he hopes they won't be deterred by the product's new price. The brand's 12-ounce container will shift from $3.99 to an MSRP of $4.49 to $5.49, and its 7-ounce container will now retail for $3.99.
The new packaging also alters another aspect that was originally appealing to some customers: personalization. Part of the original concept was that consumers could add as little or as much of the spices and tahini that they preferred. However, Barmecha said that even with one less step, he thinks the product still plays toward trends of personalization and do-it-yourself (DIY).
"You still have to pour it in and stir it up," he said. "Which is why we actually changed our company name to Stir It Up. The whole concept… is separating the ingredients and stirring it up, which enables us to have a product that is preservative free and organic."
The company was originally launched under the moniker Baruvi Fresh LLC., but it's on this new "Stir It Up" platform that the company plans to expand beyond hummus by next year.