Health Warrior Deepens Its Roots While Pushing Growth
Superfood snack brand Health Warrior is moving into its next phase of growth with the launch of a new line. But with this expansion, the brand is not forgetting its core mission. Simultaneously, the company is doubling down on the values that were intrinsic to its formation with a new flavor of its current chia bar.
The brand's latest chia bar, Mexican Chocolate, actually will touch on the company's roots, says founder and CEO Shane Emmett, who cites two books as part of company lore: Born to Run and The Omnivore's Dilemma.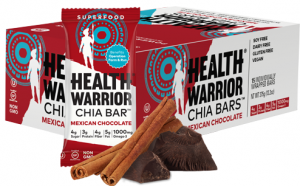 The former chronicles some of the world's great ultramarathoners, the Tarahumara people of Mexico. While the Tarahumara reside in one of the most beautiful areas of Mexico, the Copper Canyon, the region is currently plagued with a drought., As a result, it's facing economic turmoil. The book was also partially responsible for raising awareness around chia, as the Tarahumara are known for consuming them. Emmett and his team recently became aware of the issues surrounding the region and wanted to help.
"That's what you have to do as a startup. It's about making sure your roots are deep…the plants with the deepest roots grow the fastest. So that's what we did. We went back to our roots."
Six months ago Health Warrior put $15,000 towards one Tarahumara farm for soil restoration, land clearing, irrigation equipment, planting, harvesting and growing of chia seeds. The family that grew the seeds also has a guarantee from Health Warrior to buy the end crop.
The one farm a success, Emmett is now thinking larger. "Around Health Warrior we like to say 'nail it before you scale it,'" he told NOSH. "On it's face, what we're doing is simply launching a new flavor, just with a really interesting supply chain."
To that extent, the brand is now launching a new Mexican Chocolate chia bar and "Operating Farm and Run." As a way of launching the bar, Health Warrior created a Kickstarter campaign to generate awareness of the bar and cause. All of the proceeds from the Kickstarter will go towards the farms and backers can not only can essentially purchase bars, but also receive other benefits.
The Kickstarter runs through March 15th but the bar's future doesn't end there. Whole Foods Market has committed to placing the bar nationwide and 10 percent of store sales will also be donated to Operation Farm and Run.
At the same time, in a look toward the future, Health Warrior is also launching a new line of pumpkin seed bars next week in Wegmans. It's brand's first exploration beyond chia as a main ingredient.
"We were very focused, after launching the chia bar, on going narrow and deep, like everyone advises you to do," Emmett told NOSH. "When we looked at the truly awesome, historic, brands that have been able to become platform brands, like Kashi and KIND, they really go deep before they go wide. It's been hard to control ourselves and not do more innovation over the course of the last four years. But now is really the perfect time to be making more radically convenient real food."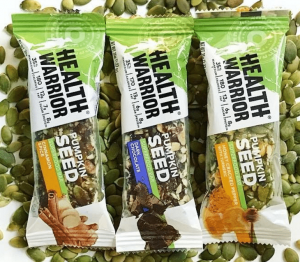 The newest addition to the Health Warrior lineup is made of roughly 70 percent pumpkin seeds, a teaspoon of organic wildflower honey, quinoa, coconut oil and spices for flavor. There are no natural or artificial flavors involved.
Each bar will retail for roughly $1.79 on shelf in the natural channel and with about 170 calories and eight grams of protein, they fall in the middle of the brand's other chia and protein bars.
"The superfood protein bar is sort of a mini meal replacement," Emmett said. "The chia bar is the perfect, quintessential snack and I like to think of this one as for the 3 p.m. slump. A slumpbuster bar."
Going forward, Emmett hopes to continue to focus on the snack, and in particular, bar category. No matter what direction the company takes, Emmett said it will always come back to creating clean, plant-based foods that are easy for consumers to have as part of their busy lives.
"Our thesis is that fads will come and go," he said. "Weight loss diets will come and go but there's some foods that have been celebrated for thousands of years and making those easier for people to take them on the go is a pretty fun mission."