Good Culture Looks to Expand in Conventional Grocery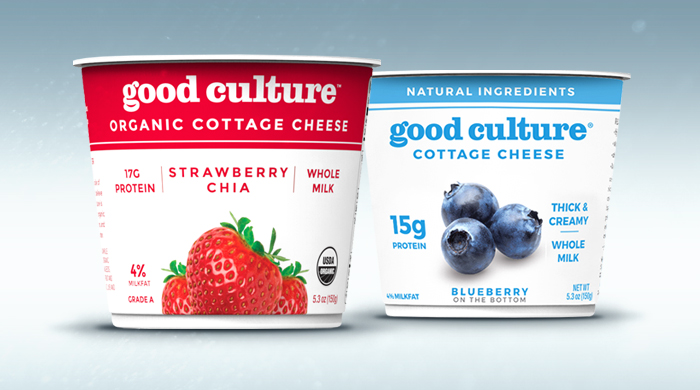 While the once-staid cottage cheese category has gotten more crowded over the past year with upstart brands Good Culture and Muuna entering the dairy case, there's still a large segment of consumers for whom it signifies diets, rice cakes, and carrots.
Jesse Merrill, the founder and CEO of Good Culture cottage cheese, wants to change that perception and teach consumers that cottage cheese can be the answer to their high-protein prayers. While the brand has seen huge growth over the past year — Merrill pegged it at 17 times the previous year's sales — he isn't done spreading the gospel, as he showcased the company's newest product, a natural line of cottage cheese that aims to reach even more consumers, at this year's Natural Products Expo West.
Merrill believes that the new Good Culture natural line, which will only be stocked in conventional retailers, will allow the brand to quickly scale and grow. Harris Teeter, Publix and Stater Brothers have already picked up the line, with more conventional retailers close to signing on.
"Our mission is to put out less processed, simple ingredient, high-protein, nutrient-dense dairy snacks and to get that out in front of a wider audience. We felt like the organic range limited where we could go," Merrill told NOSH. "So we wanted to develop a range that still ticked all those boxes but allowed us to reach a wider audience. The natural line was designed specifically to allow Good Culture to scale more aggressively and to make it more accessible."
Accessibility is one of the main drivers behind the concept. Good Culture's organic line, which is in roughly 1,800 natural retailers, usually has an MSRP of $1.99 to $2.49 per 5.3 oz. cup. The price is, at best, comparable to the average price for a cup of organic yogurt, but is more expensive than yogurt branded as natural. The Good Culture natural line will have an MSRP of $1.69.
Merrill says the company hasn't felt pushback from consumers in natural retailers on price, but found there was a bit of "sticker shock" with the conventional shopper still looking for better-for-you options. He believes this price sensitivity has occurred because cottage cheese has become a commoditized category in the conventional retail channel.
After engaging in consumer research, Good Culture arrived at the $1.69 price and then developed the product range against that.
This doesn't mean the brand has compromised or created a lesser product, Merrill said, emphasizing that the main difference is that it's not organic. The natural line still based on"real foods," he said, using milk from grass-fed cows, while avoiding gums, preservatives, or protein concentrates.
The conventional line is more traditional when it comes to flavor, however: while the organic line has varieties like strawberry chia, blueberry chia acai, and kalamata olive, the natural line relies on strawberry and blueberry; there aren't any savory flavors yet.
Merrill also emphasized that while the natural line was a focus at Expo West, the organic line is still a key part of the business. By the end of 2017, Good Culture plans to be in over 5,000 retailers, with the organic line comprising the bulk of the business.
Good Culture completed two rounds of funding in 2016, raising a total of $5.1 million dollars from a group of investors that included CAVU Venture Partners and General Mills' venture arm 301 Inc. While the capital itself was beneficial to the launch of the natural line, the advice from 301 was also invaluable, he said.
"What's exciting about the 301 Inc team is that they are very hands on and very executional. They are definitely an extension of our team," Merrill said. "For an early stage brand to have access to these deep resources across several functions is really exciting."