How These Dairy Darlings Could Change the Yogurt Aisle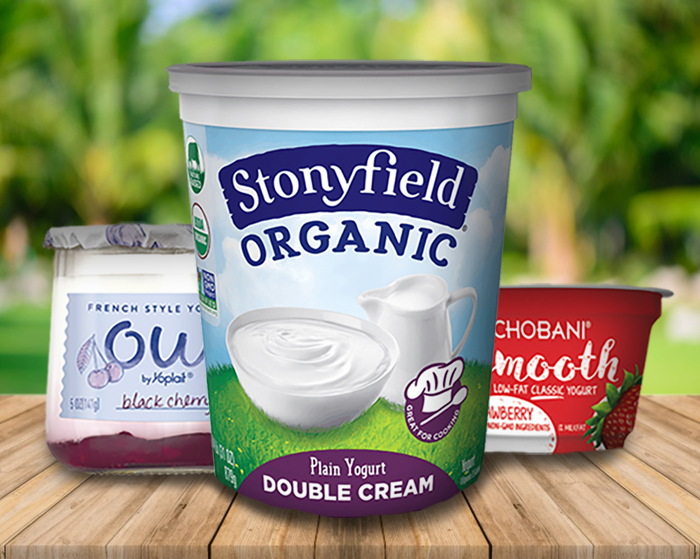 The yogurt aisle is getting a makeover in the wake of major strategic changes by three of the category's biggest companies.
It started with General Mills' announcement of a new French-style yogurt, Oui, from Yoplait on June 26. Two days later Chobani announced that for the first time ever, the Greek-yogurt creator would make a traditional line. Then earlier this week, French yogurt and dairy giant Danone agreed to sell Stonyfield to rival Lactalis for $875 million.
The shift comes at a time when these players are not only trying to steal market share from each other, but also bring back growth to a category whose once fast sales are now slowing, according to Michael McCully, the former dairy procurement director at Kraft Foods and now a dairy consultant.
"With overall yogurt sales leveling off in the last couple years, there is a need to develop new products to try to bring growth back to the category," McCully said. "The goal will be to grow the category and not cannibalize it."
Danone's divestment from Stonyfield has been months in the making. Danone announced in July 2016 its intention to purchase Denver-based organic-foods producer WhiteWave Foods Co., but in order to win regulatory approval from the U.S. Department of Justice for the proposed $10 billion purchase, Danone had to agree to sell StonyField Farms.
Danone and WhiteWave will still collectively own a host of brands in the yogurt aisle, including Dannon, Oikos, Activia, Silk, Evian and Horizon Organic, but now the Lactalis Group– which currently has a slice of the cheese market with brands like Galbani, Sorrento and President– will also join these big players as a competitor in the natural space.
"I think [the deal's price and bidding war] speaks to the value of the brand, the growth prospect, and the lack of available global deals right now for good businesses in the U.S.," McCully previously told NOSH. "It also resets the valuation of some of these other businesses that could potentially be in play. Yogurt has a good growth story and organic definitely has a good growth story, so it is attracting a premium more like other food brands and not necessarily a dairy brand."
For Yoplait and Chobani, it's about getting a larger spoonful of yogurt sales with a different strategy: new product offerings.
"Both Chobani and Yoplait have new product offerings that are unique from their current line up, so the hope is to bring new demand into the category," McCully said.
Yoplait's thick, French-style yogurt is made by pouring ingredients into small glass pots, and allowing the contents of each to set and culture for eight hours, according to the company. The line's eight flavors, including strawberry, blueberry, black cherry, vanilla, coconut, lemon, peach and plain, will hit shelves this July. It's not only a direct play to specialty but also trends toward indulgence and full-fat dairy.
Yoplait's pivot is part of General Mills' plan to restructure 60 percent of its yogurt brands and products, which the company announced at the end of last year. The new style shares similarities with General Mill's other yogurt offerings from Liberté, which along with its Annie's yogurt line, holds eight percent share of the organic yogurt segment in 2016.
Chobani, which revolutionized the yogurt aisle 10 years ago with the introduction of Greek-style yogurt, is taking the opposite approach. The company is going more mainstream with its launch of a traditional yogurt this July. It's Smooth line is low in fat, high in protein and touts a lower price tag of $1.79 per two-pack.
"As a food maker, it's important to me that we're giving families across America better options that are delicious and accessible," Hamdi Ulukaya, founder and CEO, said in a statement. "With Chobani Smooth, we're bringing craftsmanship back to traditional yogurt with a product that has less sugar and more protein than most of the options out there and no artificial sweeteners or flavors."
The company also announced its reentrance into Whole Foods Market this August, according to The Street. The organic grocer pulled Chobani from shelves in 2014.
The yogurt industry in the United States is an over $8 billion market and Greek yogurt—a subcategory shepherded by Chobani— now commands about half of dollar sales, according to Nielsen. Still, Greek sales are starting to fall off in mainstream retailers, according to Mintel's 2016 Yogurt report– and the aisle is looking for the next big innovation.
Mintel predicts that whatever the latest "it" product is for yogurt– whether that's a French-style, a cleaner traditional SKU or anything in between– it will play to taste, high protein and more than one eating occasion.
"Despite a slowdown in growth, it's still a good time for yogurt," Mintel researchers stated in the report. "Continuing and boosting engagement sparked by the Greek boom will be key and can be achieved by quenching consumers' thirst for variety (styles and flavors) and function (convenient health and satiety)."