Campbell's CEO: We'll Offer Consumers Options From Soup to Nuts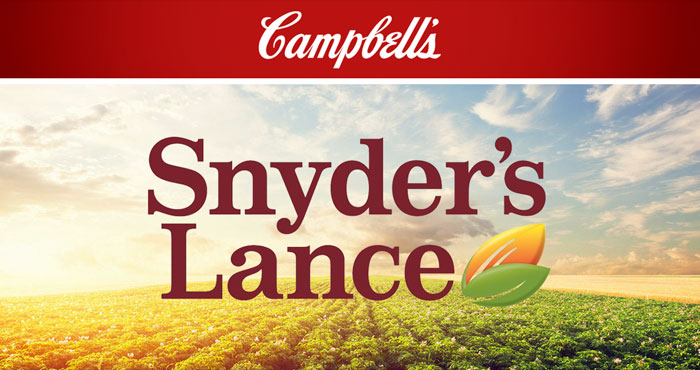 Today Campbell Soup Company announced the acquisition of snack food company Snyder's-Lance for $50 per share in an all-cash transaction. Headquartered in Charlotte, North Carolina, Snyder's, which owns the Snyder's Pretzels, Kettle Brand, Cape Cod, Snack Factory Pretzel Crisps, Pop Secret, Emerald and Late July product lines, has roughly 6,000 employees and operates 13 manufacturing centers in the United States and United Kingdom.
The deal follows last week's closing of Campbell's $700 million acquisition of drink and soup producer Pacific Foods.
For the trailing 12 month period ending September 30, 2017, Snyder's reported net sales of $2.2 billion. Today's acquisition put Snyder's at an enterprise value of $6.1 billion.
Moving forward, The portfolio will reside under Campbell's global biscuits and snacks business, led by its president, Luca Mignini.
Campbell's CEO, Denise Morrison, teased the potential for acquisitions during an earnings call last month. "While we're moving in the right direction and positioning the company for long-term success, our Q1 results are a clear indication that we have more to do to complete our strategic transition," Morrison said. "Including more innovation focused on health and well-being and snacking; gaining a larger share of e-commerce revenue and a greater presence in growth channels."
For Campbell, acquiring Snyder's represents a significant shift of their business from soups and meals to snacking — a move that echoes the eating habits of consumers.
In 2011, 42 percent of Campbell's business was in soup, with 32 percent in baked snacks. This fiscal year, soup will decrease to 32 percent of the business and baked snacks will remain fairly stable — generating approximately $2.5 billion in net sales in fiscal 2017. Following the addition of Snyder's, according to the company, there will be a dramatic shift in revenue: 46 percent of its business will come from snack food, while 27 percent of its revenue will come from the company's namesake product.
"Those who follow Campbell's have heard me talk about our plans to shift our center of gravity by diversifying our portfolio. Since 2011 we've made solid progress against this goal," Morrison said on a call with investors and analysts today. "With the addition of Snyder's-Lance to Campbell, we will dramatically shift our portfolio to the faster growing snacking category. As a result of this acquisition, our new snacking portfolio will represent nearly half of Campbell's annual net sales while soup will become about one quarter of our annual net sales."
The addition also helps build Campbell's portfolio offerings of better-for-you snacks. Currently one-third of Snyder's SKUs are better-for-you offerings. Campbell's mission is to produce "real food that matters for life's moments" and Morrison noted that Snyder's portfolio will complement this strategic focus.
"Health and well being means different things to different people," Morrison said."The addition of Snyder's-Lance to Campbell's will increase our ability to provide consumers with a wider availability of better for you snacks including ones that are organic, gluten-free, non-GMO and provide other functional benefits."
Morrison added that she believes Campbell understands the snacking category and felt confident in the company's ability to execute on the Snyder's business, noting that current global biscuits and snacks division delivered three percent sales growth.
Snyder's also has more of a foothold in convenience and natural. Campbell has been fighting to gain traction within natural, despite its C-Fresh division and acquisition of Garden Fresh Gourmet in 2015.
"We believe there are revenue opportunities created by the combination of the two companies. We have complementary distribution with their strengths in immediate consumption and the natural channel, and our strengths in grocery and mass," Anthony DiSilvestro, SVP and CFO at Campbell said. "There are opportunities to extend certain brands into kids snacking and to the combined entity can accelerate the capture of the e-commerce opportunity.
In 2017, Snyder's launched a cost transformation program targeting $175 million in savings. DiSilvestro noted on the call that Campbell reviewed the program and expects $125 million of the targeted cost savings to be achieved, with an additional cost synergy of $170 million in run rate savings which will be achieved by 2022.
Many of these synergies, DiSilvestro noted, will come from opportunities in manufacturing and procurement to increase savings, optimizing sales, marketing and administration departments, and through potential shared warehouse and depots. Campbell itself underwent its own cost reduction plan and ultimately over delivered on savings. Because of this success, Morrison said, the Campbell's team feels comfortable in executing against Snyder's own plan.
Currently Snyder's operates half its business through direct store distribution (DSD) — a distribution system it is familiar with through its own DSD distribution of both Pepperidge Farm bakery items and snack items. When asked by analysts if the three DSD programs could be combined, DiSilvestro noted that it was unlikely due to the fact that each distributor is an independent business with separate contracts. Morrison added that DSD was evidence that the "entrepreneurial spirit is alive and well in the independent operator."
Not everyone share's Snyder's belief in DSD. Earlier this summer Kellogg's announced its plans to shift away from DSD to a more traditional distribution model.
Snyder's currently uses its DSD systems to distribute for smaller snack food brands, and the deal will give Campbell insight into nascent food companies, or what Morrison called "smaller challenger brands."
Morrison added that a shift towards snacking is the way to ensure the longevity and success of the global food brand. She noted that in the U.S. more than 50 percent of all eating occasions are snacks and nearly half of U.S. consumers replace meals with snacks at least three to four times per week. By uniting with Snyder's, Campbell leaves trades one slower moving center store category for one that Campbell's pegs at an $89 billion market in the U.S. alone
"The combination of Campbell's snacking brands with Snyder's-Lance offers an exceptional opportunity to build a snacking platform," Morrison said. "It will create a unique snack leader with a diversified portfolio of brands across attractive categories. We'll be able to provide consumers with a wide range of snacks, literally from soup to nuts."