Once Upon a Farm Sees Retail Growth & Investment
Baby food brand Once Upon a Farm is growing up, with a spate of new retailers, a new product line and an investment round to fuel that growth.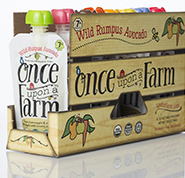 The brand, which produces organic, high pressure processed (HPP) baby food in on-the-go pouches, is part of a new category, refrigerated baby foods. Retailers ranging from Target to Whole Foods Market are testing this new product type, an attempt to convey "freshness" to parents shopping the perimeters of the store.
Once Upon a Farm differentiates itself from the competitors by using healthy fats, such as coconut and avocado, in the line, something founders Ari Raz and Cassandra Curtis say promotes infant brain development and optimal nutrition absorption. While the brand launched with a set of classic baby food flavors, it recently released more creative mixes such as butternut, mango, coconut and turmeric.
The brand is trying to pull boundaries off its consumer base, the founders said, expanding its product assortment to cater to older children through a line of cold-pressed applesauce. Available in three flavors, the new products will also incorporate superfoods. "As a baby food company one of the challenges that we face is acquiring new consumers," Curtis said, "So this is the next progression in our line."
At last week's Project NOSH L.A., Curtis and Raz sat down with Project NOSH editor Carol Ortenberg to discuss what 2017 will bring.
Once Upon a Farm, which is currently sold in 350 stores including Bristol Farms, the northeast region of Whole Foods Market, Ralphs, some Wegmans and Haggen, was also just approved by the southern pacific and southwest regions of Whole Foods, as well as Fairway.
Raz told NOSH that the brand also completed a five store test in Costco, and will be focusing on brand recognition before focusing on club again.
To help fuel this grown, the brand recently closed a convertible note round. In addition to Seed to Growth Ventures, the company's first institutional investor, other individual investors included Megan Bent and Gil Fronzaglia, both of whom work at brand incubator Revelry Brands, and Bob Craig, the founder and CEO of Centerman capital.
The brand is also already discussing their series A round of investment for 2017 with investors.
For the entire interview with Once Upon a Farm, please view the video below.