A Focus on Ingredients: Press Clips
While healthy options are certainly rising in popularity, deciphering what's actually "better-for-you" and how to go about that still confuses consumers.
This week's Press Clips examines some of the strategies producers are taking to help consumers — as well as adjusting their products to better fit their needs.
NPR Finds Americans Don't Understand Healthy Eating
At a time when America still struggles with a rising obesity rate, NPR and Truven Health Analytics partnered up to find out if Americans think they have healthy eating habits, and where the discrepancies may lie.
NPR's story about the data revealed that Americans may have blinders on to the reality of their eating habits and aren't necessarily understanding or keeping up to date with the federal Dietary Guidelines for Americans.
The survey found that "41 percent of respondents said they considered their eating habits to be either very good or excellent."
Yet this data runs contrary to what physicians and dieticians are seeing across the country. NPR explored several reasons why this could be occurring and found that experts believed both portion size and a misunderstanding of what exactly is a "healthy" food were culprits.
Consumers were also unaware of some of the changes to the most recent dietary guidelines or had not shifted their eating habits to reflect those changes.
While there is hope that the new nutrition panels will help consumers have more detailed information into what they're consuming, these changes don't go into effect for several years.
KIND Bars Beat Nutrition Label Deadlines
In an effort to help consumers lead a healthier lifestyle, KIND (the producers of several nut bars and granola) announced it will proactively start calling out the amount of added sugars in its products.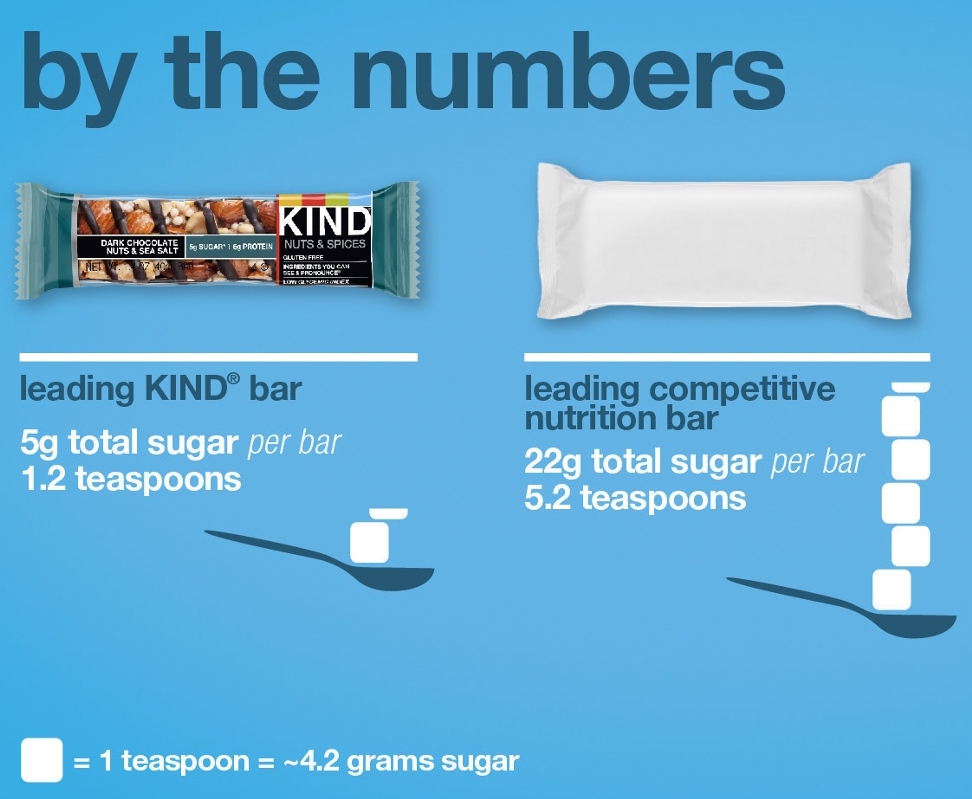 Bloomberg covered both the shift as well as general industry reception to the Federal Drug Administration mandated nutrition label change.
The publication had previously reported that the need to call out added sugars may lead to product reformulations — which KIND itself has done.
Last year the producer announced that it would "reduce the sugar in seven of its Fruit & Nut bars to contain between 14 and 56 percent less added sugar compared to prior recipes."
Marketing That Less is More
This week The Wall Street Journal looked at food manufacturers' newest marketing tactic: calling out the limited number of ingredients in products.
The practice is being used both by larger CPG producers who are reformulating traditional products as well as smaller producers who see the strategy as a means of offering consumers an alternate option to big brands.
The WSJ cited Hershey's new Simply 5 chocolate syrup and Simply Gum (which both contain only five ingredients) as well as That's It Bars (which contain two ingredients) as examples of brands following this trend.
A downside to a limited ingredient list, reports The WSJ, is that formulation can become much more difficult and time consuming. Hershey's, the publication reports, spent over a year on its reformulation. Additionally, many brands using this method are trying to avoid ingredients, such as artificial colors and flavors, high fructose corn syrup and stabilizers, that read as "processed" to consumers. Not using these ingredients can prove to be difficult in yielding a consistent product that still tastes great.