Amplify Snack Brands' CEO Says Snack Business is Popping
The stock market hasn't loved its parent company, but hot popcorn brand SkinnyPop is nevertheless still growing like crazy, Amplify Snack Brands' CEO said this week.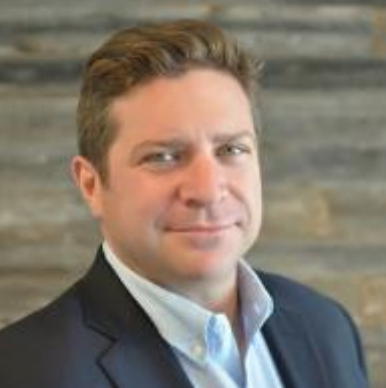 Speaking at strategic communications and advisory firm IRC's annual conference in Florida this week, Amplify CEO Tom Ennis discussed the continued growth of the popcorn brand and gave glimpses of a future platform that he hopes will allow the company to take more territory in the broader snack category.
That potential growth is a concern for Wall Street, which has been disappointed by Amplify since its initial public offering in August. After hitting the market at $18 per share, prices were about half that before Ennis spoke. Shares picked up a little steam after the presentation, and as of press time sat at $10.35 per share.
Several other prominent food brands spoke at the conference, IRC's 18th.
SkinnyPop had just six employees (two of which were its founders) and was making roughly $90 million a year when it was acquired by Private Equity firm TA Associates in July of 2014. The EBITA margins of 44 percent were "so good, to be honest with you, we didn't believe it when we saw it," joked Ennis.
A year later, after rolling chip company Paqui into its portfolio, TA took the company public as a "better for you snack food company."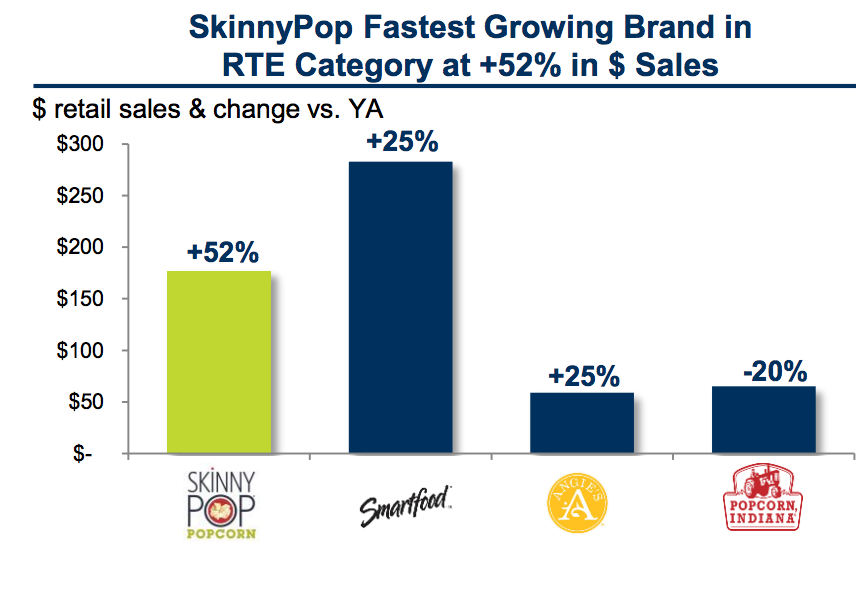 SkinnyPop's growth hasn't been a problem: since it was acquired, sales have more than doubled while margins have roughly remained the same, Ennis said. Additionally, the brand has just entered mass market stores (Target and Walmart) and just has started to go into convenience, so Ennis believes there's still great potential to heavily grow sales.
To support his argument, the Amplify presentation noted that better-for-you brands are outpacing growth of traditional, the former seeing 10 percent estimated retail sales growth, while the former remains three times lower at three to four percent growth.
Within the ready to eat popcorn category, even at premium pricing, SkinnyPop is the fastest growing brand at 52 percent growth — double that of the next brand, Frito-Lay's Smartfood which is at 25 percent growth. That said, while SkinnyPop has the highest loyalty in ready to eat popcorn at 62 percent (compared to Smartfoods 59 percent) it still is number two in dollar market share of the category behind Smartfood.
Amplify itself is already a top-10 salty snack manufacturer in terms of dollar sales, dollar change and item productivity.
But to grow, Ennis realizes that both SkinnyPop and the overall Amplify portfolio need to diversify. To hit popular trends of healthy indulgence and spicy foods, Amplify will release Cocoa Dusted Dark SkinnyPop and Jalapeno SkinnyPop in the first half of 2016. The second half of the year will see a release of a "new form brand expansion in a close-in adjacent category," he said.
Paqui, a young tortilla chip company, is Amplify's next big bet. Acquired in April 2015, the Austin based company was appealing to Amplify, in part, because "it's a better for you Dorito," Ennis said. While exact retailers were not disclosed, the 21 new skus across six flavors were said to be launching in c-stores, mass, club and traditional grocery retailers. Before being acquired, Paqui was sold in Kroger and Whole Foods Markets throughout the entire Southwest, California, Florida, Connecticut, New Jersey and New York.

SkinnyPop's success, Ennis believes, will help Paqui in numerous ways. First, Amplify can leverage the distribution and retail channels that it already has. Also, because retailers have trust in SkinnyPop, they're charging very low slotting fees in order to get the product on shelves. Finally, and perhaps most beneficial, Amplify plans on doing co-branded promotions and displays, such as "buy two SkinnyPop, get a free Paqui" at Krogers. Retailers are keen to see if Paqui will have the same customer sales benefits as SkinnyPop, which sees the highest totals in basket spend per trip of any ready-to-eat popcorn, he said.
In answering a question around competitors, Ennis said that while in better-for-you tortilla chips he's watching Snyder's Lance's Late July and Hain's Garden of Eatin, in reality, Doritos is "who we want to steal share from" because "[it's] a multi-billion dollar business."
Still, for investors to finally be happy, it's likely that Amplify will have to start looking like a multi-billion dollar business itself.