High Road Craft Ice Cream Introduces Wallops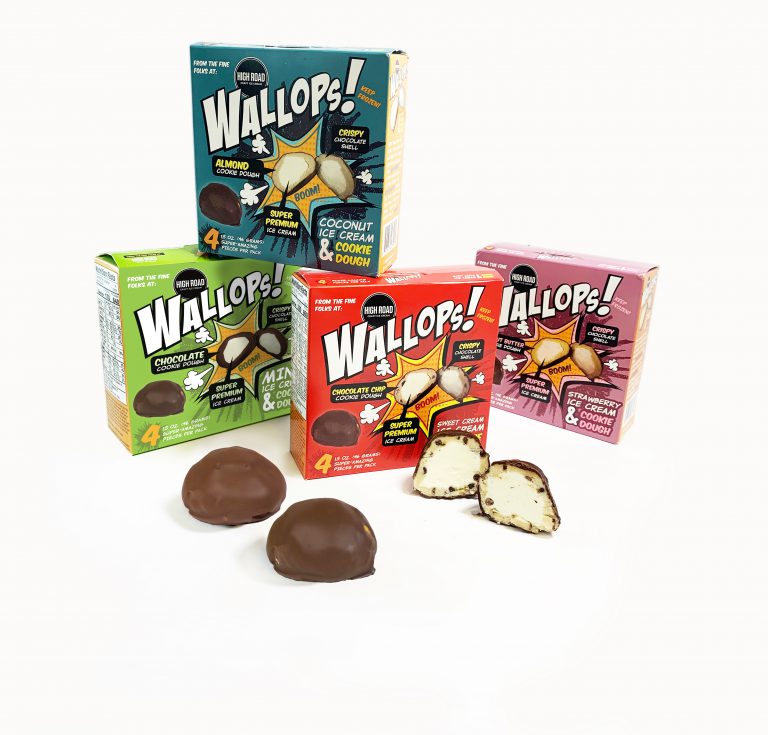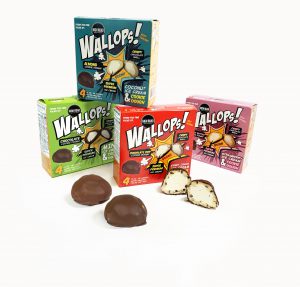 ATLANTA— Chocolate, ice cream and cookie dough: what's not to love about three amazing ingredients that have appeared in sweet treats in a variety of combinations? It took an inspired (one might say mad-scientist) "aha" moment by High Road co-founder, Nicki Schroeder to bring them together in an uncommon way that gave rise to the new, fun, snack-sized bon-bon novelty — "Wallops!"
"Since we make all of the products for our ice cream in-house (the cookies, brownies, chocolate chunks) I thought, it would be amazing to create a snack with all of those amazing ingredients," Schroeder explained. With High Road Craft Ice Cream, Inc. being staffed mostly by chefs, the biggest challenge was not in getting feedback on how to combine these ingredients. The winner was an ice cream center, covered in cookie dough and the entire treat covered in dark chocolate.
After tasting one of the first samples, Keith (husband, company co-founder, chef, and James Beard Award-winning cookbook author) exclaimed, "These little guys pack a real punch!  A snack triple-threat that gives your mouth a real wallop!"
Now, this frozen family snack superhero (only missing the cape) had a name. Wallops combine the childhood pleasures of a favorite comic book or a movie theater candy-counter treat with the grown-up foodie flavor sophistication you would expect from a chef-crafted snack by High Road Craft Ice Cream.
Wallops are seriously good, but don't take themselves too seriously. Each whimsically designed package contains (a league of) four of these two bite-sized beauties, offering portion-controlled taste perfection.
The amazing-but-true out-of-this-word flavor combinations are:
Mint Ice Cream with Dark Chocolate Cookie Dough
Coconut Ice Cream with Almond Cookie Dough
Strawberry Ice Cream with Peanut Butter Cookie Dough
Sweet Cream Ice Cream with Chocolate Chip Cookie Dough
Wallops' very first landing on earth and in your market will be in April, retailing from 5.99-7.99 per 4-pack.
About High Road Craft Ice Cream, Inc.
Founded by James Beard Award-winner Keith Schroeder in 2010, High Road Craft Ice Cream is the fastest growing craft ice cream manufacturer in the United States. Brands include: High Road Craft Ice Cream, Ciao Bella Gelato & Sorbetto and Wallops! Brand Novelties. Their products are thoughtfully crafted in Marietta, Georgia.