Harvest Snaps' Holiday Flavors Return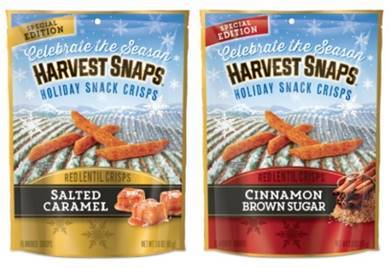 FAIRFIELD, Calif.– Harvest Snaps is bringing back, by popular demand, two limited edition holiday flavors: Salted Caramel Red Lentil Snack Crisps and Cinnamon Brown Sugar Red Lentil Snack Crisps. Baked (never fried!), these indulgently crunchy, veggie-first snack crisps feature Non-GMO red lentils as the first ingredient and are only 130 calories per serving, making them a deliciously better-for-you alternative to traditional holiday treats. They also pack 6 g of plant-based protein and 3 g of fiber in every serving, are certified gluten-free, and completely free of artificial flavors, colors, cholesterol, and the common allergens soy, nuts, wheat and eggs.
Ranking first and third respectively in a recent flavor and TURF* analysis, here's how the fun and festive flavors break down:
Salted Caramel: The decadent sweetness of caramel is paired with a sprinkle of savory salt for an irresistible holiday treat that will satisfy any snack craving.
Cinnamon Brown Sugar: Warm cinnamon meets sweet brown sugar in this classic combo that's sure to warm hearts and stomachs.
As noted by Paul Laubscher, Director of Marketing with Calbee North America, the parent company behind Harvest Snaps, "Salted caramel and cinnamon sugar are two of the most popular holiday flavors, and when paired with our red lentil snack crisps, the result is a can't-resist snack that delivers seasonal goodness without the guilt. Merry snacking!"
Sold in festive 3 oz. bags, Harvest Snaps' Holiday Snack Crisps are currently available for retailers to order and planned to be in stores this November. All of Harvest Snaps' packages are part of the TerraCycle recycling program, an initiative led by Calbee North America to help reduce waste and give back to charity. Also visit www.harvestsnaps.com and follow @harvestsnaps on social media for more information.
About Calbee North America
Since expanding from Japan in 1970, the Calbee North America team has been passionate about making delicious snacks and using quality ingredients that bring a smile to your day. Their mantra is to "Harvest the Power of Nature," and this is demonstrated in the company's popular and nationally distributed line of Harvest Snaps Snack Crisps, which feature green peas, black beans or red lentils as the product's first ingredient. Visit https://calbeena.com/ for more information. *Calbee-Griffith Foods Flavor Sort & TURF Analysis (Dec. 2017)
Like what you're reading?
Subscribe to BevNET+NOSH Today
Subscribe today and get access to the leading industry resources in the food &amp beverage industries. News, trends, industry data, expert analysis and much more.
Access all of these benefits:
Unlimited access to all content on BevNET.com and NOSH.com
Exclusive access to hundreds of educational videos
Watch subscriber-only live programs such as Office Hours