Castillo de Canena Introduces Harissa Infused Olive Oil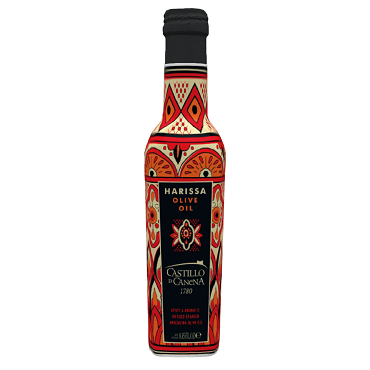 LYNNWOOD, Wash.– Multiple award-winning extra olive oil producer Castillo de Canena has just released their latest infused olive oil from Spain. Spicy Harissa Olive Oil is an infusion of hot chili peppers, garlic, coriander and caraway spice that is perfect for drizzling on fish, pork, vegetables and hummus. Castillo de Canena is a family owned company that has been producing olives and olive oil since 1780 in southern Spain.
This spicy and aromatic oil is produced by infusing their single varietal extra virgin arbequina olive oil with a blend of traditional spices used in the popular North African harissa spice blend. The result is a piquant, red-hued oil with complex flavor notes that reflect the unique characteristics of the arbequina olive alongside the spices and aromatics of harissa. This versatile oil will inspire creative cooks to stir it into soups, brush it on sandwiches, drizzle it on pizza, and blend it with crème fraiche for a spicy spread or dip.
Packaged in an eye-catching bright red and orange Moroccan tile-inspired bottle, it stands out on store shelves and makes an elegant gift. The Harissa oil is the latest addition to Castillo de Canena's line of infused oils which includes the 2015 Sofi award-winning Smoked Arbequina Olive Oil, packaged in an artful turquoise bottle.
Castillo de Canena Extra Virgin Olive Oils are exclusively imported and represented in the U.S. by Culinary Collective and are available at retailers nationwide. Visit Winter Fancy Food Show booth #261 to sample this oil and inquire about their full line of extra virgin olive oils from Spain.
About Castillo de Canena
Castillo de Canena is a family-owned company based in Andalucía, Spain that produces a full line of award winning and sustainably produced extra virgin olive oils that are available in over 40 countries. The Vañó family has an olive cultivating history that began in 1780, and the company takes its name from the family-owned castle that crowns the hillside of Canena Township in Jaén province, Andalucía. The company's commitment to sustainability is evidenced by their use of solar power, recycled biomass for fuel and the employment of biodynamic farming methods. They are also a member of Grandes Pagos del Olivar, an association uniting the best Spanish extra virgin olive oil producers who choose to produce limited quantities of extremely high quality oils using artisanal methods combined with cutting-edge technologies. More information at www.castillodecanena.com.
About Culinary Collective
Based in Lynnwood, Washington, Culinary Collective is an import and distribution company specializing in gourmet cultural foods that embody and promote native cultures and traditions. The company works with small family and community companies that take pride in producing all-natural foods using methods and recipes passed down through the generations. Under its Matiz España label, Culinary Collective imports and distributes an extensive line of traditional products from Spain. Under its Zócalo Gourmet brand, the Collective supports small-scale producers of all-natural cultural foods in Peru by bringing quality products such as grains, flours, beans and chili pastes direct from the producers to US and Canadian retailers and consumers. Culinary Collective is proud to be a Certified B Corporation. More information at www.culinarycollective.com.