Beech-Nut Nutrition Shows Support for Food Accessibility at Expo West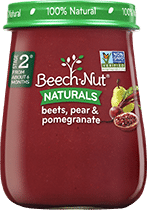 AMSTERDAM, N.Y.– Beech-Nut Naturals product innovations have been designed to put parents first and create what they are looking for – real ingredients, simply prepared. Understanding the pressure on today's parents to know exactly what is in every jar or pouch they feed their little ones, Beech-Nut's Naturals are designed to be convenient, portable and affordable with the non-GMO verified, 100 percent natural and organic ingredients a parent looks for in almost every product.
"Parents tell us they want the best food options for their little ones – which to Beech-Nut means non-GMO verified, 100 percent natural, or organic fruits and vegetables with nothing else added," said Patrick Haughton, Beech-Nut Nutrition director of brand management. "Many parents feel overwhelmed by so many choices that don't meet their standards, which was the impetus for Beech-Nut Naturals and our decision to use as few ingredients as possible."
"Today's parents have an increased focus on understanding all of the ingredients that go into their kid's food, so we developed a portfolio of products using real ingredients, simply prepared that even their baby could pronounce," said Jon Harrington, Beech-Nut Nutrition, brand director digital commerce and consumer Eexperience. "Some of our products contain only one ingredient – like just carrots and just sweet potatoes – you can't get much simpler than that!"
However, Beech-Nut is not stopping with simply creating nutritious, real food for babies. The company believes all babies deserve access to real food, and actively supports this mission by making its products available wherever parents shop and through participation in state administered WIC programs.
In addition to donating over 1.5 million meals in 2018, Beech-Nut is a proud sponsor of the national nonprofit, Share Our Strength which works to end childhood hunger through its No Kid Hungry platform. During the Natural Products Expo West, Beech-Nut will encourage attendees to pledge their support by wearing a sticker throughout the show. For every pledge, Beech-Nut will donate $1 to No Kid Hungry, up to $5,000. Attendees can stop by Beech-Nut booths (#5085 and #5086) to register.
About Beech-Nut Nutrition Company
Producing baby food since 1931, Beech-Nut Nutrition Company has been built on a history of innovation and dedicated to producing healthy, wholesome infant nutrition. Headquartered in Amsterdam, New York, Beech-Nut is the number two leading baby food brand in the United States and is committed to delivering Real Ingredients, Simply Prepared for parents and babies. In 2015 it was awarded Product of the Year in the baby food category by the Consumer Survey of Product Innovation USA. Beech-Nut Nutrition is owned by the Hero Group, a private consumer goods company based in Lenzburg, Switzerland.