Talenti Gelato & Sorbetto Celebrates 15th Anniversary with Limited-Edition Pints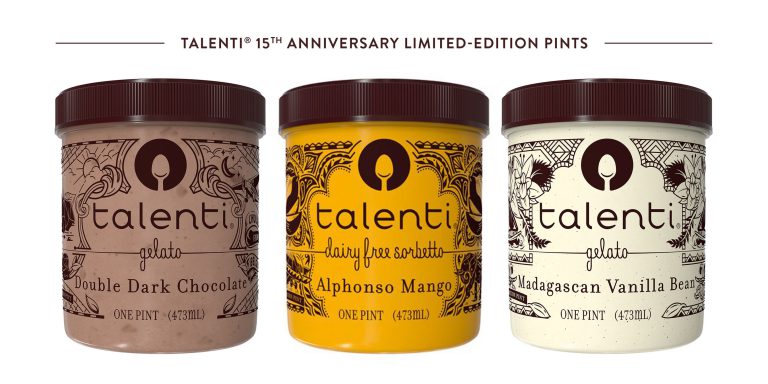 ENGLEWOOD CLIFFS, N.J. — Talenti ― the best-selling gelato in America ― today released three 15th Anniversary Limited-Edition Pints featuring artwork inspired by the brand's heritage. The hand-drawn illustrations depict the craftsmanship that goes into each flavor ― from the quality ingredients sourced from around the world, to the slow-cooked process that makes the brand "Clearly Talenti." The Limited-Edition Pint artwork can be found on three popular Talenti flavors, each featuring individual designs:
The Talenti Alphonso Mango Sorbetto pint artwork features regional motifs inspired by the lotus flowers from the Maharashtra region of India, where Talenti sources its Alphonso mangos.
The Talenti Double Dark Chocolate Gelato pint artwork features chunks of rich dark chocolate sourced from Belgium which Talenti uses to create a decadent base and then blends with semi-sweet chocolate chips and a hint of vermouth.
The Talenti Madagascan Vanilla Bean Gelato pint artwork features blooming orchids from the vanilla bean plant of Madagascar. Talenti slow cooks its vanilla beans in cream, sugar and milk – adding a dash of lemon to enhance the floral vanilla notes.
In 2003, Talenti began as a small gelateria in Dallas. The founder, Josh Hochschuler, learned the art of gelato making while living in Argentina and working as an apprentice under a gelato maker. During this time, he learned the craft of making old-world style gelato ― the slow process of cooking batches of ingredients together to infuse maximum flavor. Hochschuler packaged his gelato in the clear pints that today have become synonymous with the Talenti brand and collected by many throughout the country.
"We source quality ingredients from wherever they're best ― including creamy mangos from the Maharashtra region of India, rich chocolate from Belgium and fragrant vanilla beans from Madagascar– to create the most authentic flavors," said Russel Lilly, Director of Packaged Ice Cream. "From day one, Talenti has used old-world style methods for its gelato and sorbettos for an unmistakable taste. We're excited to celebrate our 15th Anniversary with these Limited-Edition Pints, and hope that fans will enjoy collecting them."
The Limited-Edition Pints are available now, while supplies last. For more information, please visit https://www.talentigelato.com/our-craft and to download images please click here.
About Talenti Gelato & Sorbetto
Talenti began as a gelateria in 2003 and has since grown into the best-selling packaged gelato in the United States. A wholly-owned subsidiary of Unilever, Talenti is committed to using artisanal methods and uses only the finest, carefully sourced ingredients – Belgian Chocolate, select coconuts from the Philippines and dulce de leche from a classic Argentinian recipe are just a few of the many fine ingredients used to create Talenti gelatos and sorbettos. Both Talenti gelatos and sorbettos showcase our commitment to providing frozen desserts that taste amazing.
For a full list of Talenti products and to find retail locations that sell Talenti, please visit www.TalentiGelato.com. To keep up with Talenti news, visit Talenti on Facebook or follow us on Twitter.
About Unilever United States, Inc.
Unilever is one of the world's leading suppliers of Food, Home Care, Personal Care and Refreshment products with sales in more than 190 countries and reaching 2.5 billion consumers a day. In the United States, the portfolio includes brand icons such as Axe, Ben & Jerry's, Breyers, Caress, Clear Scalp & Hair Therapy, Country Crock, Degree, Dollar Shave Club, Dove, Good Humor, Hellmann's, I Can't Believe It's Not Butter!, Klondike, Knorr, Lever 2000, Lipton, Magnum, Nexxus, Noxzema, Pond's, Popsicle, Promise, Q-tips, Seventh Generation, Simple, St. Ives, Suave, Sir Kensington's, Talenti Gelato & Sorbetto, TIGI, TONI&GUY, TRESemmé and Vaseline. All of the preceding brand names are trademarks or registered trademarks of the Unilever Group of Companies.
Unilever employs approximately 8,000 people in the United States – generating more than $9 billion in sales in 2016.
The Unilever Sustainable Living Plan commits to:
Helping more than a billion people take action to improve their health and well-being by 2020.
Halving the environmental impact of our products by 2030.
Enhancing the livelihoods of millions of people by 2020.
The USLP creates value by driving growth and trust, eliminating costs and reducing risks. The company's sustainable living brands are growing 50% faster than the rest of the business and delivered more than 60% of the company's growth in 2016.
Unilever was ranked number one in its sector in the 2016 Dow Jones Sustainability Index. In the FTSE4Good Index, it achieved the highest environmental score of 5. It led the list of Global Corporate Sustainability Leaders in the 2017 GlobeScan/SustainAbility annual survey for the seventh year running. Unilever has pledged to become carbon positive in its operations by 2030.
For more information on Unilever U.S. and its brands visit: www.unileverusa.com.