Milton's Launches Organic Gourmet Crackers Line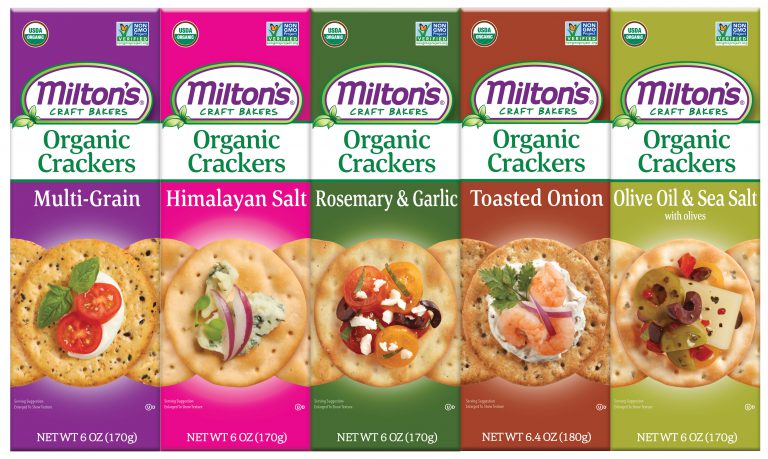 CARLSBAD, Calif. — Today one of the leading makers of gourmet and gluten free crackers, Milton's, introduced a new line of certified Organic Gourmet Crackers crafted specifically for wholesome and organic living. All five varieties are baked to perfection with Milton's signature seasonings and carefully selected, clean ingredients that are all certified Organic, Non-GMO Project Verified and Kosher.
"We crafted our new Organic Gourmet Crackers for those looking to live a natural and organic lifestyle," said John Reaves, CEO of Milton's. "As we've seen with the popularity of our other cracker lines, consumers now crave snacks that are not only delightfully innovative in both ingredient selection and taste, but that are also better for them and the environment."
Milton's full Organic Gourmet Cracker line offers a distinctively delicious experience for those looking for everyday crackers or gourmet selections to serve while entertaining. Consumers can enjoy all five varieties paired with their favorite dips, cheeses or right out of the box:
Multi-Grain: Milton's most popular cracker for both everyday and special occasions, these Organic Multi-Grain crackers are made with Certified Organic seeds, wheat, oats and corn. Each cracker offers a delicious, savory yet slightly sweet taste experience enjoyed on its own or shared with others – the perfect companion for your favorite cheeses and spreads.
Himalayan Salt: Milton's Organic Himalayan Salt crackers provide simple elegance with a delicate, satisfying flavor and a light crispy crunch. The subtle accent of authentic, pink Himalayan salt makes this a versatile cracker that can be enjoyed anywhere – from a broad range of gourmet toppings and accompaniments to everyday dips and spreads.
Olive Oil & Sea Salt: Made with authentic black olives, extra virgin olive oil, and Mediterranean herbs, Milton's Organic Olive Oil & Sea Salt crackers deliver a crisp, satisfying flavor experience. These crackers are perfect when paired with creamy hummus, cheeses, Italian meats or fresh vegetables.
Rosemary & Garlic: The aromatic flavor and crispy, savory bite of Milton's Organic Rosemary & Garlic Crackers transports snackers to Europe. Baked with real rosemary and a hint of garlic, these crackers deliver a satisfying, savory crunch everyone will love.
Toasted Onion: Crafted with a delicious blend of wheat, rye, oats and corn with a bright accent of golden onion, Milton's Organic Toasted Onion Crackers are in a class of their own. An indescribable flavor sensation that everyone should experience for themselves, these crackers are fantastic by themselves or paired with cheeses, bruschetta or spreads.
Milton's Organic Gourmet Crackers are available now to retailers in convenient, shelf-ready cases of 8 x 6/6.4 oz boxes, each with an MSRP of $3.79 – $3.99. For those interested in placing orders, please contact <growyoursales@miltonsbaking.com>. The new crackers are currently available at all Sprouts Farmers Market stores and select Fairway Market, Kroger, Ahold and Tops locations, as well as all Whole Foods Markets later this month.
For more information on Milton's and its entire family of crackers, visit www.miltonscraftbakers.com.
About Milton's
Here at Milton's – much like you – we crave delicious foods we can trust. Our team believes that everyone should experience the joy of eating well. That's why our Gluten Free Crackers, Organic Gourmet Crackers, Gourmet Crackers, Snack Crackers and Craft Breads are created using inspired recipes that satisfy a unique variety of eating occasions. We carefully select our gluten free, organic and non-GMO ingredients to ensure the best taste and quality possible. In partnership with vital organizations in local communities, we also support celiac advocacy and work with autism support groups, dietary centers, cause-related races and walks, veterans' events and children's charities. It's our promise to serve delicious, trustworthy craft foods you can feel good about enjoying, serving and sharing! Snack along on Instagram, Facebook and Twitter.