Chobani Partners with United Airlines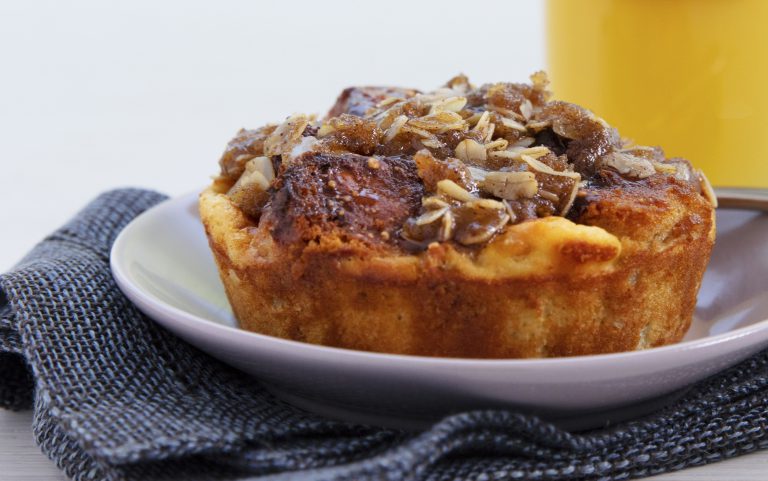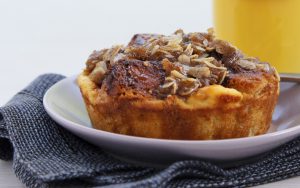 CHICAGO — United Airlines and Chobani have partnered to make one of the newest breakfast selections for United's Choice Menu "Bistro on board" program. As of Sept. 1, the banana bread pudding, which was created exclusively for United, is available on flights within the U.S. and flights to Canada, Mexico, Central America and the Caribbean departing between 5:00 a.m. and 9:44 a.m.
Inspired by recipes from Chobani, United and Chobani Chef Jake Briere reviewed dozens of breakfast concepts ranging from sweet to savory before landing on the banana bread pudding, which gives United customers a taste of fall in a comforting morning entree that is served warm. It is made with banana bread pieces and butterscotch chips baked in a vanilla egg custard and topped with oats, brown sugar and cinnamon. Chobani Vanilla Greek Yogurt is used as a substitute for heavy cream, giving the dish a modern, healthier twist.
"Working with Chobani to develop this recipe underscores the importance we place on offering customers an incomparable inflight dining experience," said Charlean Gmunder, United's vice president of catering operations. "Our fall menu entrees are both savory and comforting; we're confident that our customers will find something to enjoy during their journey."
In addition to the banana bread pudding, United introduced two other breakfast items, a new snack and two new craft beers on Sept. 1. The Choice Menu "Bistro on board" breakfast menu will now include overnight strawberry almond oats – coconut oatmeal with yogurt, shredded coconut and chia seeds and strawberry compote, topped with almond coconut granola – and a chorizo breakfast sandwich with a cage-free fried egg, pork chorizo patty and smoked cheddar cheese on a ciabatta roll. A new salami and cheese tray, which includes OLLI Genoa salami, white cheddar cheese and flatbread crackers, has been added to the Snack Shop. The seasonal beers on United's onboard beverage menu also rotated to Goose Island Midway IPA and Blue Point Brewing Company Toasted Lager. United is the first airline to fly the Goose Island Midway IPA.
New cheeseburger, sandwich available in time for fall
Beginning Oct. 1, a new cheeseburger and chicken parmesan sandwich will be available for purchase on the lunch and dinner menu, which is offered on flights within the U.S. and flights to Canada, Mexico, Central America and the Caribbean departing between 9:45 a.m. and 8:00 p.m. The new white cheddar cheeseburger is a beef patty with white cheddar cheese on an Asiago bun. It will be served with United's assortment of Sir Kensington's condiments, which include chipotle mayonnaise, ketchup and mustard. The new chicken parmesan sandwich features breaded chicken, mozzarella cheese and basil marinara sauce on an Italian-herbed ciabatta roll.
Choice Menu "Bistro on board" items are available for purchase on most flights with a scheduled flight time over three hours within the U.S. and flights to Canada, Mexico, Central America and the Caribbean. Snack shop items are available on most flights with a scheduled flight time of over an hour and a half within North America, including the Caribbean and select Latin American cities as well as Australia, New Zealand and Singapore. You can view photos of the new menu items and learn more about United's Choice Menu items by visiting our website.
About United
United Airlines and United Express operate approximately 4,600 flights a day to 357 airports across five continents. In 2017, United and United Express operated more than 1.6 million flights carrying more than 148 million customers. United is proud to have the world's most comprehensive route network, including U.S. mainland hubs in Chicago, Denver, Houston, Los Angeles, Newark/New York, San Francisco and Washington, D.C. United operates 757 mainline aircraft and the airline's United Express carriers operate 551 regional aircraft. The airline is a founding member of Star Alliance, which provides service to 193 countries via 28 member airlines. For more information, visit united.com, follow @United on Twitter or connect on Facebook. The common stock of United's parent, United Continental Holdings, Inc., is traded on the NYSE under the symbol "UAL".