4505 Meats to Debut Pork Cracklins at Expo West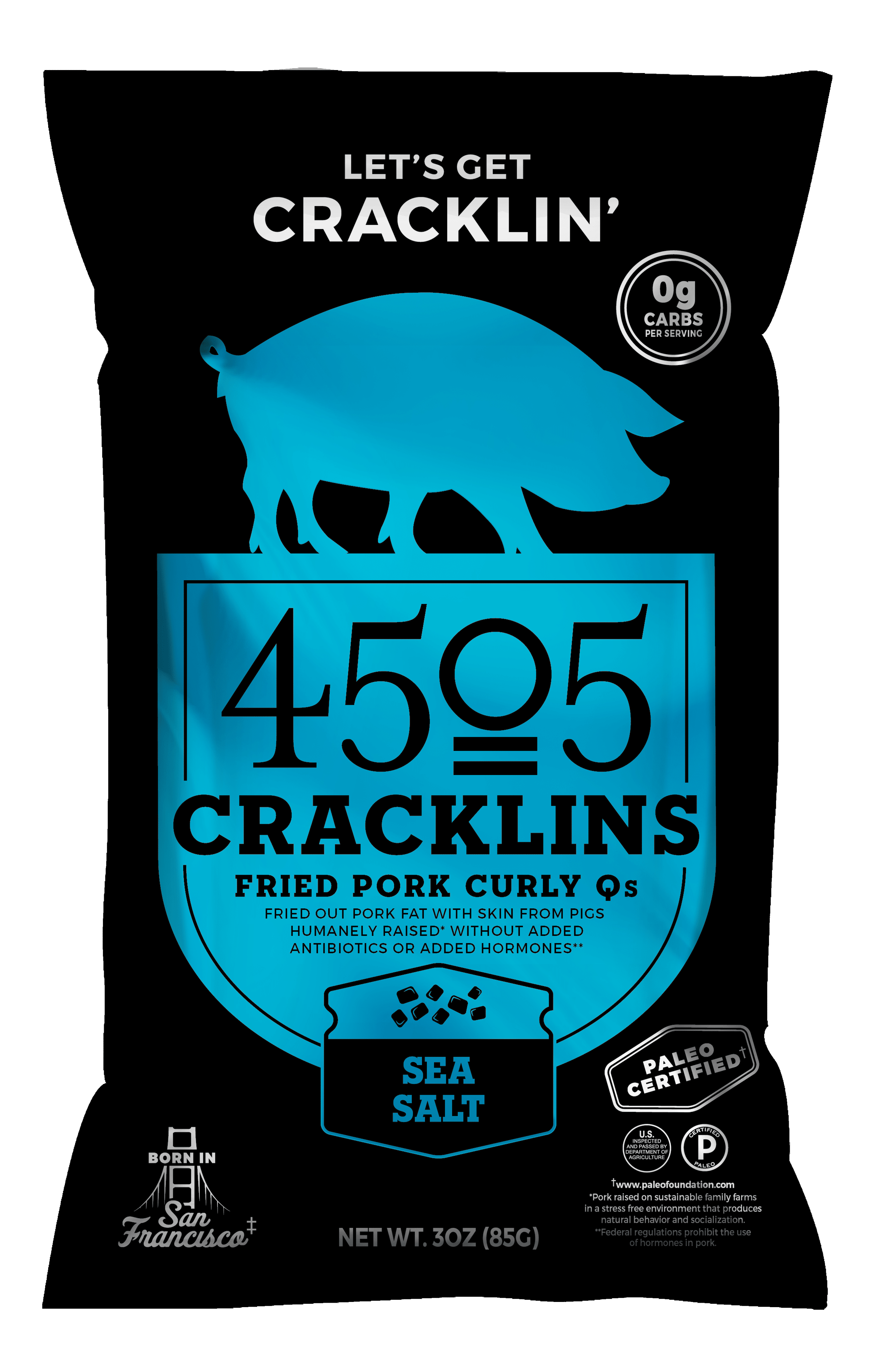 ANAHEIM, CA.– 4505 Meats, the San-Francisco-based originator of chef-made, artisanal pork rinds (or chicharrones), will debut their latest creation, 4505 Cracklins, at Expo West 2018, booth N820 from Thursday (3/8) through Saturday (3/10). 4505 Meats' Cracklins will be available in two flavors, Spicy Green Chili & Lime and Sea Salt. Packed with seven grams of protein, the new crunchy curls are gluten-free, Paleo Certified, and made with humanely-raised pork, free of hormones and antibiotics. 4505 Meats invites all Expo West attendees to fall in love with the porkalicious Bay Area favorite, which will be shown along with their existing line of Chicharrones.
Founder and CEO Chef Ryan Farr was inspired to share Cracklins after years of hosting pig roasts where guests lined up for tantalizing bites of pork skin carved right off the hog. 4505 Meats' new Cracklin line is inspired by those cuts – fried in pork fat to minimize waste and utilize all parts of the animal. Similar to their light and airy Chicharrones, these heartier, crunchier curly q-shaped bites are packed with porky flavor that is perfect for dipping and pairing with beer. Cracklins will be available in 3 oz. bags for a SRP of $4.99
"It's an exciting time at 4505 Meats. The release of our 4505 Cracklin line at Expo West will be especially intriguing for folks who may never have seen this product before. When we were the first to introduce an artisanal pork rind to mainstream consumers, people were pleasantly surprised at how great they tasted," said Chef Ryan Farr, CEO and Founder of 4505 Meats. "Now, we're very excited to introduce them to yet another delicious, flavor-forward snack that's in line with our philosophy of whole-hog utilization."
The new 4505 Cracklins will be hitting retail shelves this Summer and will be available on Amazon this Spring. For more information on 4505 Meats, please visit www.4505meats.com or connect with them on Instagram at @4505meats.
Natural Products Expo West will take place March 8-11 at the Anaheim Hilton & Marriott and the Anaheim Convention Center, located at 800 West Katella Avenue Anaheim, CA 92802. For more information on the trade show, please visit www.expowest.com.
About 4505 Meats
Founded in 2009 by chef and butcher Ryan Farr in his kitchen apartment in San Francisco, 4505 Meats was born out of a commitment to whole animal butchery. Today, 4505 Meats is a leading producer of artisanal pork rinds – under the 4505 Chicharrones brand – produced with a continued commitment to sustainability and whole animal utilization. Made with the finest cuts of humanely sourced pork rinds with no added antibiotics or hormones, each meaty snack is kettle-cooked in lard, taking these elevated gas station favorites beyond expectation, resulting in crispy clouds of porkaliciousness that are low in calories, high in protein, low in sodium, gluten-free, paleo certified and have zero carbs. 4505 Meats continues to expand and will soon introduce 4505 Cracklins – a hearty, porky crunchy curl also made from pork skin. All 4505 Meats snacks are great on their own or as a sidekick to beer, cocktails, dips and spreads. For more information on 4505 Meats, please visit www.4505meats.com or connect with them on Instagram at @4505meats.