Laughing Giraffe Organics Previews New Product Line, Flavors And Packaging Options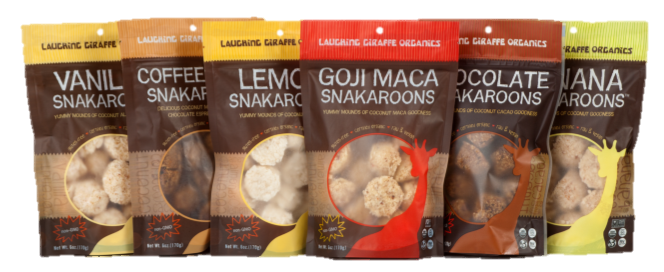 Lafayette, CA – Laughing Giraffe Organics is excited to announce that it will offer its popular new Salted Caramel Snakaroons™ in a 10 ounce family pack, launch a new line of spiced, dried fruits, and present a point of sale pack of some of it most popular Snakaroon flavors – all at Expo West 2017, in booth #5658.
NEW! "Our Salted Caramel Snakaroons are the perfect union of sweet and salty. This rich and delicious cookie with a salted finish is the ultimate treat," said Emy Gilmour, VP of Sales, of Laughing Giraffe Organics, a family owned and run business. "We know our on-the-go customers will love the portability and portion control these offer," she added. Snakaroons are a coconut based snack cookie, addictively good and very satisfying without being overly sweet. Each cookie is just the right size.
Snakaroons Family Packs are also available in the chocolate, vanilla and lemon varieties. The MSRP on this new option is $12.99.
NEW! Two of Snakaroons most popular flavors are now available in a checkout-counter-friendly, single-serve grab and go package. Snakaroons Chocolate and Lemon varieties are both available in this new option. MSRP TBD, 20 units per box.
COMING SOON! "We are so excited to be expanding our brand with a new line of dried and spiced fruits," said Gilmour. For this introductory flavor, Kick'n Mango, Laughing Giraffe has sourced premium organic, unsulfured, tangy dried mangoes and combined them with a hint of lime and a touch of jalapeno for a treat that's sweet, sour and has a touch of subtle heat. Samples will be available at the booth. MSRP TBD, 3 ounce pouch.
Snakaroons ™
Laughing Giraffe makes a large line of Snakaroons coconut cookie snacks in 13 different varieties. Chocolate, Lemon, Vanilla, Goji Maca, Banana, Coffee Bean, and the newest flavors, Matcha, Aztec Chocolate and Salted Caramel.
Each year Laughing Giraffe Organics offer a range of Holiday Limited Editions such as Pumpkin Spice, Gingerbread, and Peppermint. All are in six ounce bags with an MSRP of $7.99, as well as Chocolate, Lemon and Vanilla in 1.25 oz snak paks.
Snakarola™
Laughing Giraffe also makes Snakarola, flavorful, nutrition-packed clusters of nuts, fruits and spices in three tasty, super satisfying varieties: Cherry Ginger, Cranberry Orange and Cashew Curry. These are available in three ounce bags with an MSRP of $4.99.
About Laughing Giraffe Organics
Laughing Giraffe is a family run business that is owned by the Gilmour family, who live in the San Francisco Bay Area. They entered the health food business out of a desire to learn about healthy eating and how it might improve their own wellbeing. They focus on making foods that they believe will both satisfy hunger without detracting from the quality of their customers' lives. Their goal is for everyone to eat well and live better. 1% of online purchases benefit The Gentle Barn, a non-profit organization very much aligned to Laughing Giraffe Organics' values.
Laughing Giraffe Organics are available nationwide at Whole Foods, Sprouts, many natural as well as conventional food chains and independent grocers coast to coast. The website, http://www.thelaughinggiraffe.com features a store finder, and a full online store. Follow Laughing Giraffe on Facebook and Instagram.