Frontier Snacks Launches Frontier Coconut Bites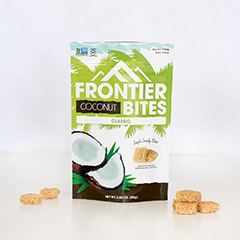 Boulder, CO—Frontier Snacks, the creators of Frontier Fruit & Nut Bites, continues to innovate within the better-for-you snacking category by creating simple, healthy, on-the-go-snacks made with real food ingredients and no refined sugar. Launching at Expo West (Booth #9404), the company is proud to release Frontier Coconut Bites, a fresh and crunchy take on nutrient dense coconut. Each crunchy cube is a good source of fiber, easy to eat, easy to share and made with 5 ingredients (or less). A guilt free treat that will take your taste buds on a tropical vacation.
Frontier Coconut Bites will be joining the snack aisle alongside the brand's original 5 Frontier Fruit & Nut Bites flavors: Almond Blueberry Lemon, Pecan Cherry Cinnamon, Macadamia Pineapple Coconut, Cashew Cranberry Orange and Pumpkin Seed Apple Vanilla Bean for a complete lineup of 8 simple snack offerings. Staying true to the brands commitment of gluten, soy and dairy free products, Frontier Coconut Bites are also proudly Non-GMO Project verified and B-corps certified.
"Life can be crazy and we wanted a snack that could take you on a 5 second vacation. When you open a bag of Frontier Coconut Bites you feel as though you are instantly transported to the beach – a vacation in every crunchy bite," said Matt Oscamou, founder and CEO of Frontier Snacks. "Far too often the afternoon-snack-attack hits and we turn to unhealthy snacks, laden with sugar and other junk. We wanted to create a simple snack that you could trust to be made with only clean, nutrient dense ingredients that will keep you going. Frontier Coconut Bites taste like an indulgent treat but meet our high ingredient and nutritional standards."
Frontier Coconut Bites will be launching at Expo West Booth #9404 and will be available to consumers in Q3 at select retailers and for purchase on amazon.com and FrontierSnacks.com
About Frontier Snacks
Tired of the high sugar energy and granola bars on the market, Oscamou brothers Nate and Matt, set out to create a bite-sized alternative to energy and granola bars that use only ingredients they could see and taste. The result- simple snacks made with real food ingredients. No artificial junk. No refined sugar, no crash and burn. No dairy, no soy, no gluten. Just (really) real ingredients that provide the fuel you need and the taste you crave. Frontier Bites and Frontier Coconut can be found at select retailers nation wide and on amazon.com. To learn more about the next frontier of snacking, please visit. www.frontiersnacks.com.