Umpqua Oats to Launch Insane Grains Super Premium Oatmeal Packets
HENDERSON, NEVADA– Umpqua Oats Inc., the company that pioneered super premium "on-the-go" oatmeal in cups, will launch cartons of six packets for enjoyment at home. Umpqua™ Oats' Insane Grains™ will be offered as a premium quality alternative to traditional "instant" oatmeal. Available in Maple Pecan Harvest, Apple Cinnamon Crisp and Fruit & Nut Fusion, Insane Grains™ is made with thick, custom-milled whole rolled oats and ancient grains including quinoa and chia. Umpqua™ Director of R&D Norm Price explains "the difference is remarkable. Instant oats are highly processed and result in an unappealing texture, appearance and flavor. Our oats are whole, just lightly rolled to yield a firm bite, with a thick texture and enhanced flavor."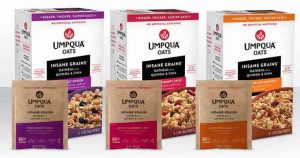 Umpqua™ Oats will be one of the first companies in history to compete with an industry giant that has dominated the category for over 100 years. Founded in 2006 by two moms who reinvented oatmeal because "we didn't want to give our kids something we wouldn't eat ourselves," Mandy Holborow and Sheri Price now operate one of the fastest growing new food brands in the U.S.
When asked how they feel about the "David & Goliath" launch of Insane Grains™, Co-Founder Sheri Price responds "we are confident that Insane Grains™ will be a huge success. By raising the bar on 'eat-at-home' oatmeal, we will bring new consumers to the category, and we will welcome back many who haven't bought oatmeal in years. It's about time that someone offered a natural, GMO-free, quality-driven hot cereal in interesting, fun flavors!"
Because many people use more than one packet to make an oatmeal serving, Insane Grains™ packets are at least 28% larger than typical "instant" packets. In response to a growing demand for less sugar, Insane Grains™ also contains a lower percentage of sugar. The grocery shelf price is expected to be $4.99 per carton of six. Ingredients include Pure Vermont Maple, toasted premium quality pecans, Granny Smith apples, and only the finest nuts, seeds, fruits and grains. All flavors are 100% natural, GMO-free, and made without gluten ingredients. Expect to see Insane™ Grains on the hot cereal grocery shelf in 19 western states by February 1st, 2017. It is available for purchase now on Umpqua Oats website as well as Amazon.com.