New Mind-Body Teas from The Republic of Tea Target Health Enthusiasts
The Republic of Tea, a leader in premium teas and herbs, has launched a new line of SuperGreen Teas to add to the already large collection of premium green tea products offered. The new collection consists of four premium all-natural teas that help promote wellness by supporting weight loss, boosting the immune system, improving cognitive function, and aiding in stress and relaxation.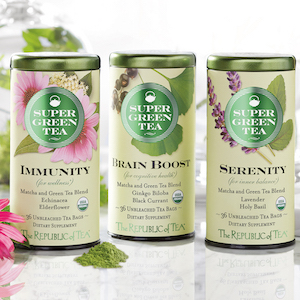 The new teas, Lean Green, Immunity, Brain Boost, and Serenity, offer a double boost of antioxidants by combining organic matcha with green tea leaves, which are known to fight free radicals and protect the body against toxins. In addition, each tea contains a unique blend of medicinal herbs that help support the body. However, what really sets the new SuperGreen teas apart from other medicinal teas is their superior taste. Each tea presents a unique and enjoyable taste profile and varying health benefits developed using the most sought-after herbs."This new collection embodies our mission to enrich people's lives through premium teas and herbs by presenting citizens of The Republic of Tea with botanical blends that are as delicious as they are healthy.
SuperGreen Teas deliver an exciting new twist on traditional green tea, matcha and herb drinks. We are eager for the health-conscious and casual tea drinkers alike to enjoy the many mind-body benefits of the smooth tasting infusions," said Kristina Richens, Minister of Commerce at The Republic of Tea.
Weight Loss Tea: SuperGreen Lean Green Tea – This delicious, organic tea is specially formulated to support weight loss*. Green tea and matcha help to increase metabolism while cinnamon suppresses appetite, alleviates cravings, and helps to maintain blood sugar levels. In addition, garcinia cambogia is added which has been shown to inhibit fat production.
Echinacea Tea: SuperGreen Immunity Tea – This organic tea contains green tea antioxidants combined with echinacea, elderflower, and ginger that help support the body's immune system in sickness and in health. Natural orange flavor gives this tea a bright, flavorful profile.
Gingko Biloba Tea: SuperGreen Brain Boost Tea – Clear the mind and enhance brain performance with this berry flavored organic tea. While caffeine from green tea helps support calm alertness, gingko biloba helps keep memory sharp. This tea makes the perfect complement when at work or while studying.
Tulsi Tea: SuperGreen Serenity Tea – This soothing, organic green tea features matcha, lavender, and restorative holy basil that helps the body deal with stress. The combination of green tea with lavender creates a calm state of alertness to help deal with both internal and external stress that occurs during waking hours.
The new line of SuperGreen Teas each come packaged in airtight steel tins that keep the teas fresh and prevent oxidation of the matcha. Each tin contains 36 tea bags. Priced at $13 per tin, making each serving of tea only 36 cents, SuperGreen Teas are an easy, affordable and wonderfully tasty way to enrich a healthy lifestyle. *This statement has not been evaluated by the Food and Drug Administration. This product is not intent to diagnose, treat, cure or prevent any disease.