Healthy Choice Launches Simply Café Steamers With All-Natural Protein
OMAHA, Neb., Sept. 24, 2015 /PRNewswire/ — Healthy Choice®, a brand of ConAgra Foods, Inc. (NYSE: CAG), has introduced a line of frozen meals made with all-natural protein and no artificial ingredients. The Simply varieties are an extension of the brand's Café Steamers line, the first and only meals that feature a special steaming basket to unlock freshness you can see and taste. With eight varieties, Simply Café Steamers offer various natural proteins, low carb options and unique flavors combinations.
"Our consumers are always looking for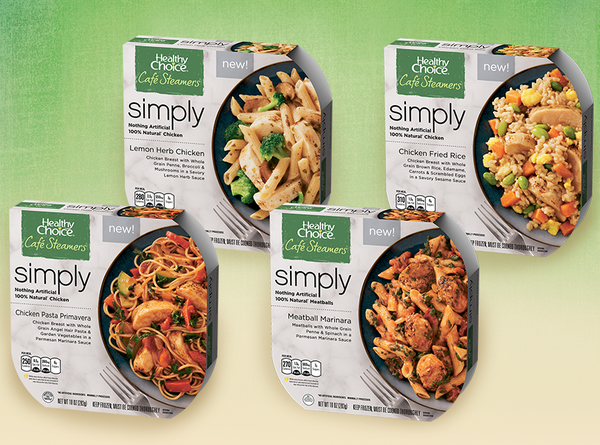 healthy yet delicious meal options and they're showing a growing interest in foods with real, simpler ingredients," said Kat Hrabovsky, senior brand manager. "Simply Café Steamers deliver the taste, texture and flavor benefits of steaming, but with 100 percent natural protein, and absolutely no artificial ingredients."
Hrabovsky also noted the new Simply line is being supported by a national, integrated marketing campaign that launches in late September, focusing on how the magic of steam transforms simple ingredients into vibrant and crisp vegetables, juicy 100 percent natural proteins and perfectly cooked grains in just four minutes or less.
The Healthy Choice Simply Café Steamers line contains eight meals, four classic and four low-carb meals, all with less than 310 calories and more than 18 grams of 100 percent natural protein. The classic varieties include:
Meatball Marinara
Chicken Fried Rice
Lemon Herb Chicken
Chicken Pasta Primavera
In addition, Simply offers four meals that contain more than 22 grams of 100 percent natural protein and offer less than 14 grams of net carbs.
"We are constantly listening to our customers and strive to provide new options that satisfy their needs," said Hrabovsky. "Our consumers want higher protein and lower carb options for their healthy living goals, which is why we created these four Simply options."
The low-carb varieties include:
Grilled Chicken & Broccoli Alfredo
Chicken & Vegetable Stir Fry
Southwestern Style Chicken
Grilled Chicken Pesto & Vegetables
All Healthy Choice Simply Café Steamers are available in the freezer aisle at grocery stores nationwide for the suggested retail price of $3.29.
From quick lunches and balanced dinners to delicious treats, Healthy Choice offers a variety of tasty options to help consumers live a healthy lifestyle. Visit www.facebook.com/healthychoice to learn more.
ABOUT HEALTHY CHOICE: Healthy Choice is the only major brand in its category that can call 100% of its products "healthy" as approved by the FDA. Healthy Choice offers more than 60 deliciously inspired varieties in the frozen food aisle, as well as low-sodium canned and microwavable soups. From healthy versions of comfort food classics like Beef Pot Roast to more unique, flavor-rich offerings like Cajun Style Chicken & Shrimp, Healthy Choice aims to surprise and delight customers with each and every meal! For a full list of our deliciously inspired products from savory soups to great-tasting meals and frozen treats, visit www.HealthyChoice.com.
ABOUT CONAGRA FOODS: ConAgra Foods, Inc., (NYSE: CAG) is one of North America's largest packaged food companies with branded and private branded food found in 99 percent of America's households, as well as a strong commercial foods business serving restaurants and foodservice operations globally. Consumers can find recognized brands such as Banquet®, Chef Boyardee®, Egg Beaters®, Healthy Choice®, Hebrew National®, Hunt's®, Marie Callender's®, Orville Redenbacher's®, PAM®, Peter Pan®, Reddi-wip®, Slim Jim®, Snack Pack® and many other ConAgra Foods brands, along with food sold by ConAgra Foods under private brand labels, in grocery, convenience, mass merchandise, club and drug stores. Additionally, ConAgra Foods supplies frozen potato and sweet potato products as well as other vegetable, spice, bakery and grain products to commercial and foodservice customers. ConAgra Foods operates ReadySetEat.com, an interactive recipe website that provides consumers with easy dinner recipes and more. For more information, please visit us at www.conagrafoods.com.