RiceBran Technologies Showcases Full Line of Organic Rice Bran Products
SCOTTSDALE, Ariz.– RiceBran Technologies (NASDAQ: RIBT and RIBTW) ("RBT"), a global leader in the production and marketing of value-added products derived from rice bran, today announced that RBT will be exhibiting at Booth # 938 at the Natural Products Expo West 2017 trade show from March 10 to March 12, 2017 at the Anaheim Convention Center in Anaheim, California.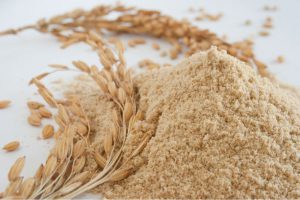 RBT will be exhibiting its full line of organic rice bran products, including red rice bran which is loaded with gamma-oryzanols, as well as its stabilized rice bran and Proryza™ branded products, to the many large CPG companies and product influencers in attendance. In addition to being non-GMO, gluten-free and vegan, RBT's products are derived from sustainable agricultural sources, and provide food companies with ingredients that are minimally processed and nutritionally dense. Among RBT's offerings are Proryza™ Gold that contains 25% protein, and RiSolubles® that contains elevated levels of naturally occurring gamma-oryzalnols as well as Vitamin E.
Natural Products Expo West is the leading trade show in the natural, organic and healthy products industry. Natural Products Expo West is expected to attract over 70,000 industry professionals and 3,000 exhibitors to the Anaheim Convention Center.
Michael Goose, President of Ingredient Sales, commented, "We are dedicated to delivering clean label products that are perfectly on trend with the growing consumer demand for food and beverages that are Non-GMO and nutritionally dense. Our unique offering of organic, gluten-free, and vegan products that provide a natural source of protein, fiber and vitamin E, makes RBT the right choice for major consumer products companies looking to effectively meet these important demand trends. We look forward to showcasing our products at Natural Products Expo West to the many product innovators in attendance."
Inquiries should be directed to Michael Goose, President of Ingredient Sales and Marketing at mgoose@ricebrantech.com.
About RiceBran Technologies
RiceBran Technologies is a human food ingredient and functional food company focused on the procurement, bio-refining and marketing of numerous products derived from rice bran. RiceBran Technologies has proprietary and patented intellectual property that allows us to convert rice bran, one of the world's most underutilized food sources, into a number of highly nutritious human food ingredient and animal nutrition products. Our target markets are human food ingredients and animal nutrition manufacturers and retailers, as well as natural food, functional food and nutraceutical supplement manufacturers and retailers, both domestically and internationally. More information can be found in our filings with the SEC and by visiting our website at http://www.ricebrantech.com .