FBU Austin: Learn from Founders of Epic Bars, Chameleon Cold Brew, Sahale Snacks & Daily Greens
Whether looking back after a recent sale or else describing the professional and personal circumstances that govern their day-to-day lives, entrepreneurs running food and beverage companies serve as the primary sources for advice and knowledge at BevNET FBU (Food and Beverage University) events.
BevNET FBU Austin, a full-day dive into the food and beverage industry, happening on Feb. 10 at the Brazos Hall, will give attendees lessons from active entrepreneurs who will be on hand to provide an open look into some of the challenges they have overcome in building their brands, constructing their organizations, and marshaling the energy and capital that it takes to succeed.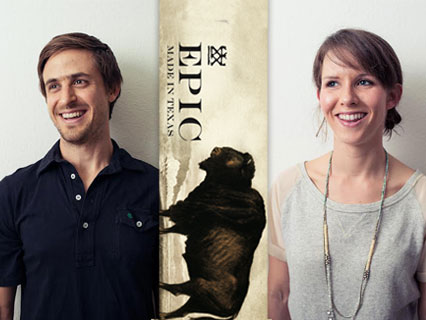 Joining the discussion early in the day will be Sahale Snacks co-founders Edmond Sanctis and Josh Schroeter, who recently sold the gourmet snack and nut company to J.M. Smucker. Schroeter and Sanctis, who started the brand with no previous CPG experience, will speak on some of the major obstacles they overcame – from the practical development of a supply chain that could fit their high-end products to the unforeseen pivots they had to make when losing access to significant retail channels – and talk about ways that entrepreneurs can think their way through their own specific challenges. Sahale Snacks is a case study in determination, course correction, and fast innovation, and Sanctis and Schroeter have much to share.
Later in the day, three exemplary Austin entrepreneurs will join a freewheeling panel discussing the rewards and setbacks that accompany running a startup food and beverage business. Epic Bars CEO Taylor Collins, Chris Campbell, the CEO of Chameleon Cold Brew, and Shauna Martin, the founder and CEO of Daily Greens, will be on hand to discuss their own stories — how they came to the business, how they handle their initial challenges of branding and building a product and the long-range work of formulating and maintaining strategy, raising funds for growth, and gaining shelf space in a competitive environment. All three brands are in the midst of expansion and have raised money successfully, but know they have a long way to go before they are national players. Hearing how the founders view the road ahead will provide a strong set of insights for attendees as they ponder their next steps.
In addition to hearing from more experienced business owners and their staffs, attendees of the FBU Austin event will have a full day of networking, question-and-answer opportunities, as well as the chance to sample and receive feedback on their products and those of the other attendees. With distributors, investors, retailers and suppliers all joining in for the day, it presents a full tour of the operating environment for the food and beverage startup.
Registration is open and ongoing. Please contact Jon Landis at (617) 231-8834 or jlandis@bevnet.com with any questions regarding the event.
About BevNET FBU
FBU is BevNET's educational platform, a business development series originally known as Beverage School, that it has run for the benefit of new Food & Beverage entrepreneurs and their employees since 2009. BevNET's track record in providing relevant business development content is evident through its video subscription service at Food & Beverage University (www.BevNETFBU.com), a collection of focused interviews with CPG experts that offer insight into all levels of strategy for food and beverage product entrepreneurs.