The Checkout: Smucker's Teams Up With Rev1 to Work With Emerging Brands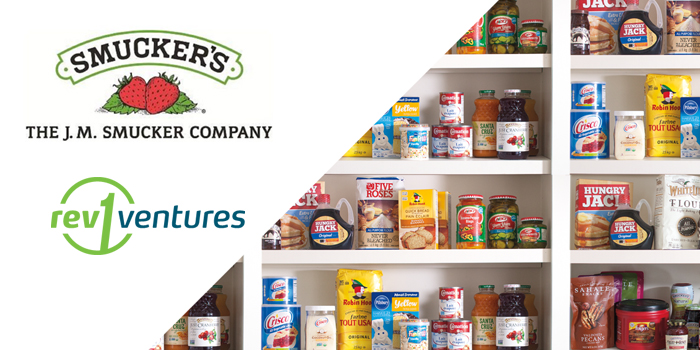 Collaboration was king for the natural food industry this week. From partnerships between grocery giants and innovative startups, to Hollywood stars and brands, here are some of the top news stories you need to know.
Rev1 and Smuckers Partnership Hopes to Bring Food Innovation to Ohio
J.M. Smucker is sweet on food innovation.
The 120-year-old Orrville, Ohio-based company announced this week that it has teamed up with Rev1 Ventures, a Columbus-based tech incubator, to create more opportunities within the state's food industry.
"By tapping into Rev1′s extensive network of entrepreneurs, we can gain access to and more easily adopt technologies for our operations and products," Tina Floyd, VP of consumer foods at Smuckers, said in a press release, "while also driving startup success in our backyard."
Smucker's is not the first conglomerate to see value in working with smaller brands. PepsiCo announced in May that it will be working with food and beverage incubator The Hatchery Chicago. And in Pennsylvania, The Hershey Company also recently launched Hershey Labs in partnership with the Pennovation Center, a 58,000-square-foot facility designed as a hub for innovation, research and new business ventures.
Nature's Path Leaves OTA
Organic breakfast and snack food brand Nature's Path announced today that it will leave the Organic Trade Association (OTA) due to concerns about the organization's shifting priorities and mission.
The company noted that it thinks the OTA has misrepresented the organic food companies it represents by supporting a proposed national GMO labeling law and allowing hydroponics to fall under the organic certification label.
"Our departure from the OTA is an act of protest to raise awareness of our concern that the important role organic plays to support the health of consumers and our planet is being compromised," Nature's Path founder and co-CEO Arran Stephens said in a statement. "We believe giant food corporations, that also happen to own small organic brands, use the OTA to influence policy decisions to protect the best interest of their large, non-organic food portfolios."
Stephens added that the funds that Nature's Path would spend on OTA membership fees will instead be invested in farming, research and associations that best reflect Nature's Path's vision for what organic stands for.
FDA Will Address Standards of Identity in Public Meeting
What makes a product "mayonnaise," "milk," or "cheese"? Is it the ingredients or more so how shoppers' perceive and use the product? To help answer this question, the Food and Drug Administration (FDA) is hoping to set guidelines around these standards of identity to better match the pace of innovation.
The FDA announced Thursday that it will hold a public meeting on July 26 with industry, nutrition experts, consumers and other interested stakeholders on the subject of modernizing labeling claims, ingredient labels and standards of identity.
For the latter, the agency plans to discuss whether certain almond- or soy-derived products should be able to call themselves milk or other dairy product names (i.e. yogurt, cheese, butter, etc.).
"Identifying strategies to make food labels easier to understand is a key aspect of the FDA's new strategy," FDA Commissioner Scott Gottlieb wrote in a statement. "If we believe consumers are being misled by the use of these terms in a way that could adversely affect their diets, we might set out a process to develop new guidance that would identify terms that might confuse consumers about a product's ingredients or nutrients."
The war of words regarding dairy has been a topic of conversation over the last several years as plant-based alternatives have seen significant sales growth and overall retailer interest. How the FDA ultimately responds to dairy alternative brands could set a precedent for standard of identity issues in other categories such as rice and meat.
Kate Upton Partners With Urban Remedy
Urban Remedy has added a Hollywood starlet to its team. The maker of plant-based ready-to-eat meals, snacks, and cold pressed juices has partnered with model and actress Kate Upton to launch an exclusive meal plan in conjunction with her soon-to-launch wellness platform, Strong4Me Fitness.
The Kate Upton Meal Plan will include a curated selection of Urban Remedy's prepared meals, juices and snacks that are said to be Upton's favorite items, including the Mint Cacao Chip smoothie, Vegan Caesar salad, and Veggie Burger.
"I've been using Urban Remedy for years, so this partnership was a no-brainer to me," Upton said via a release. "My approach to food and exercise is that it should be easily incorporated into a busy lifestyle, and not intimidating or overwhelming."
Urban Remedy closed a $17 million round of capital, with General Mill's venture arm, 301 Inc leading the round, earlier this year. Urban Remedy CEO Paul Coletta previously told NOSH that the funds were to build out a fresh-focused platform and to deepen its omnichannel focus.
Teavana Returns With Grocery Line
Tea drinkers still mourning the closure of Teavana cafes are in luck. Starbucks will begin selling packaged Teavana products at grocery stores this year.
The company announced this week that it will begin selling tea sachets in six different flavors this summer, with a national rollout to follow before the end of the year.
While Starbucks still sells Teavana products at its cafés, the coffee chain closed all 379 of the brand's stores about a year ago. In November, Starbucks also sold the Tazo tea brand to Unilever for $384 million.
Welcome to the Future: Groceries May Soon Be Delivered By Driverless Cars
Food delivery became even more automated this week. Retailer Kroger announced on Thursday that has begun working with Nuro, a company founded by two veterans of Google's self-driving car program, to launch a fully driverless delivery service.
A pilot program is expected to roll out in a yet-to-be-determined city this fall. Nuro said it will use a fleet of self-driving test vehicles — with human safety drivers to start — to make deliveries for Kroger's grocery stores. The human drivers, however, will not help customers unload groceries.
"Obviously we don't want to come across as rude," Dave Ferguson, co-founder of Nuro, told The Verge. "We're trying to strike the right balance so we can give you a sense of what the service will be like when there are no people."
In-Store Merchandising Tracking App Yoobic Raises $25 M
Yoobic, a U.K.-based app that is trying to create a solution for retailers looking to sell items in consistent ways across many locations, has raised $25 million in funding led by Insight Venture Partners, according to TechCrunch. The funding will be used to bring the app to U.S. retailers.
The SaaS platform lets retail staff communicate with head offices to plan and execute merchandising and marketing campaigns. According to TechCrunch, remote sales teams can use their device's camera to shoot their own layouts and check them against provided instructions via the app. The app's algorithms then suggest changes until the display meets specifications, and when it's approved, a notification is sent to HQ to notify managers that the display is complete.