The Checkout: FDA Gives More Context to Nutrition Label Changes
Welcome to The Checkout: an express lane for weekly news you need to know, always 10 items or less.
This week's Checkout is all about brands, retailers and government raising their standards around food. From the Food and Drug Administration's (FDA) new guidance regarding the labeling of added sugar on Nutrition labels, to some of food's biggest players innovating to meet rising consumer expectations, here is your latest news regarding natural food leaders raising the bar.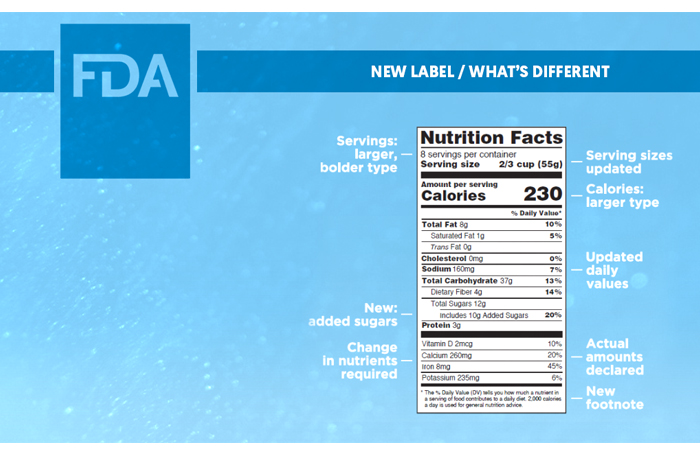 FDA Issues Update on Nutrition Label Changes, Guidance on Added Sugar
After numerous delays, and months of questioning from industry groups regarding upcoming changes to food and beverage nutrition labels, the FDA is finally providing some answers.
Yesterday, the FDA issued a statement highlighting new efforts to advance the implementation for the new consumer Nutrition Facts label, which was spearheaded by former first lady Michelle Obama and passed into law under the 2010 Affordable Care Act. In addition to announcing an education initiative to help consumers better understand the changes, FDA Commissioner Scott Gottlieb also provided new guidelines regarding added-sugar, fiber and appropriate serving sizes.
"All of these guidances are reflective of the feedback we heard about the desire for more information on these important topics," Gottlieb said. "As we move forward with implementing the new labeling, we believe these guidances will help provide information that the industry has sought from the FDA by providing the agency's current thinking on these topics."
The guidance for added sugars specifically relates to honey, maple syrup and certain cranberry products. While honey and maple syrup meet the definition of added sugars, there were concerns from industry leaders that declaring added sugars on their single-ingredient products may lead to consumer confusion. Cranberry juice manufacturers added that their products need to be sweetened for palatability. The new solution is to give manufacturers a symbol to put on packaging immediately after the added sugars daily value, directing consumers to language that provides truthful and contextual information about the "added" sugars in their products.
Last year President Trump's administration announced the changes were delayed "indefinitely," leaving questions as to whether the nutrition label changes would live to see another day. The announcement of these guidances, which includes a confirmation of the 2020 deadline, shows that while the FDA is committed to giving nutrition labels an overhaul, they are also listening to the concerns of the food industry.
Perfect Day Raises $24.7M for Cow-Free Dairy
Things are moving along for dairy startup Perfect Day, which aims to produce "clean" milk and bypass the need for cows. The food tech company announced earlier this week the close of a $24.7 million round of funding and its procurement of a patent to use animal-free dairy proteins in food applications.
The round was led by Temasek, a Singapore state-owned investment company. It also included previous investor, Hong Kong-based Horizon Ventures, as well as Continental Grain, Iconiq Capital and Lion Ventures.
"This funding will enable the company to grow the team, accelerate scale-up efforts, and ultimately, commercialize with a wide variety of partners across the food and dairy sectors," Perfect Day co-founder Perumal Gandhi said in a statement.
Perfect Day is just one of many "clean" animal product companies trying to shift the food system away from a reliance on livestock. Venture capitalists have been pouring money into clean meat companies such as Memphis Meats, which has attracted capital from billionaires Bill Gates, Richard Branson, and Jack and Suzy Welch, and Just (formerly known as Hampton Creek).
Applegate Supports USDA Lawsuit, Favors Organic Livestock Practices Rule
Applegate, a leading natural and organic meat brand, is the latest brand to file a declaration in federal court in support of a lawsuit demanding that the United States Department of Agriculture (USDA) enact the Organic Livestock and Poultry Practices Rule.
In December 2017, the USDA announced it would decouple animal welfare standards from federal regulations around organic certification. Prior to the announcement, the Organic Trade Association filed a lawsuit against the USDA for delaying the passed bill. Brands such as Applegate are concerned that without organic livestock standards, companies are not being transparent with consumers and that it could lead to doubt in the value of the Organic seal.
"Applegate requires high animal welfare standards – not only for organic – but also our natural line," Gina Asoudegan, VP of mission and innovation strategy for Applegate, said in a statement. "Yet, we compete at shelf with brands who have an organic label, but only minimal animal welfare standards. This is a disservice to the consumer and other companies who are walking the talk."
Applegate is not the first brand to get political in 2018. In January, a group of organic brands, farmers and researchers took out a full-page paid-advertisement in the Washington Post demanding U.S. Secretary of Agriculture Sonny Perdue to reinstate the Organic Livestock and Poultry Practices rule.