Sweet Loren's Looks To Conventional To Make Some Dough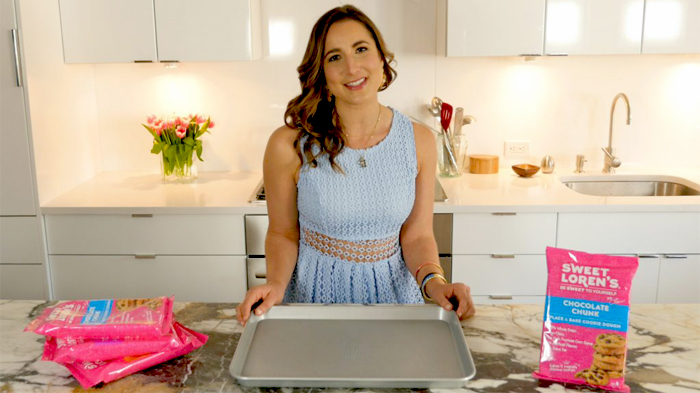 "Nothing is better than a freshly baked cookie."
That's what Sweet Loren's Founder and CEO Loren Brill thinks. But after she was diagnosed with Hodgkins Lymphoma at the age of 22, the cookie aficionado changed her diet to focus on foods with cleaner ingredients — and the conventional take-and-bake cookie dough she grew up craving no longer made the cut.
Rather than eliminate cookies entirely, however, Brill headed to the kitchen to create a healthier one. Now five years later, Brill's multi-million-dollar cookie dough brand, Sweet Loren's, is taking on confectionary giants like Nestle and General Mills with a natural take on the take-and-bake cookie and expanding its line with, what the brand says, is the first gluten-free, vegan and nut-free take and bake cookie dough.
So far, Sweet Loren's has seen "rocketship success," says Brill. Its three flavors — chocolate chunk, peanut butter chocolate and oatmeal cranberry — are sold in almost 5,000 stores. Brill told NOSH she thinks her brand directly challenges the halo of nostalgia that surrounds the category's leaders.
"I think it's really exciting to be able to grow this category for a younger generation who may have walked right by the cookie dough section because they previously associated it with being more junky," Brill said. "We're going up against these big brand names that have been around for so many years and [they] almost have a halo effect because we grew up with them. But if you really look at their ingredient list, there's no halo to be found."
Sweet Loren's dough is made from 100 percent whole grains, and contains no dairy, high fructose corn syrup, artificial flavors or trans fat. Brill said she thinks the brand has seen success over the past two years in particular because the dough plays to two of the most popular trends in food currently: "natural and clean ingredients" and "decadent and delicious taste."
The new vegan chocolate chunk line also fit with gluten-free and free-from trends at a time when the U.S. retail sales of gluten-free and free-from foods are projected to grow to $23.9 billion by 2020.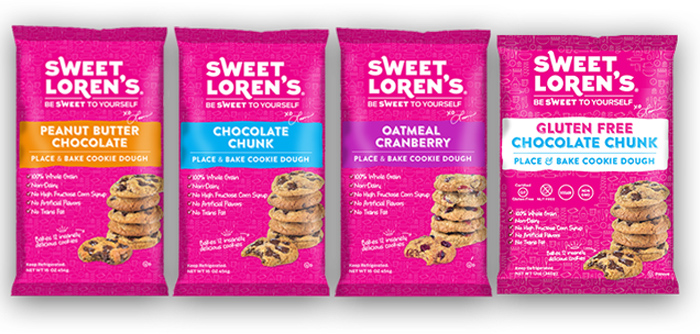 In order to take on leaders in this space, Brill said she recognizes Sweet Loren's needs more than a trendy clean ingredient panel. The cookies also have to be just as available as the brands it's competing against — a notion being applied by many challenger brands across categories.
"Our goal is to have a positive impact on the dough category so that means that we need to be easy to be found," Brill said. "Our distribution needs to be accessible and not only be for specialty or only people who live in major cities next to a Whole Foods, but really for any consumer that should be able to find it in their local supermarket."
The dough is currently sold in Krogers, Publix, Whole Foods and Fresh Market. Brill said Publix and Earth Fare have expanded the brand's offerings to all of its stores, available on shelves in May and June, respectively. As for the gluten-free SKU, Brill said it's launching in Publix, but she expects more retailers to pick it up in the coming months.
Retail won't be the only sweet spot for the cookie company, according to Brill. Sweet Loren's is looking to expand its food service presence with cookies that can be baked on site. Currently, the cookies are sold in some Modern Markets, a fast-casual chain, as well as some catering companies and universities.
Food service currently makes up about 10 percent of Sweet Loren's total sales, but Brill said the company aims to grow this to about 40 percent in the coming years. To achieve this goal, the company recently hired long-time industry veteran Yvette Borack as its Vice President of Sales.
Keeping this kind of upward trajectory takes capital. Brill said the company is opening its first series A round in the coming months. The funds are expected to be used to make its logistical processes more efficient and increase its marketing efforts.
Still, the uncertainty is whether this better-for-you brand can ultimately win over the hearts, and dollars, of consumers. Not only does Sweet Loren's have to overcome nostalgic connections, but also communicate the reason why there's a difference in price on shelves. Sweet Loren's retails for $3.99 – $5.99, where conventional dough sells for about $2.50 – $3.
"We don't want to be the cheapest thing on the shelf. In order to have high quality food, this is the real price that it has to be on the shelf, and we think it is a steal to be able to sell a high quality experience at this price," Brill said.