The Skinny on the Snyder's-Lance Trademark Battle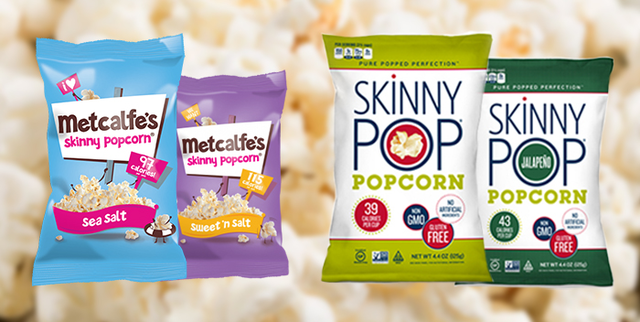 Descriptive terms may help some brands keep their marketing budget thin, but for others, it opens the door to plus-size trademark issues.
Amplify Snack Brands, the company behind SkinnyPop Popcorn, and snack giant Snyder's-Lance began a legal battle over the word "skinny" last week. Amplify filed a federal trademark infringement and unfair competition lawsuit against Snyder's over the company's plans to start selling Metcalfe's Skinny in the U.S.
Metcalfe's is a U.K.-only line of healthy popcorn that was purchased by Snyder's last year as part of the company's expansion of its better-for-you portfolio.
Snyder's filed their own suit the same day in response Amplify's claims, asking the court to find that there is no infringement. In Synder's filing, the company states "skinny" is descriptive and can't be trademarked.
Amplify, however, is alleging otherwise. The company says the potential launch infringes on its Skinnypop brand, which brought in $200 million in sales in the U.S. last year. Skinnypop is a company Amplify has been actively growing. The brand recently expanded beyond ready-to-eat popcorn with its launch of microwave popcorn and popcorn cakes in February.
"We believe in fair play and fair competition," Amplify's CEO Tom Ennis said in a press release. "Snyders-Lance's and Metcalfe's effort to copy our brand name is flattering but not how trade competitors should behave."
The case is currently assigned to Judge Lee Yeakel of the U.S. District Court for the Western District of Texas. To prove infringement and prevent Snyder's from bringing Metcalfe's to the U.S., Ryan Kaiser, Chair of Amin Talati Upadhye's Class Action and Business Litigation team, said the Austin-based snack maker will need to "allege and prove that it owns prior rights in a protectable mark, and that the junior mark is likely to cause consumer confusion." But, unlike standard trademark issues, Kaiser told NOSH it's more difficult to protect words or phrases rooted in descriptive or every-day terms.
"The real battle will be over whether the marks are confusingly similar, and more importantly, the scope and strength of Amplify's rights," Kaiser, who does not represent either company, said.
There is also a question of timeline. Skinnypop was launched in Chicago in 2010, while Metcalfe's was established in 2009.
Kaiser said he expects Amplify will argue that SkinnyPop could be confused with any brand that tries to use "skinny" in connection with popped or corn products. If the ruling favors Amplify, it could set a precedent for future cases that trademarks can apply not only to a word itself, but also to the context of a word with certain goods.
It can be difficult — and expensive — for a brand to protect a mark that's arguably descriptive. Kaiser said companies planning to use descriptive terms in their branding should weigh their options before proceeding. He also suggested that brands involve counsel in the selection and clearance of any new mark early in the process.
"There's an inherent conflict, when choosing a trademark, between the marketing and legal teams," Kaiser said. "Marketing likes to use descriptive terms, or variations of descriptive terms, because it helps convey the marketing message about the product to consumers, with less marketing dollars. But the legal team has to explain that descriptive terms don't make strong trademarks — at least not initially — and that the marketing spend a company might save by using a descriptive mark will often be eaten up by the legal budget required to police and enforce the mark."