Honey, Kraut and Biltong Bring in Investors
Sometimes the food world can get swept up into buzzing about what's the latest and greatest food innovation. But for every never-before-seen, patented piece of technology, there are numerous food brands developing well-branded, delicious versions of classic recipes that have been around for decades or longer. Investors are increasingly taking note and helping these brands grow to the next step of their development.
Here are some of the deals we've been paying attention to.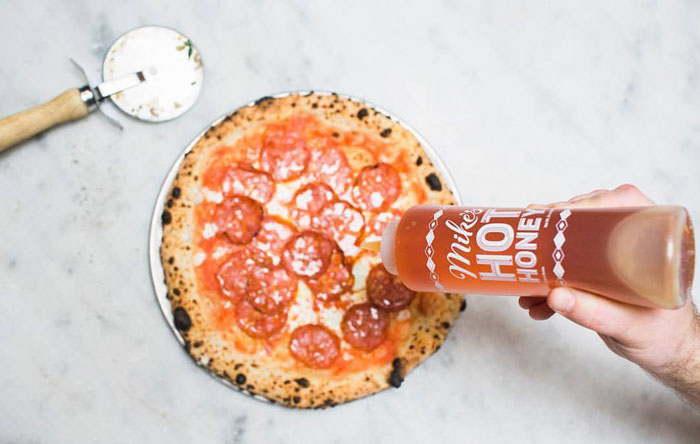 Mike's Hot Honey Closes Round Through CircleUp
Artisanal condiment brand Mike's Hot Honey has closed a $2 million round of funding from Fifth Down Capital. The Series A round was through investment platform CircleUp and will go towards expanding the brand's distribution and customer awareness.
"You hit a point where you start working with the bigger retailers and bigger distributors," CEO Matt Beaton told NOSH. "The amount of inventory that [we] need to hold to serve that demand and the amount of raw materials that [we] need to buy to fulfill that demand, just started pushing up against our financial constraints."
Currently Mike's produces one product — a spicy honey — that is sold in several different formats designed to appeal to consumers as well as food service providers and restaurateurs. It's a strategy that stems from the brand's inception as a condiment created at famed New York City pizza shop, Paulie Gee's.
Beaton told NOSH that the company has "larger ambitions" for where the brand can go and how it can become more of a condiment platform, but for now, will focus on its singular offering. He add, that the company decided to go with Fifth Down after seeing the investment group's enthusiasm for their product.
"We all believe, it's a shared vision that our investors have too, that we have lightning in a bottle," Beaton said. "In hindsight, we're very happy that we passed on a few opportunities because it led us to a group that we didn't feel we were compromising our vision or compromising our belief in the brand. They probably not only believe in it, but shared it as much as we do."
Fifth Down Capital is no stranger to the world of beloved pizza toppings. The group has been an anchor investor in restaurant concept &pizza — which uses Mike's in their pizza creations.
"Mike's Hot Honey became the key ingredient to our signature pizza, "American Honey", which since being created, has been a top seller," Fifth Down Partner Andrew Spellman said. "A fact that obviously caught our attention."
While some may argue that there is a lack of propriarity technology in Mike's product, Beaton says that the value proposition for the brand is in what it stands for.
"I do believe that it's pretty easy to replicate a food product or a recipe. Those aren't hard things to do when you consider the resources big CPG has," Beaton told NOSH. "But I think a very hard thing to replicate is a brand and authenticity and the way that you make your consumers feel."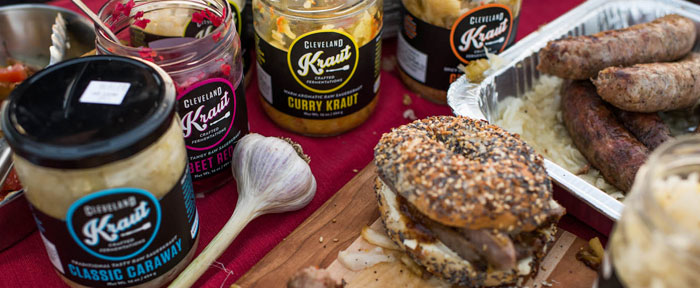 Cleveland Kraut Sees Funding for Fermented Food Line
After financing their company with a small friends and family round in 2015 and a small seed round in 2016, fermented food brand Cleveland Kraut announced the close of a $1 million round of funding lead by Clover Capital, a former investor in fellow gut-health brand, PepsiCo-owned probiotic beverage maker KeVita. As part of the investment, Clover will retain a seat on Cleveland Kraut's board of directors.
Also taking part in the round was a "major strategic partner" who will assist the brand with operations and sourcing, according to Cleveland Kraut CEO and co-founder Drew Anderson. This investor, Anderson added, will allow the brand to grow market share and margin.
Cleveland Kraut is currently sold in over 500 retailers including Fairway, Bristol Farms, Giant Eagle and select Whole Foods Markets, Krogers, Earthfare and Target. Anderson told NOSH that the brand has had 600 percent growth in the natural channel with some SKUs growing upwards of 2000 percent year-over-year and some top stores reporting sales of over 50 units per week.
Part of the investment will towards building out a new 20,000 square foot production facility and fermentation space. Anderson told NOSH the new facility will allow the brand to continue to grow its retail presence and serve new accounts. In terms of R&D, Cleveland Kraut will explore other fermented products that serve health conscious consumers.
Alex Schneider, partner at Clover Capital, told NOSH that the group has been searching for their next probiotic play.
"Since investing in KeVita several years ago we've been really interested in other products that promote gut-health so we've been watching the fermented food space closely for the past few years," Schneider said. "Because we also own a few food manufacturing businesses, we have an appreciation for brands that produce their own products or employ some unique or proprietary process that creates a barrier to entry."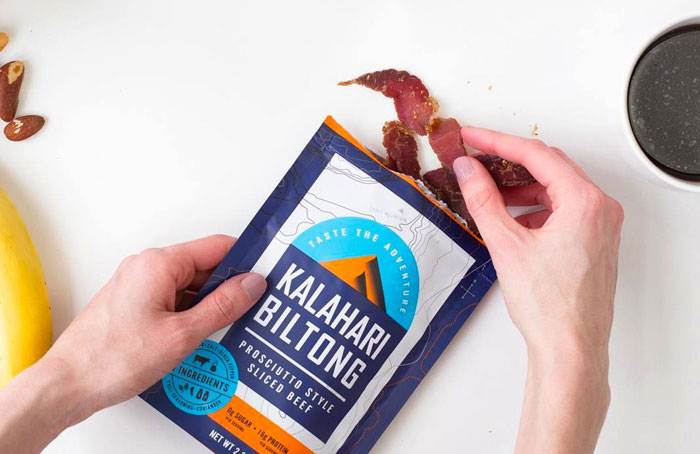 Kalahari Biltong Raises $1M
Meat snack brand Kalahari Biltong has closed a $1 million dollar round of funding lead by CPG investment group AccelFoods. The round also included several strategic "limited partners" of AccelFoods. As part of the deal, AccelFoods partner Frank Zampardi, who was formerly the director of sales at Krave Jerky, will gain a seat on Kalahari's board.
As evidenced by its name, Kalahari produces biltong, a South African take on jerky that uses less sugar.
Kalahari Founder and CEO Tyler Noyes told NOSH that the capital will mainly be used for retail expansion, marketing efforts, extending the product line and hiring new employees. Currently, Kalahari has primarily focused on distribution through e-commerce, gyms and fitness centers but plans to invest in moving into traditional brick and mortar retailers.
AccelFoods Partner Frank Zampardi told NOSH that Kalahari fills a gap in AccelFoods' portfolio.
"Meat snacking was a clear gap in the [AccelFoods] portfolio," Zampardi said. "When I joined the team, AccelFoods had already evaluated numerous opportunities in the category, but ultimately none met our standards in terms of differentiation and a team we really wanted to partner with until Kalahari."
According to AccelFoods team members, the synergies between AccelFoods and Kalahari were so apparent that the deal was quickly closed in just three weeks. AccelFoods, Zampardi said, was drawn to the brand over other jerky options due to its clean ingredient list, lack of added sugar, lower sodium and higher protein levels.
With his experience at Krave as well as other high-performing snack food brands, Zampardi plans to help guide Kalahari with their upcoming retail expansion.
"My experience at Krave opened my eyes to the opportunity in meat snacks," Zampardi said, "And Kalahari represents the next generation of innovation in the space."