Unilever Modernizes Portfolio, Pepsi Leverages Quaker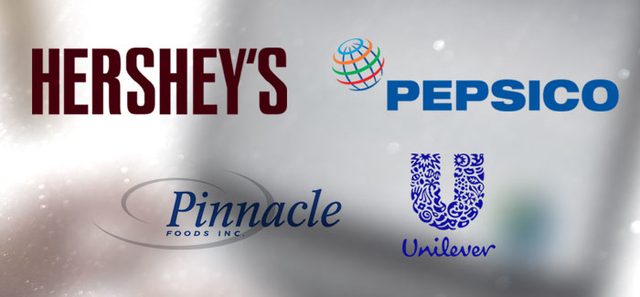 This week, Unilever, PepsiCo Inc., The Hershey Company and Pinnacle Foods released their quarterly earning reports. But beyond sales numbers, the companies shared insights into their wins, losses and goals for the rest of 2017 that will help set trends across categories in the months to come.
Here are the main strategic takeaways from these CPG giants' quarterly earning reports.
Unilever CEO On Food Industry: 'Benchmarks Are Being Reset'
Unilever is mixing things up in response to foodie trends. During its first-quarter earnings call on April 19, Chief Financial Officer Graeme David Pitkethly outlined his plans to modernize the company's product portfolio.
Pitkethly said the brand will use product innovation to create what he called "foods of the future" with "agile and new models." He also noted the current market's growth has been driven by pricing rather than volume as consumer preferences shift toward more premium and clean products. The company's most global brands, Knorr and Hellmann's, have both embraced premium and natural: Knorr by extending its Natural Mealmakers into salad dressings, and Hellmann's by launching organic range.
Unilever's M&A strategy also plays to its vision for the future. The company most recently purchased New York-based ketchup and egg-free mayo brand Sir Kensington's for $140 million to help better position itself as a condiment leader. The announcement came shortly after the company said it would exit its other spreads business.
"We have very full innovation program [that] is helping us to sustain consistent growth ahead of our markets, navigating the challenges and opportunities presented by changes in consumer preferences and needs. The bolt-on acquisitions we've been making will better equip our business with brands that meet emerging needs," Pitkethly said. "At the same time, the competitive landscape is changing and challenging our industry. This is particularly the case in foods. Across the board, benchmarks are being reset."
Pepsi To Boost Quaker Sales By Rejuvenating Center Store
Pepsi is transforming– and one way it's doing so is by creating healthier beverages and food products. Fortunately, the brand doesn't have to look too far outside its own portfolio to help realize that vision.
During its quarterly earning call Wednesday, Pepsi's CEO Indra Nooyi said she plans to better leverage the Quaker Oats brand, which has been flat or down in recent years, to capitalize on changing consumer preferences.
"The only reason why the [Quaker] portfolio looks negative is because it's center store business in grocery stores. And the overall center store category is down high single digits, sometimes even low double digits in some quarters," Nooyi said. "So while we are outperforming the center store categories handsomely, I think our next challenge is how do we leverage our relationships with retailers to reinvent center store."
Nooyi said the company will help grow Quaker and reinvigorate center store through innovative merchandising. She added the company has been in discussion with retailers to see how can they can help rethink and bring back growth to these middle aisles as a whole. "By itself, Quaker remains a much-loved brand and it's profitable. And our hope is that with the rejuvenation of center store, our categories grow too," Nooyi said.
Pinnacle Sees Strength in Grocery
Pinnacle is flexing its grocery arm this quarter. The company reported in its quarterly earnings report on Thursday that its net sales increased 1.6 percent year-over-year thanks to strong growth in grocery and the recently acquired Boulder Brands portfolio of companies
Mark Clouse, Pinnacle Foods' CEO, accredited part of the company's grocery growth to Duncan Hines Perfect Size for 1, as well as frozen brand Birds Eye.
Though overall net sales from frozen foods fell almost three percent from this quarter last year, Birds Eye gained almost two market share points in both frozen vegetables and frozen meals. Clouse said he hopes to build on this growth with the rollout of the brand's newest products, which includes veggie mashers, vegetable pasta, superfood blends, Disney-themed Voila!, and an organic line. Both the Duncan Hines and Birds Eye products appeal to consumers looking for products that play to flexible eating occasions.
Hershey Focuses on Snacks For Indulgent and Better-For-You Brands
The Hershey Company is playing to both sides of snacking, and it seems to be working. The confectionary leader, which has focused on developing both its better-for-you and indulgent portfolios, saw net sales of $1.88 billion in Q1, according to the company's earnings report. Growth came as a result of new product launches and Easter sales.
The company has been focused on refreshing its product lineup to better match consumers' snacking tendencies. To fit these new needs while still capitalizing on the legacy of its indulgent brands, Hershey's created new products like "snack mixes," which launched last year. The company also announced this week that it will expand its commitment to "smart snacking" within its chocolate portfolio by emphasizing environmental and nutritional transparency for the labels, ingredients and packaging across its products.
As for its better-for-you portfolio, the brand is focusing on increasing its investment into the non-chocolate sweets, CEO Michele Buck said on the call. Recent acquisitions Krave and barkTHINS, both saw growth this quarter. Buck added she plans to use M&A to continue expanding into the the healthier snacking segment, applying its lessons learned from Barkthins for future growth.
"Like any new brand, we're learning in terms of really optimizing how we make sure that we drive that hardest in the right – to the right consumers and into the right channels. So, in some cases, we overextended distribution, and we've right-sized that a bit."