Freak Flag Organics Launches Mac & Freak in Whole Foods Market Nationwide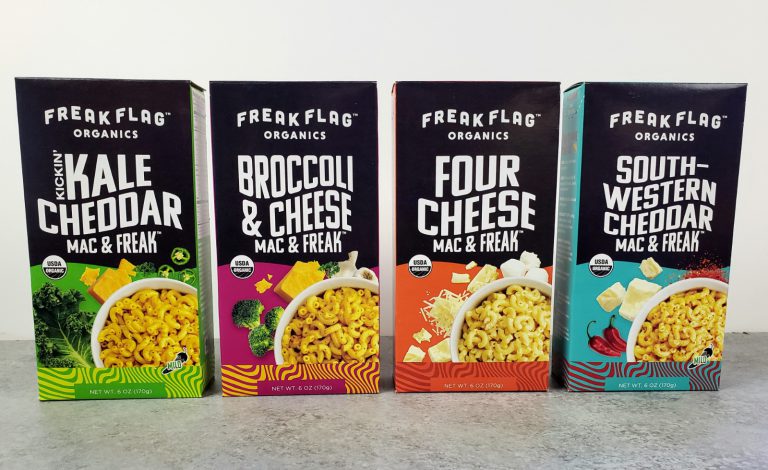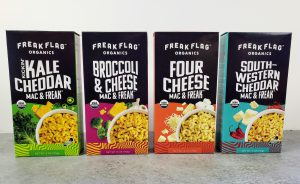 MINNEAPOLIS— FreakFlag Organics is launching a new line of Mac & Cheese products — called Mac & Freak – at Whole Foods Market stores nationwide. The retailer, known for its commitment to providing shoppers with USDA certified organic products, will sell four of the company's Mac & Freak products, which are loaded with amazing flavor and clean ingredients.
"Our promise is to always create not just non-GMO but 100% USDA certified organic products with phenomenal flavor combinations," said Fred Haberman, founder and Lead Freak. "The Mac & Cheese category was ripe for some flavor exploration and fun, so we created a line of products that takes flavor in this category to the next level. We believe our name, Mac & Freak, says it all."
The Mac & Freak products, which are the newest products from the flavor-forward, always organic brand, will have Mac & Cheese fanatics exploring a new take on their beloved comfort food. The Mac & Freak flavors, also available for purchase through Amazon starting in June, are packaged in 6-ounce boxes priced at a suggested MSRP of $3.49 and are distributed through United Natural Foods, Inc. (UNFI) and Associated Buyers in the Northeast. Flavors include:
Four Cheese: Because one, two or three cheeses just weren't enough for our Freaky Founder Fred who hails from Wisconsin and loves the mix of white cheddar, parmesan, mozzarella and romano in this cheesy flavor explosion.
Kickin' Kale Cheddar: Kale and a mild kick of jalapeno freak up this mac dish to fantastical levels.
Broccoli & Cheese: It's a combo everyone can love and now it's making your beloved comfort food all the more tasty.
Southwestern Cheddar: Because this category needed a little spice and this recipe – which includes cumin, chipotle and ancho peppers – is simply phenomenal and needed to get to market.
The addition of the Mac & Freak line to Whole Foods Market brings Freak Flag Organics' total national SKU count to 10 products with this leading retailer, which was achieved in less than 12 months.
In addition to its Mac & Freak product line, Freak Flag Organics offers consumers award-winning vegan pestos, as well as flavorful bone broths and condiments. Learn more at FreakFlagOrganics.com.
Minneapolis-based founder and Lead Freak, Fred Haberman is a social entrepreneur and an agent for change in the good food movement. He has lived his life with the mantra of being curious, being yourself, living your passions and creating change for good. Freak Flag Organics embodies this as a contribution to making the world more sustainable, delicious and fun. For more than two decades, Fred Haberman has helped fuel the growth of the organic food movement. The agency he co-founded with his wife, Sarah, has driven results for mission-focused brands such as Organic Valley, Traditional Medicinals, Earthbound Farm, Zevia, Vital Farms and many more pioneering organizations.