Smart Alex Popped Tortilla Chips Introduces New Package Design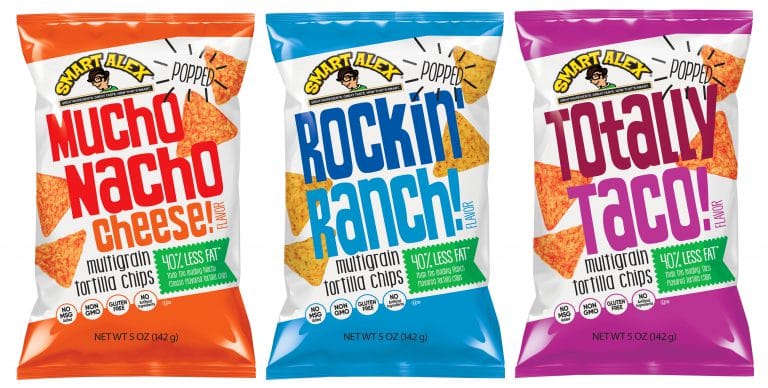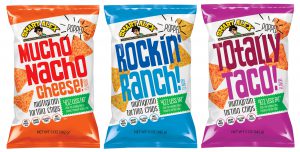 STAMFORD, Conn.– Smart Alex Popped Multigrain Tortilla Chips has introduced bright new package designs for its three flavors available in retail locations across the Northeast.
"We realized what has drawn consumers to our brand was our fun, great tasting flavors and thus we wanted to revamp our packaging to better highlight the fun character of our brand and our flavors, while still conveying our better-for-you attributes," Says Bruce Miller, Founder and Managing Partner of Smart Alex Foods, LLC.
Looking to support local resources, Miller looked to Stamford, CT design firm, The Biondo Group for assistance in the redesign. "Biondo developed several different options for us and after some qualitative consumer feedback we decided on the one that the consumers thought best captured the fun and great taste of our chips" Says Miller. "The all-natural, better for you food category has typically been a bit conservative with a lot of 'Earth tone' colors and muted packaging. We wanted to really catch the eye and 'pop' off the shelves. We feel the new packaging really reflects the fun character of the Smart Alex brand."
The new packaging highlights Smart Alex unique flavor names like Mucho Nacho Cheese!, Rockin' Ranch!, and Totally Taco with bright primary colors while still calling out the products' better-for-you attributes.
About Smart Alex Popped Multigrain Tortilla Chips
Smart Alex Popped Multigrain Tortilla Chips is a family-owned brand introduced in the fall of 2017 in three flavor varieties: Mucho Nacho Cheese!, Rockin' Ranch! And Totally Taco! Smart Alex chips are all Non-GMO, Gluten Free, and contain no artificial flavors, colors or preservatives. Because they're popped, they also have 40% less fat than fried tortilla chips. Since launch, the brand has expanded into the Northeast U.S. and can be found in stores like Shop Rite, Big Y, Tops, Foodtown, Fairway, D'Agostinos, Gristedes and many natural food and mainstream independent grocery stores, with plans to expand down the Mid-Atlantic and East Coast regions.
Like what you're reading?
Subscribe to BevNET+NOSH Today
Subscribe today and get access to the leading industry resources in the food &amp beverage industries. News, trends, industry data, expert analysis and much more.
Access all of these benefits:
Unlimited access to all content on BevNET.com and NOSH.com
Exclusive access to hundreds of educational videos
Watch subscriber-only live programs such as Office Hours