Tolerant Foods Announces New Single-Ingredient Organic Chickpea Pasta and New Branding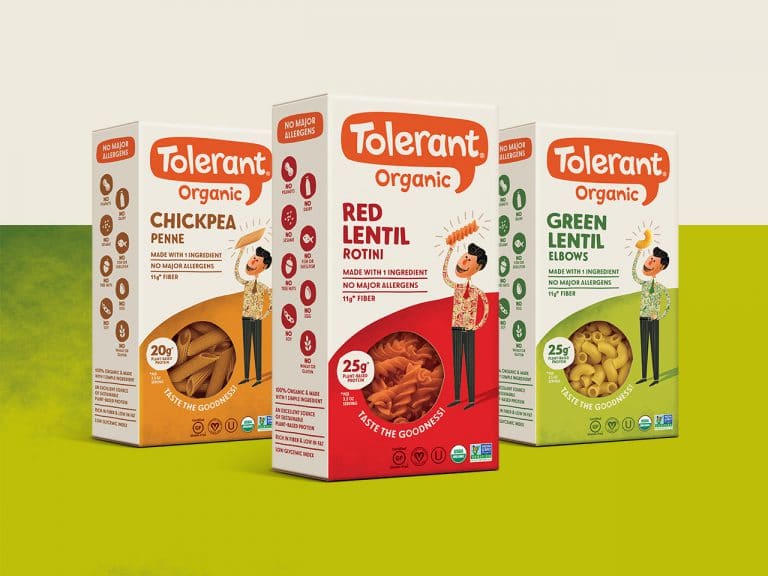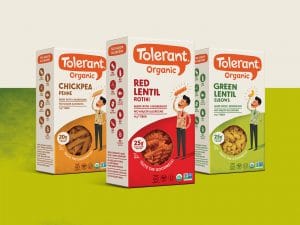 CHICAGO— As more consumers add plant-based proteins to their diet due to proven health and environmental benefits, Tolerant Foods, maker of the popular Organic chickpea and lentil plant-based pasta, is pleased to announce a reformulation of its Organic Chickpea Pasta, now made with 100 percent organic chickpeas and 20 g protein and 11 g fiber per 3.5 oz. portion. The new and improved single-ingredient Organic Chickpea pasta delivers great taste and texture, without fillers or additives and is free from major allergens.
The re-launch includes the new 100 percent Organic Chickpea Pasta (penne, rotini) as well as their existing single-ingredient Organic Green Lentil (elbows, penne, rotini) and Red Lentil products (penne, rotini), and coincides with a brand redesign, highlighting Tolerant's mission: to provide simply genuine food made from plants.
"Tolerant's goal is to make great tasting, plant-based foods that are accessible to everyone despite food intolerances or dietary restrictions," said Tolerant CEO Shawn Pinsky. "Tolerant is dedicated to providing delicious, naturally-nutritious foods that support healthy lifestyles. This past year, we've worked closely with our facility in Italy to improve product quality by offering products with only 100 percent Organic legume or chickpea flour (no other blends, fillers or additives), at the same price as conventional plant-based pastas."
Tolerant's pasta products provide quality carbohydrates that are naturally low in sugar and high in fiber, are certified gluten-free, non-GMO, organic, vegan and kosher and contain no major allergens. Made with just one ingredient, each 8 oz. box of Tolerant Pasta contains 20-25 g protein and 11 g fiber per 3.5 oz. portion. Each variety (Organic Chickpea, Green Lentil and Red Lentil) comes in various cuts (penne, rotini and/or elbow) and retails for $3.99 at Amazon.com and select retailers nationwide including Whole Foods.
Tolerant will debut its newest products at the 2019 Winter Fancy Food Show in San Francisco, Jan. 13-15. Products will be available on Amazon, Thrive Market and at major retailers like Whole Foods and Sprouts Farmers Market (May). A full retail distribution list is available at http://tolerantfoods.com/store-locator/.
About Tolerant
Tolerant is designed to make a difference in the lives of those who seek healthier lifestyles or have food intolerances or dietary restrictions, through naturally powerful, legume-based foods. Tolerant's Organic one-ingredient product line includes Organic Red Lentil, Green Lentil, Chickpea pasta in various varieties (penne, rotini or elbows). Products contain 20-25 g grams of protein and 11 grams fiber (44 percent of one's daily recommended value) per 3.5 oz. serving, depending on variety. All products are certified: Organic, gluten-free, non-GMO, vegan and kosher. Tolerant believes that gluten-free products should taste great and is dedicated to providing delicious, naturally-nutritious foods that support healthy lifestyles. It believes that real ingredient foods should be accessible to everyone. It is currently available in the United States and Canada, with growing distribution. For more information, please visit tolerantfoods.com.