Stonewall Kitchen Announces January 2019 Product Launch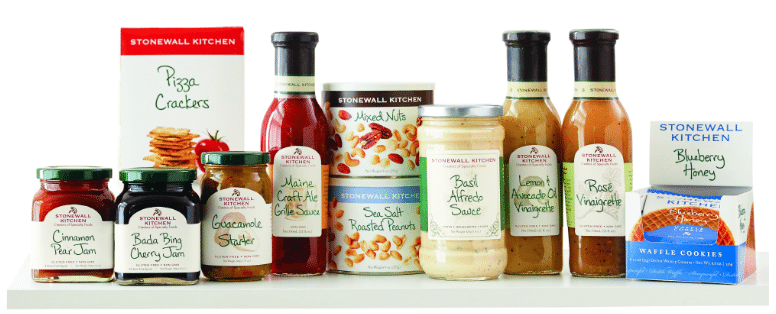 YORK, Maine— Stonewall Kitchen, award-winning specialty food manufacturer, marketer and retailer, announces its January 2019 Product Launch. Included in the lineup is the new Bada Bing Cherry Jam, Sea Salt and Black Pepper Roasted Peanuts, exclusive to retail and direct consumers, along with a variety of other jams, jellies and dressings. The Maine Craft Ale Grille Sauce is made with Maine's Allagash Brewing Company's Tripel Ale. The January launch also includes the brand new line of co-branded products with Legal Sea Foods, such as a House Cocktail Sauce, House Tartar Sauce and Lemon Dill Aioli.
"This is a really exciting launch for us," says Janine Somers, director of marketing and DTC sales. "Our 2019 January Launch reflects the incredible growth we had in 2018, when we made our vision of becoming North America's premier specialty foods platform a reality through the acquisitions of three premium brands: Tillen Farms, Napa Valley Naturals and Montebello as well as the announcement of our partnership with Legal Sea Foods to create a co-branded line of specialty food products."
The full line of Stonewall Kitchen and Legal Sea Foods co-branded products include a House Tartar Sauce, Chipotle Tartar Sauce, House Cocktail Sauce, Spicy Cocktail Sauce, Lemon Dill Aioli, House Vinaigrette, Lemon Dill Seafood Marinade & Dressing and House Oyster Crackers, all of which will be available nationwide.
"After acquiring Tillen Farms in January of 2018 and expanding the line in July, we are once again adding even more products to the lineup, including a Dirty Martini Brine with Vermouth, Jalapeño Onions with Vermouth and Bourbon Bada Bing Cherries. Plus, we have many great new products that will surely become new brand staples like our Cinnamon Pear Jam and Lemon & Avocado Oil Dressing," said Somers.
January 2019 Product Launch Includes:
Salad Dressings: Rosé Vinaigrette, Lemon & Avocado Oil Dressing
Jams & Jelly: Bada Bing Cherry Jam, Cinnamon Pear Jam, Watermelon Jelly
Sauces: Maine Craft Ale Grille Sauce, Alfredo Sauce
Snacks: Pizza Cracker, Sea Salt Roasted Peanuts, Mixed Nuts, Sea Salt and Black Pepper Roasted Peanuts (DTC/Retail Only), Blueberry Honey Dutch Waffle Cookies
Starter: Guacamole Starter
Fine Home Keeping: Strawberry Lemon: Hand Soap, Hand Lotion, Dish Soap and Soy Candle; Foaming Soaps: Grapefruit Thyme, Lemon Parsley, Herbes de Provence, Coastal Breeze and Lavender Mint
Tillen Farms: Dirty Martini Brine with Vermouth, Bourbon Bada Bing Cherries, Jalapeño Onions with Vermouth
Legal Sea Foods: House Tartar Sauce, Chipotle Tartar Sauce, House Cocktail Sauce, Spicy Cocktail Sauce, Lemon Dill Aioli, House Vinaigrette, Lemon Dill Seafood Marinade & Dressing, House Oyster Crackers
About Stonewall Kitchen
Stonewall Kitchen is a leading specialty food producer headquartered in York, Maine. Founded in 1991 by partners Jonathan King and Jim Stott, the two established the Stonewall Kitchen brand by selling jams and jellies at local farmers' markets with a flavorful line of distinctive and high quality products. Over time, they expanded the brand to include sauces, condiments, crackers and baking mixes, always focusing on innovative product development, beautiful packaging and exceptional guest service. Today, Stonewall Kitchen is the premier specialty foods platform in North America, home to a family of premium quality brands including the flagship Stonewall Kitchen brand, the Tillen Farms brand of pickled vegetables and cocktail cherries, the Napa Valley Naturals brand of olive oils, culinary oils, balsamic vinegars and wine vinegars, the Montebello brand of artisan organic pasta imported from Italy and the Legal Sea Foods brand of restaurant-quality seafood sauces and condiments. The company boasts more than 6,000 wholesale accounts nationwide and internationally, a thriving catalog and online division, a cooking school and café in both York, Maine and Costa Mesa, California and nine retail Company Stores throughout New England. As winners of 29 prestigious awards from the Specialty Food Association and the recipient of the coveted Outstanding Product Line Honors three times, Stonewall Kitchen is proud to be one of the most awarded specialty food companies in the country. For more information about Stonewall Kitchen, please visit: www.stonewallkitchen.com