Sambazon Launches Tropical Immunity Superfruit Packs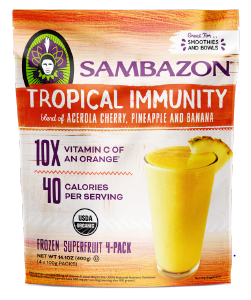 SAN CLEMENTE, Calif.– SAMBAZON, the pioneer of sustainable Amazon Superfoods, is continuing their mission to bring organic, delicious superfruit nutrition to consumers everywhere by debuting the Tropical Immunity Superfruit Packs just in time for the new year.
SAMBAZON has long been known as the go-to for delicious and purposeful açaí products, spanning from frozen fruit and desserts, fresh juices to energy drinks. Now, SAMBAZON is diversifying its line of products by using Acerola as the main ingredient in its latest Superfruit Packs launch. The Tropical Immunity Superfruit Packs have an exotic blend of organic acerola, pineapple and banana that you can blend into a delicious smoothie. One serving of the Tropical Immunity Superfruit Packs contains 10 times the vitamin C of an orange, is only 40 calories and has no added sugar.
"We are thrilled to introduce the Tropical Immunity Superfruit Packs, which is the beginning of a new line of innovative products full of nutrient-dense ingredients and health benefits," said Ryan Black, co-founder, and CEO of SAMBAZON. "Acerola not only tastes delicious, but the superfruit has incredible immune-boosting properties to help keep families healthy throughout the year! Our Tropical Immunity Superfruit Packs are a great way to quickly fuel up for the day ahead while naturally fighting off illness."
Acerola is a cherry native to Central and South America in the Amazon Rainforest and is a powerful superfruit, known to be one of the highest natural sources of Vitamin C with immune-boosting properties. The naturally low-sugar and low-calorie fruit contains powerful antioxidants that help promote heart health, good digestion and eye health.
The Tropical Immunity Superfruit Packs can be found in Southern California Albertsons and Vons, Wegmans, Sprouts and more locations nationwide starting Jan. 1, and Los Angeles Costco locations starting mid-March.
Additionally, SAMBAZON will be launching Low-Calorie Blood Orange Acerola Energy Drink in early 2019. It is a delicious blend of blood orange and acerola juice that is an excellent source of Vitamin C. The drink contains the caffeine equivalent of two shots of espresso but is made up of organic clean energy from guaraná, yerba mate and green tea.
For more information on SAMBAZON's full lineup of delicious and nutrient-dense products, please visit SAMBAZON.com. For all press/media inquiries, please contact Nicole Callas at Nicole@stanton-company.com.
About Sambazon
Founded in 2000, SAMBAZON (Sustainable Management of the Brazilian Amazon) is the first and only certified Organic and Fair Trade Açaí company and organic Amazon Superfoods industry leader. They supply Açaí product options such as Açaí bowls and smoothies for food service accounts and provide fresh juices, smoothies, energy drinks and frozen superfruit products made from delicious blends of Brazilian fruits and botanicals like Açaí, acerola, yerba mate and guaraná. A socially and environmentally conscious company, SAMBAZON operates a triple bottom line business model that uses commerce as a vehicle to create positive change. SAMBAZON is committed to sharing superfood wellness with the world in a way that supports people and planet. SAMBAZON's Fair Trade partnership helps to protect the Amazon Rainforest and benefits more than 30,000 family farmers while bringing consumers the next level in superfood nutrition. SAMBAZON's Açaí products are USDA Organic, Non-GMO Project Verified, vegan and made with Fair For Life Fair Trade Certified ingredients.