Protes Announces New Packaging and Popcorn Flavor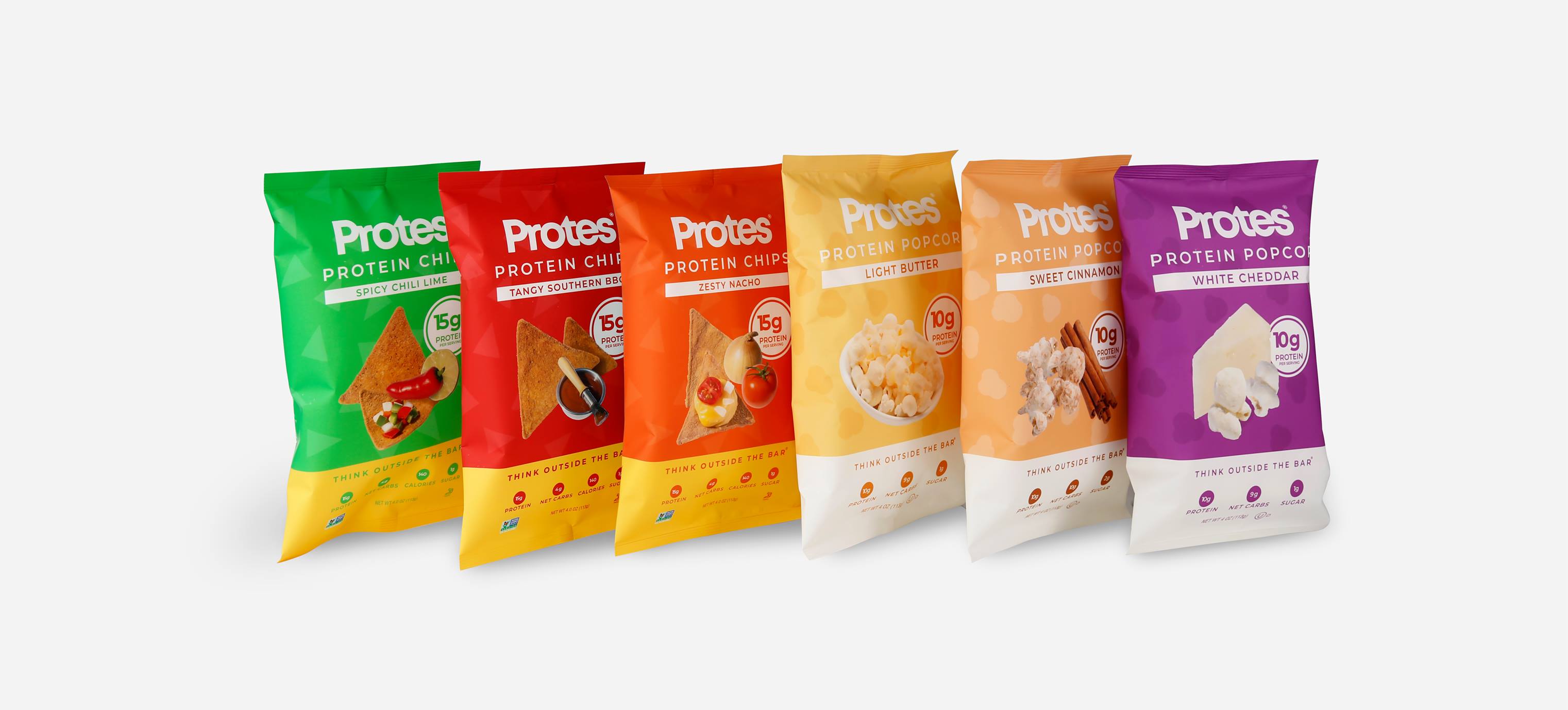 BROOKLYN, N.Y.—Brooklyn-based protein snack company Protes just unveiled their revamped website, bold new packaging, improved chip line and their latest popcorn flavor, Light Butter.
Protes makes getting your protein easier and more fun than ever with their vegan protein chips, available in Tangy Southern BBQ, Spicy Chili Lime and their best-selling Zesty Nacho. Just last year, at Expo West, Protes debuted their (whey) protein popcorn in White Cheddar and Sweet Cinnamon. The launch of their new Light Butter Flavor gives them three flavors of each of their lines of snacks.
Improved Chip Recipe
While the current Protes protein chips have been on the market since 2016, their latest iteration takes a leap forward in terms of taste as well a shift in ingredients. The new Protes are made from ground corn, as opposed to potato flakes, and gives customers a more corn ship or Dorito-like experience. The new chips still have 15 g of quality pea-protein per 1 oz. serving, which is music to the ears of their plant-based following.
New Light Butter Popcorn
The company clearly had movie night and Netflix binging in mind when they decided on their latest popcorn flavor. The Light Butter brings a taste synonymous with popcorn and packs 10 g of whey protein per 1.4 oz. bag.
Revamped Website
Protes can be purchased by from their newly revamped website eatprotes.com. Customers can buy full and half cases of single serving bags or larger 4 oz. bags. There are also variety packs available including Family Packs which include the chips and the popcorn.
About Protes
Protes was founded in 2013 by two Boston College graduates. CEO Krik Angacian first had the idea for a protein chip in college, when he became fed up with the lack of variety there was in protein snacks outside of bars and shakes. Krik's college roommate and Protes Co-Founder and President Ryan Wiltse wanted to create functional snacks that actually are "better-for-you," and not just "less bad for you" like many other snacks on the market. Protes encourages people to THINK OUTSIDE THE BAR and enjoy their all-natural, protein-packed snacks. Today Protes are sold in over 10,000 stores nationwide including major retailers like Vitamin Shoppe, HEB, Giant Eagle, Sprouts, Safeway, CVS and many others.