Organic India to Launch New Supplements, Tulsi Infusions at Expo West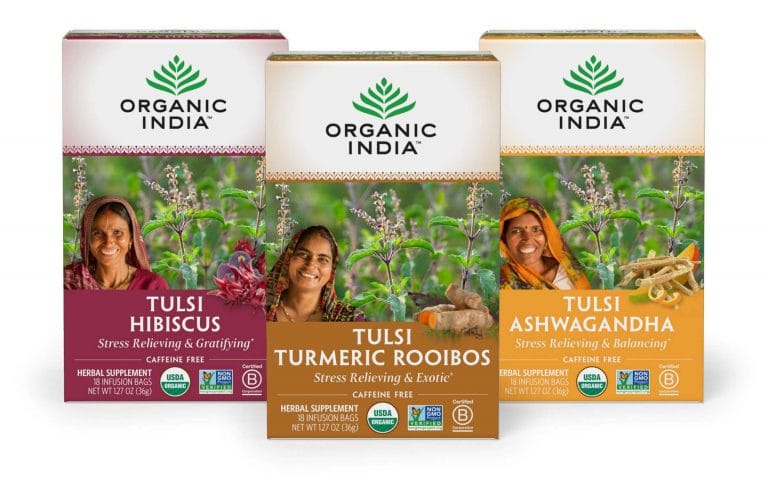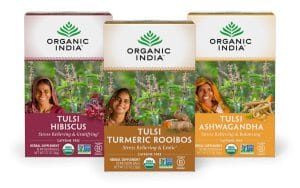 BOULDER, Colo.— This year at Natural Products Expo West, innovative wellness leader Organic India showcases the latest additions to their line of organic herbal solutions with a focus on fermented adaptogens, green superfoods and three new flavors of stress relieving Tulsi herbal infusions. Organic India offers comprehensive support to wellness seekers with a versatile product line that can be sipped, stirred, blended into one's daily diet or added to a convenient capsule routine.
Consistent with Organic India's entire product line, the three newest infusions boast USDA Organic and Non-GMO Project Verified certifications and are blended with Tulsi, also known as Holy Basil, for functional stress relief benefits that only serve to enhance the exquisite flavor of each infusion. As the essential base of each Organic India herbal infusion, Tulsi (Holy Basil) is an adaptogen that combats the negative effects of stress, uplifts mood and supports both the immune system and the body's natural detoxification process.
Three new Tulsi infusions combine trending functional ingredients with sophisticated flavor profiles, displayed in bold new packaging with eye-catching shelf appeal:
Tulsi Ashwagandha: A stress relieving and balancing blend of Tulsi and Ashwagandha with notes of juicy mango and citrus.
Tulsi Hibiscus: Tulsi and Hibiscus accented with berry essence for a stress relieving and cooling blend.
Tulsi Turmeric Rooibos: A stress relieving and exotic blend of Tulsi and Turmeric with a hint of rich vanilla.
The company's Lift blends favor meaningful doses of organic whole herb ingredients to create efficacious and functional blends of carefully curated ingredients. The Lift line's versatility makes taking a daily supplement as easy as making a smoothie or stirring a spoonful of herbs into soup.
Tulsi Greens+ Lift: As a Best New Mission-Based Product Finalist in the 2018 NEXTY awards, this well-rounded blend of seven distinct ingredients features green superfoods, superfruits, adaptogens and botanical digestives. Organic wheatgrass and moringa are two of the most nutrient-dense green superfoods on Earth, while Tulsi supports immunity and stress response. Vitamin C-rich Amla is one of the top antioxidative superfruits.
Wheatgrass+ Lift: This dynamic duo of wheatgrass and moringa provides comprehensive nutritional support. Wheatgrass is an alkalizing superfood with detoxifying chlorophyll that delivers concentrated green energy. Moringa is a complete plant protein that helps to restore nutritional imbalances.
Mindful Lift: This daily brain tonic supports a calm mind and features well-known nootropic Gotu Kola, which supports the brain and nervous system. Fermented Tulsi offers immune and detoxification support and fermented Ashwagandha lends a natural source of energy and vitality.
Immune Lift: A dynamic duo of fermented Tulsi and Amla. Tulsi supports the body's immune, stress and detoxification response. Amla, India's traditional superfruit, has been used for thousands of years in Ayurveda to provide rejuvenation and as a tonic for overall health.
Vital Lift: Winner of a 2018 the NEXTY Award for Best New Supplement. Vital Lift offers daily support for energy and vitality. Fermented Ashwagandha, an ancient herb traditionally used for energy and stamina, is supported by antioxidant-enhanced fermented Amla and Tulsi.
"We have incredibly exciting product lines emerging," said founder Bharat Mitra. "We are seeing constant expansion… as more customers not only enjoy wellness products that support their wellbeing, but become part of a community."
Those attending Natural Products Expo West are invited to sample the new products and learn more about the company's holistic business modality at booth #2471.
Organic India
Organic India's vision to be a Vehicle of Consciousness in the global market lead us to create a holistic business model which inspires respect and True Wellness for each part of our interconnected world. We are transforming the way businesses operate by proving that values and business can coexist. Our partner farmers cultivate tens of thousands of acres of 100 percent certified organic farmland. By combining the ancient wisdom of traditional farming methods with innovative regenerative agriculture techniques, together with our partner farmers, we are restoring the soil's incredible capacity to provide nourishing organic herbs, while supporting farmers' livelihoods to create a flourishing global community. Organic India's commitment to True Wellness means creating holistic wellbeing for body, mind, spirit and planet. For more information, please visit organicindiausa.com or find us on social @organicindiausa.